[social_warfare]
Rustic PLUS waterfront? Crooked River Farms Weddings in Lawson, Missouri is a country wedding venue you *need* to see.

Here's one reason, to start: THE BARN. Built the old-fashioned way with oak and other native lumber (some of which comes directly from the farm), it's got tons of charm and is absolutely perfect for photo opps. And since we're speaking of photos, we have to mention that this venue even has its own in-house photography service, so you won't get just a gorgeous setting (try 80+ acres bordering the Crooked River), but gorgeous images for your wedding album, too.
Can't wait to learn more? Hear more about why you'll love this place from Susan Hanson, who owns the property with her husband, Jerry. (And by the way, these two are quite the duo—Susan and Jerry work with their couples at every step of the wedding planning process, from the engagement session to customizing invitations to the rehearsal dinner.)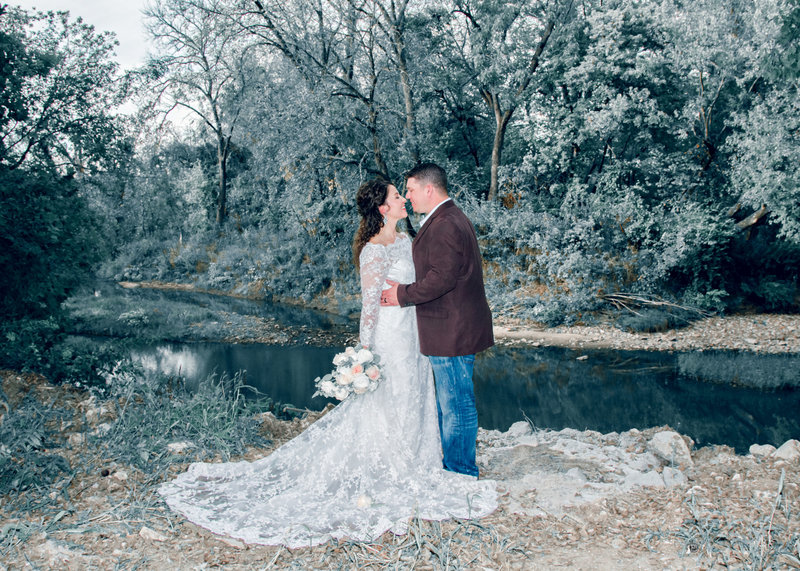 What is the history of your venue?
My husband has lived here since 1990. I met Jerry in 2007 and in 2010, we started our first pumpkin crop, which grew into an annual pumpkin patch. Jerry and I were married in 2011, and shortly after, one of our faithful pumpkin patch couples asked if they could get married on our farm. At the time, our barn was filled with animals and there were no sheltered locations. We asked them if they could hold off until the following spring, which they gladly did. Since I am a photographer, I gave them my services as a gift. It was an incredible experience to be part of this couple's most special day, and there's been no turning back since!
What is your capacity?
120 guests.
Do you offer a ceremony location?
We offer a number of ceremony locations at no extra cost. In our courtyard, the bride can walk down a lovely rock staircase to a winding sidewalk, with her waiting groom at the wooden arbor—all with the sites and sounds of the gorgeous Crooked River running behind them.
In our Big Timber ceremony space, couples can get married between two very large trees, standing alongside the Crooked River. It truly feels like you are getting married in the middle of the woods.
Finally, couples also can choose the rustic yet elegant barn, which features bride's and groom's rooms, buffet room, kitchenette, sound system, romantic lighting, and heated restroom.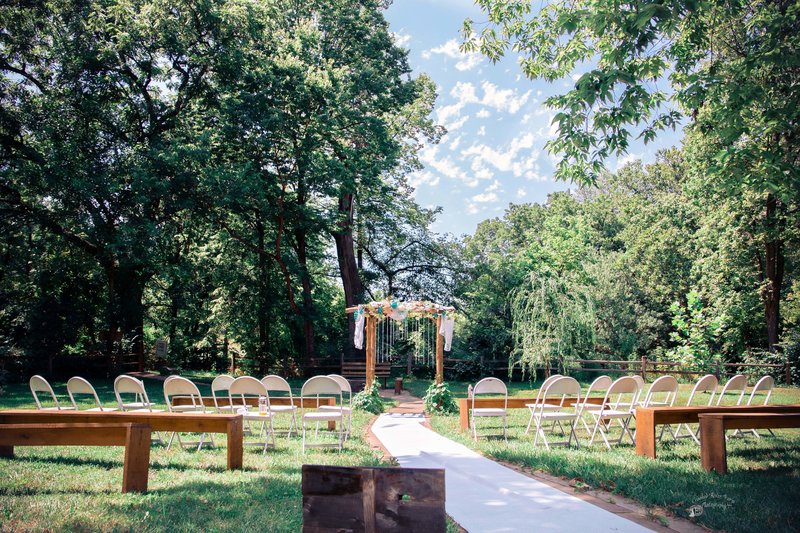 What is included in your wedding packages?
Our wedding package includes:
Use of indoor and outdoor spaces from 9:00 am to midnight the day of the wedding

Bride's and groom's dressing rooms

Choice of ceremony areas: barn, rustic arbor, bridge, shelter house, and Big Timber

Tables and chairs

Choice of straw bales and wooden benches (with a refundable $50 re-stacking fee)

Props, including wheelbarrows, logs, and wash tubs (as available)

Indoor and outdoor sound system
You can choose to have your wedding rehearsal from 5:30 to 9:30 pm from Monday to Thursday the week of your wedding. Rehearsals Friday through Sunday also are available for an added fee of $500, which includes access to the venue the day before your wedding, 1:00 pm through 9:30 pm. Wedding day access is from 9:00 am to midnight. We also offer pickup time for any wedding supplies the day after your event, from 8:00 am to 9:00 am (if needed).
We also offer ceremony photography directly by our in-house Crooked River Farm Photography LLC. For an additional fee of $500, you can take advantage of our full-service photography options, which includes photos of the bride getting ready; ceremony; portraits of the wedding party, family, and couple; candids of cake, toast, first dance, and other shots. These are made available on a flash drive with print release. The photos are also displayed in a 30-day online gallery for your friends and family to enjoy.
What makes your venue special?
I think there's a certain sense of ease that our couples get when they get here—from the time they come for their first visit to the big day, we are by their side. Our couples get to share their special day with their family and friends in their own secluded fairytale with the sounds of the river and the farm life surrounding them.
What is your favorite moment from one of your weddings?
Oh my gosh, there are special moments from all of our weddings, but there is one particular couple's moment that will stick with us forever, that we tell to every couple that comes for a visit. Stephanie and Jeremy were married on a very hot, summer day. After the wedding, they were driving to Colorado for their honeymoon, so they had their trailer here with their sport utility inside. We decided to take it down to the river for some wedding pics, where they had the idea for Stephanie to stand on a log and have Jeremy drive by and spray her with water. It took about five tries, but he got her good, and afterward they went swimming in the river. It was their day to do as they pleased, and it was so much fun for me as a photographer!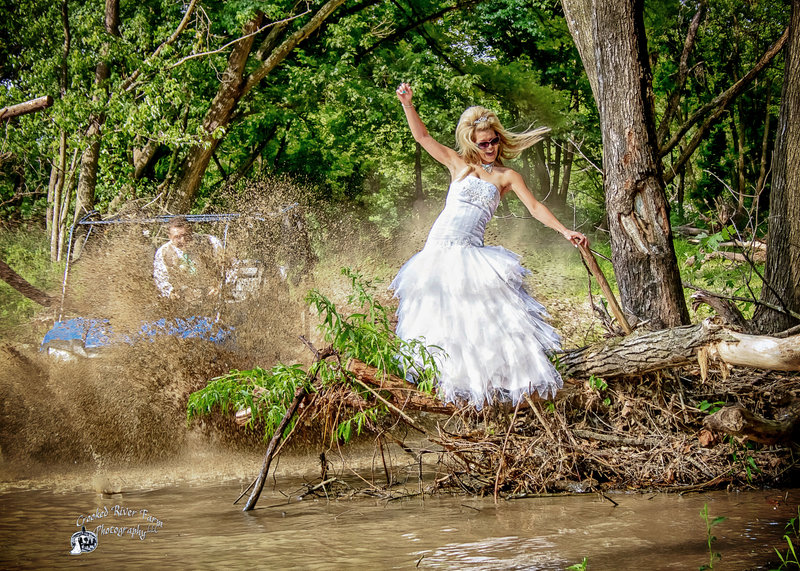 What is your best advice for couples planning their weddings?
We have learned a few major tips along the way:
1). If you have a specific date in mind, reserve it as soon as possible.
2). Once you have reserved your venue, get your vendors locked in as early as you can, because they will book up quickly, just as the venues do. And, make sure you have written contracts with all of them!
3). Don't let the planning process stress you out (though I know this can be easier said than done!) Enjoy every minute, because your wedding day will be here and gone before you know it, and the only thing that matters is that at the end of the day, you will be man and wife.
Are there any vendors you would recommend to couples planning a wedding at your venue?
We have a list of vendors we give to each of our couples if they need help finding a particular service.
All photos credited to Crooked River Farm Photography LLC. Note: This post was updated February 14, 2018 to reflect a change in photography pricing.