Looking for the perfect gift for the bride-to-be in your life? Or maybe you're a bride searching for some fun ideas to add to your wishlist? We have some great suggestions for every budget.

We've organized our list into sections tailored to different bride's interests, so you can be sure be sure that you'll find the perfect gift for whatever she loves.
And brides: Get started on your managing your wedding gifts by signing up for a wedding registry. Some people will want to give you gifts to celebrate your engagement, so it's ok to start early. If you need some inspiration, here are some of the most popular wedding registry gifts.
This post contains affiliate links, which means we may make a commission on purchases you make, at no additional cost to you.
Sentimental Gifts for the Bride
Custom Photo Canvas
Why merely frame a favorite photo when you can turn it into a beautiful photo canvas instead? Get a single large photo canvas to make a statement, or order a few prints of different sizes to create a photo gallery wall (you can even add to this later once the wedding photos are available).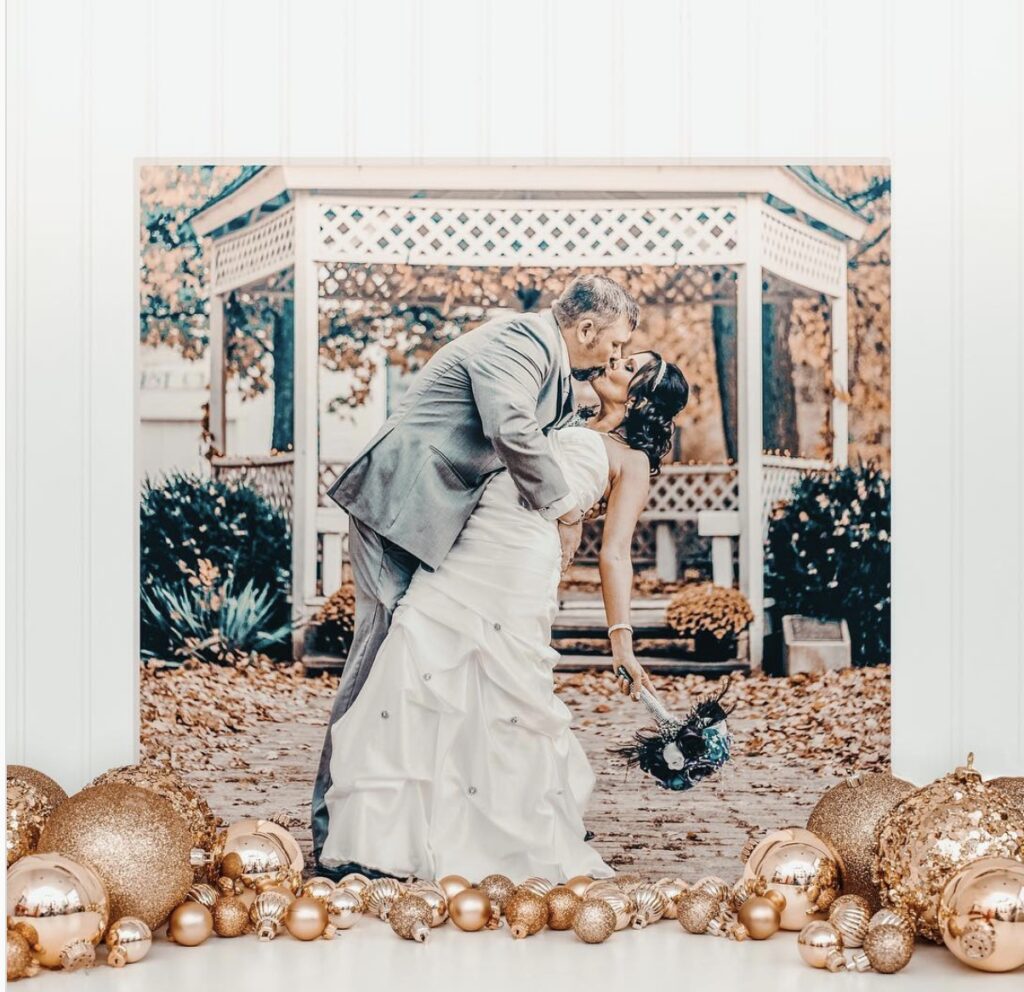 Hello, Will You, I Do Art Print
Celebrate some of the biggest moments in the bride's relationship with this Hello, Will You, I Do art print by Modern Map Art. She'll love being able to see this reminder every day of when she met her fiancee, became engaged, and when she's getting married—and the special places where these milestones happened, too.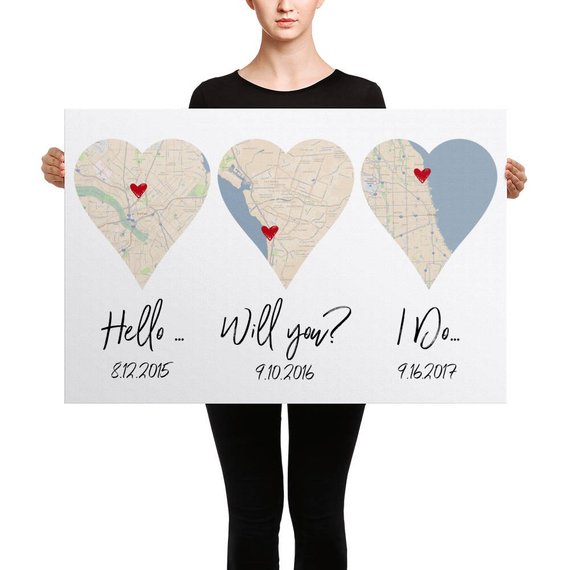 Personalized Ring Dish

Inspired by modern Scandinavian design, these personalized custom ring dishes are sure to put a smile on any bride's face. Simply select the couple's initials and wedding date, and the pros at The Painted Press will take it from there, hand-stamping, painting, and adding the other finishing details in their studio.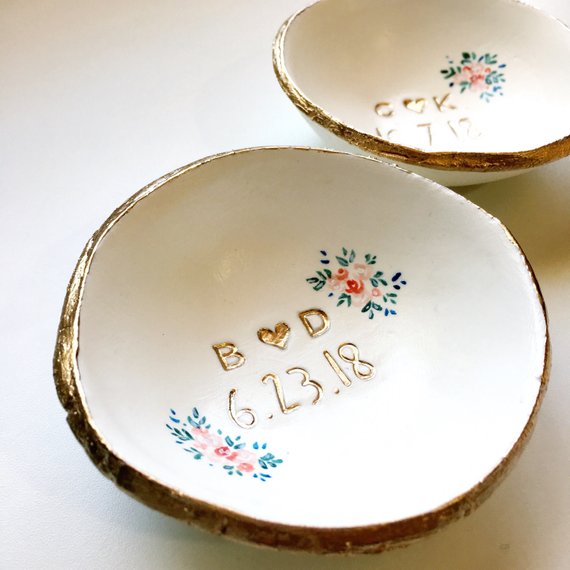 Customized Song Lyrics Pillow
Do you already have your first dance song picked out? Surprise her by adding the lyrics to this custom, personalized pillow, made by Dove and David. You'll have your choice of fabrics, font styles, and colors, so you can be sure you'll be able to design *exactly* the right gift for her.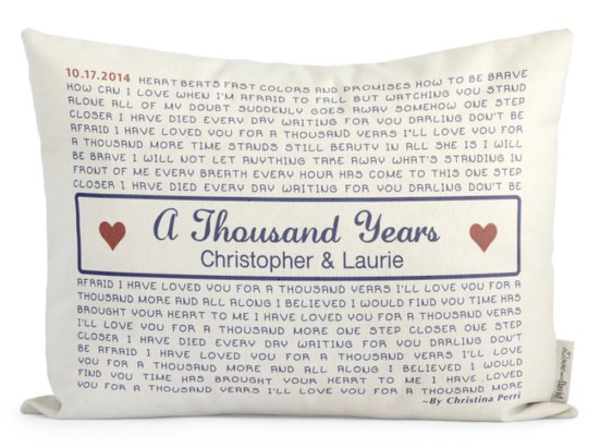 Q&A a Day: 5-Year Journal
You can be sure that your bride will be making tons of memories during her engagement—and the Q&A a Day: 5-Year Journal offers a beautifully simply way to keep track of them. This journal features a single question prompt for each day of the year, for five years. Once it's completed, your bride will have a lovely memento of her life during wedding planning—and the first few years of her life as a Mrs.
Personalized Stationery
With all of the thank-yous and other special notes that come with wedding planning, personalized stationery is an ideal gift for a bride to be—if she's changing her name after the big day, consider using her new married name as a fun surprise. Just some of the customizations you'll be able to make include colors, printing type, paper shape, and foil-pressing.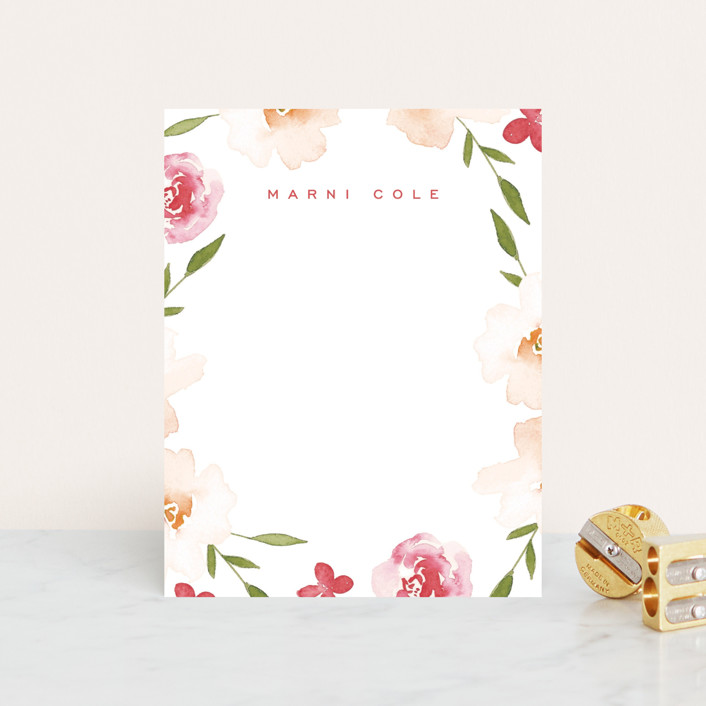 Champagne Toasting Flutes
Start a new tradition by toasting in the new year with these simple and elegant Kate Spade champagne toasting flutes—and then use them at the reception to toast your new life as a married couple.

Adventure Together Print
Commemorate the special places in your life together with this Adventure Together print by A Gier Design. You can choose any four cities in the world to be featured, as well as significant dates to make it extra personal. An unmatted, unframed print and framed print are available.
Wedding Countdown Blocks
Why use a simple calendar to keep track of how time is left before the big day when you can display these wooden wedding countdown blocks instead? After the wedding, the couple can use the blocks to commemorate how long they've been married, or count down to their first anniversary.
Heart Snapshot Photo Art
Create a stunning photo collage using 30 photos of your bride's most treasured memories. The gift is available in 30+ designs and colors.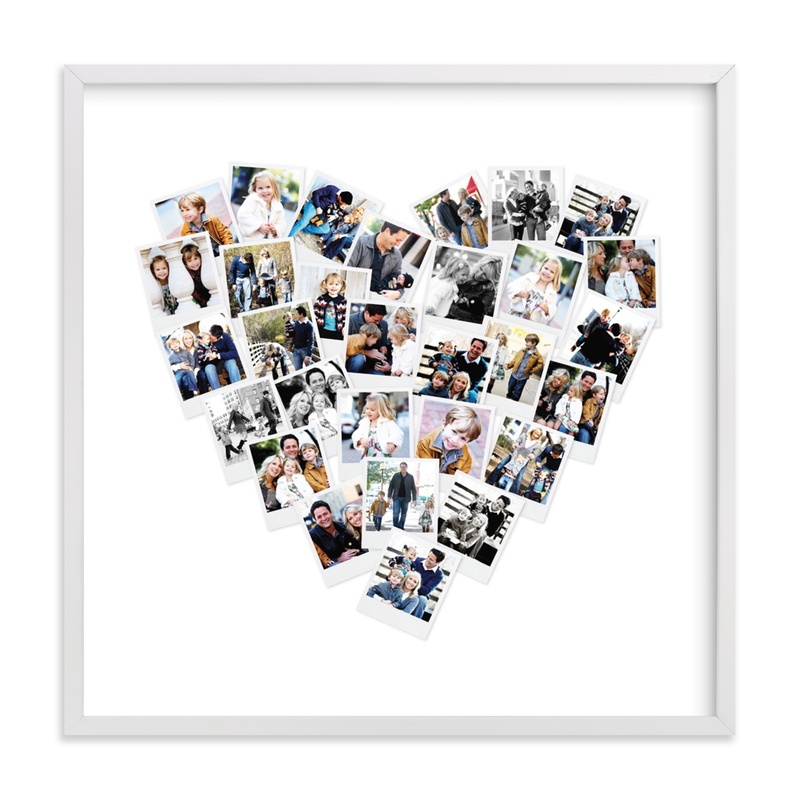 Gifts for the Bride Who Loves to Cook
Instant Pot
With its seven appliance functions combined into one tool, it's no surprise the Instant Pot has quickly become a must-have for any kitchen. The bestselling appliance has a pressure cooker, slow cooker, rice cooker, steamer, saute, yogurt maker, and warmer built into one, and is available in four colors. (Just check out the 37,000+ customer reviews to find out more about why home cooks are raving about it). Round out the gift with accessories such as these silicone mini mitts or springform cake pan, both designed especially for the Instant Pot. There's also an Instant Pot cookbook, too.
Cookbook Stand
Constantly flipping through a cookbook while making the perfect meal is a hassle. Help your bride make time spent in the kitchen more convenient with this popular bamboo cookbook stand (and while you're at it, you'll protect cookbooks from kitchen spills, too.)
Magnolia Table: A Collection of Recipes for Gathering by Joanna Gaines
While we're on the topic of cookbooks, this cookbook by Fixer Upper's Joanna Gaines is packed with recipes inspired by personal family favorites and classic comfort selections for every meal—and is sure to be a welcome addition to the home chef's gift list.
Personalized Cutting Board
This keepsake, custom wooden cutting board lets brides show off their newly married status in the kitchen. You can choose maple wood for a lighter color, or walnut for a darker finish.
Reusable Food Wraps
These plastic-free, reusable food wraps are perfect for a bride looking for ways to make her kitchen Earth-friendly. Handmade in the U.S., these wraps contain sustainably harvested beeswax, jojoba oil, and tree resin. Other eco-friendly gift ideas include a compost bin and reusable cotton produce bags.
Gourmet Salt Sampler
Your favorite foodie will love testing out these chef-inspired salt blends in flavors such as mesquite lime, smoked cherrywood, and rosemary lemon. Other options available include a keto sampler and a veggie seasonings sampler.
Framed Kitchen Conversion Chart
Exactly how many teaspoons are in half a cup? With this framed kitchen conversion chart, your bride won't need to run to her smartphone for the answers to questions like these anymore—and it will look great as a decor item, too.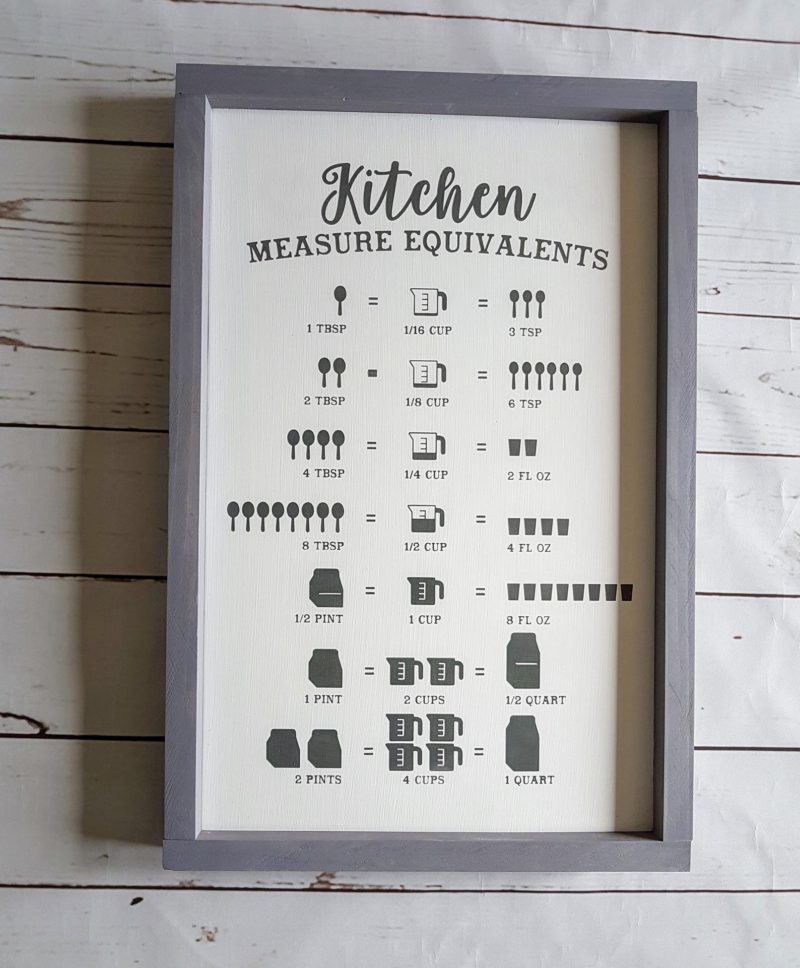 Oil and Vinegar Set
Keep the dinner table looking elegant with this oil and vinegar glass bottle set, which comes in a stainless steel rack. A dual spout makes it ideal for pouring littles amounts for smaller dishes, or a lot when you're working in the kitchen.
Natural Flavors and Extracts Collection
If your bride is a baker, you'll want to check out this 12-piece collection of natural extracts. It includes class flavor standbys such as vanilla and lavender, as well as more exotic and unique flavors like mango, passionfruit, blood orange, butter pecan, and more.
Cuisinart 5-in-1 Griddler
This compact countertop appliance is one of the top 100 most popular gifts on the Amazon wedding registry, and for good reason—its capabilities include a grill, griddle, and panini press.
Gifts for the Bride Who Loves to Entertain
Bar Cart
Keep your cocktails handy with a gorgeous bar cart like this one. Made of solid wood and heavy-duty metal water pipe, it can hold up to 400 pounds and would be a wonderful design statement for a variety of home decor themes.
Moscow Mule Copper Mugs
Once you've got your bar cart, it's time to stock it— and these handcrafted, 100 percent copper mugs are a beauty. This set comes with bonus copper straws, shot glass, and recipe booklet. Use copper cleaner cream to help maintain their shine.

Monogram Wine Bottle Stopper
If your bride loves wine, pair a monogrammed wine stopper like this with one with a set of handblown, Italian-style wineglasses for the gifting win. It's thoughtful if she'll be taking on a new last name once she is married.

Backpack Picnic Bag for Four
What more creative way for your bride to entertain her guests than with a picnic on the go? This backpack is stocked with everything needed for a picnic for four, including plates, utensils, napkins, picnic blanket, and more. It's the type of gift she's unlikely to buy for herself, which makes it even more of a fun surprise. Be sure to include this cookbook with picnic-worthy meal ideas.
Tumbling Timbers Yard Game
This giant (up to five feet tall!) tumbling timbers yard game will be a favorite for the bride entertaining a crowd. (It's one of the top 100 Amazon wedding registry gifts, too). A carrying case makes it convenient to store at home or to play at other places.

Personalized Beverage Tub
A bride that's at her happiest entertaining a crowd will be thrilled to be gifted this galvanized metal beverage tub personalized with her family name. (Consider giving this gift before the big day, as it may come in handy on the wedding day itself).


Cheese and Charcuterie Board
Let's face it: The appetizer table is the place to be during a party. Give your cheese and charcuterie a stylish look with this bamboo cheese board. It's foldable, so it can create a full plate no matter how large your crowd is, from large to small.
Espresso Maker
A quality cup of coffee is the finishing touch to gatherings big and small. This espresso machine by Breville is rated as one of the very best around. A set of porcelain espresso cups is the finale to a top-of-the-wishlist gift like this one.


Name Doormat
What better way for your bride to welcome guests to her newlywed home than with this cute, personalized name doormat? A slip-resistant backing makes sure it stays in place.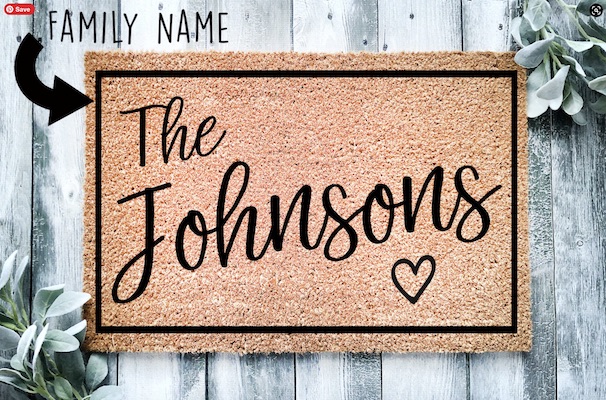 Gifts for the Bride Who Loves to Organize
Bride Survival Kit
Your bride will be prepared to tackle any wedding-day emergency with this cute bride survival kit. It includes tweezers, scissors, clothing tape, hair ties, bobby pins and more.

Travel Jewelry Box
A travel jewelry box like this one is ideal for your bride to keep her wedding day jewelry safe while getting read
Personalized Chalkboard Calendar
This personalized chalkboard, dry erase calendar is the perfect way for the organized bride-to-be to keep track of her schedule (and all of those important wedding planning milestones) at a glance. A set of eight liquid chalk pens in either neon colors or Earth tones are the perfect complement to the gift.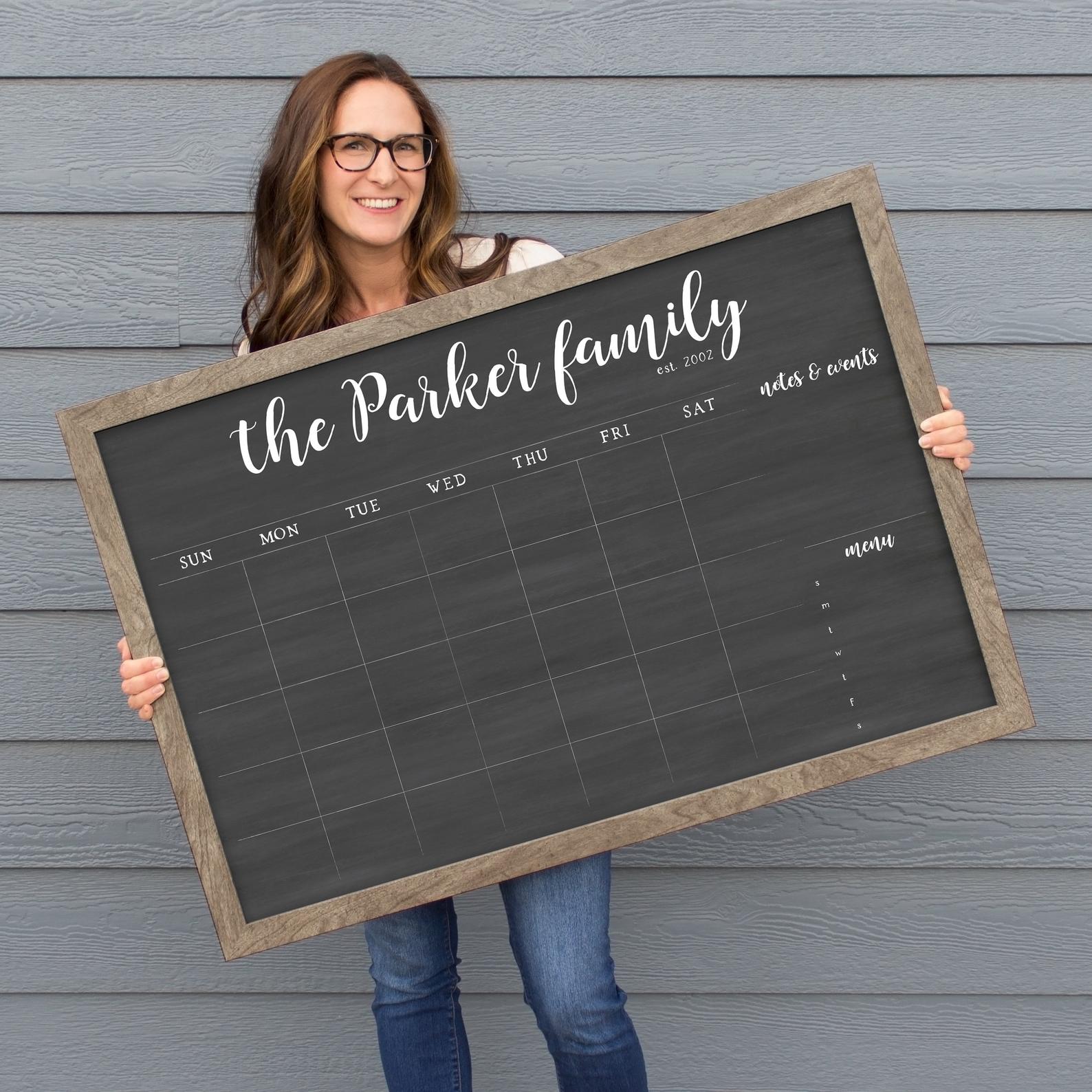 Wedding Planner Book
There's a lot to keep organized during wedding planning, making a wedding planner book a hugely thoughtful gift for your favorite bride to be. One popular option is the highly rated and reviewed wedding planner offered by Bloom Daily Planners (pictured below), while dedicated planner junkies will fall in love with the Erin Condren wedding planner. If you need help making the perfect choice, check out our review of some of the most popular wedding planner books around.
Flexion Erasable Pens
From guest lists to reception song lists, wedding day details can change frequently. Make the process more convenient for your bride with these erasable pens—not only do they make it easy to make updates on the fly, but come in an assortment of colors that allow your bride to color code wedding information to her heart's content. These make a great stocking stuffer for brides who love to organize, or make an excellent accompaniment to any of the wedding planners listed above.
Multi-Device Charging Station
A tangled mess of wires and chargers is a thing of the past with this bamboo multi-device charging staging dock and organizer. It is designed to accommodate a range of devices, from laptops to tablets to smartphones.

Decorative Organizing Baskets
Baskets are a must for keeping organized; these fabric baskets aren't just functional, but attractive to look at, too. They're available in eight colors and designs, and come in a variety of sizes. For the ultimate gift, use the basket in place of a gift bag and fill it with other surprises inside.
Label Maker
No organized bride would be caught without a label maker. This version of the label maker uses thermal printing instead of ink or toner (no more last-minute trips to the office supply store!). It also can be paired with a Mac or PC, so your bride can print her own custom labels.

Gifts for the DIY Bride
Cricut Express Air
With the Cricut Express Air 2 cutting machine, your bride can create custom signs, invitations, table numbers, centerpieces, and tons more. If you want to splurge, add on a bundle of vinyl and accessories so she can get started crafting right away.
Craft Storage and Organizer
Help your bride keep her craft and DIY supplies easy to find and reach with a craft storage and organizer like this bestseller. Want something that she can move around? Check out this rolling craft storage cart.
Linen Scrapbook
Your bride can relive her wedding day memories with a beautiful linen scrapbook like this one. It's available in 16 colors.

Hand Lettering Kit
This award-winning, 15-piece kit includes everything your bride needs to learn the art of hand lettering, from pens and pencils to planning notebook to mini chalkboard to instructional guide.
Designer Scrapbook Paper
A stock of quality scrapbook paper is a must for any crafter. This set includes 60 sheets of paper in a range of patterns and colors.

Self-Healing Cutting Mat
Protect surfaces when working on cutting projects with a cutting mat like this one. A ruler grid helps ensure paper stays straight, while its self-healing returns it a smooth surface after being cut. Pair the gift with a rotary cutter like this one.
Embossing Set
An embossing set like this one can help your bride bring her craft projects to the next level (save the dates and wedding invitations are one great place to use this technique!). This set includes a multi-purpose heat tool, powders, inks, pens, and stamping blocks.
Washi Tape Set
Too much washi tape? No such thing for a crafty bride. This colorful set includes 48 rolls in tons of gorgeous patterns.
Glitter Set
A bride who loves sparkle will love this 24-piece glitter set with plenty of fun colors. from raspberry to metallic gold to midnight green to cobalt blue. Extra bonus: Not only can it be used for craft and DIY projects, but it's non-toxic formulation means it can be used on the face and nails, too.

Mender's Companion for Sewers
The 25 pages of this Mender's Companion handbook is full of practical instructions on how brides can give their clothes new life through mending (and save big bucks while they're at it). Topics include basic stitches, making a mending kit, mending a puffy down coat, and more.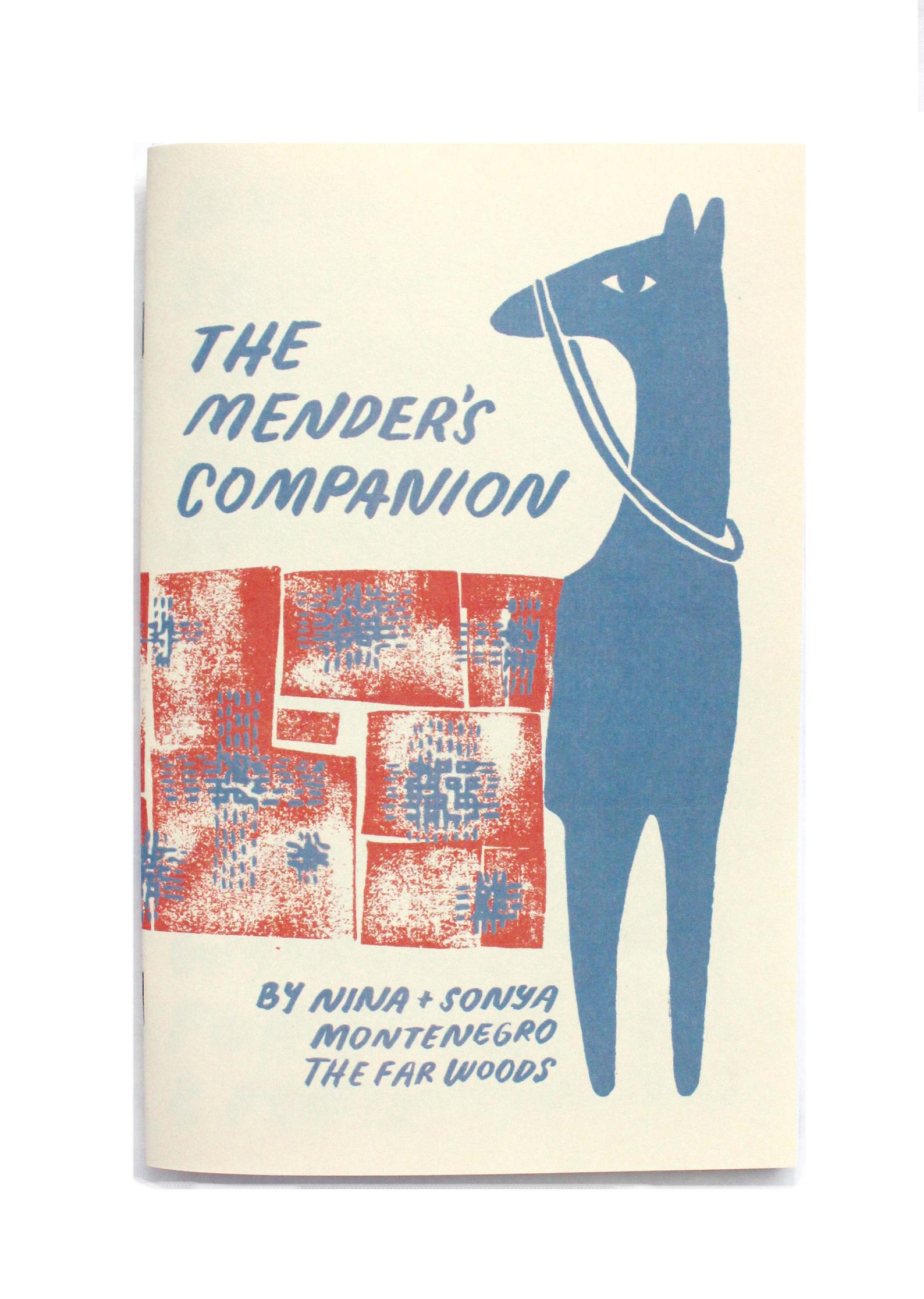 Gifts for the Bride Who Loves to Travel
Luggage Set
A survey by wedding registry website Zola found that luggage is the top wedding gift couples regret not adding to their registry. Be ahead of the game and gift your bride her own luggage this Christmas, like this Samsonite Winfield three-piece hardside set. The best part: She'll be able to use it not only for the honeymoon, but other wedding events like the bachelorette party, too.

Packing Cubes
Help your bride make the most of her luggage's space (and even avoid checked-bag fees) with compression packing tubes. This six-piece set includes two large compression tubes, two small compression tubes, a slim tube, and a laundry/shoe bag.
Travel Passport Wallet
There's a lot to keep track of while traveling. Use this handy travel wallet, available in nearly 40 colors, to corral important items in one place. In addition, RFID technology helps ensure your credit card information stays safe.
Push Pin Map of the World
The bride with wanderlust can commemorate her travels with this customizable push pin map of the world. One hundred push pins are included: half to designate travels already taken, and half for travels planned.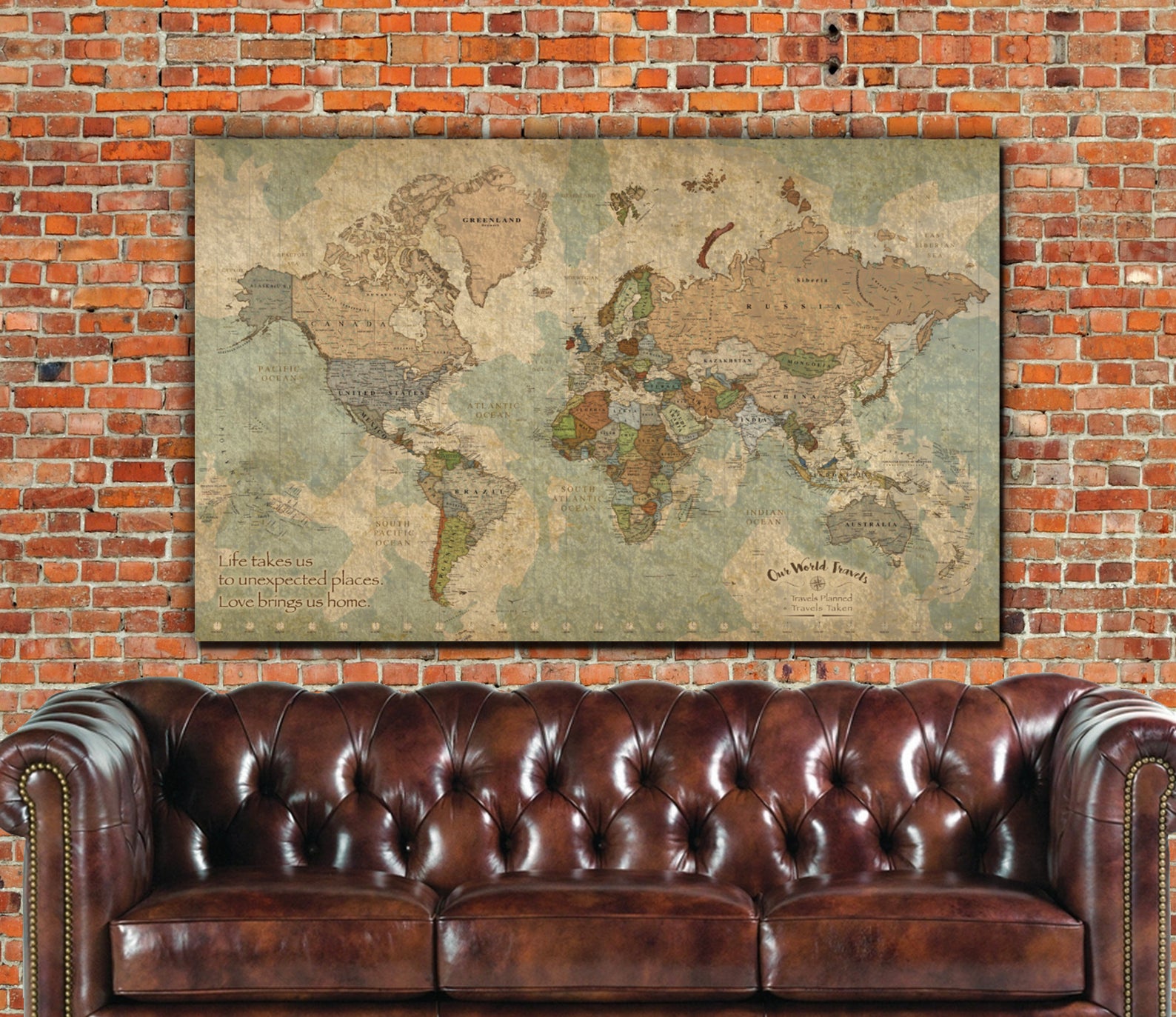 Noise Cancelling Headphones
Whether your bride wants to enjoy videos and music while in a crowd or simply wants some peace and quiet while traveling, noise cancelling headphones like these from Bose will be her new best friend. The set has Alexa built in and has 20 hours of playtime per charge.

Amazon Kindle
Whether you're on a plane or by the beach, sometimes all you need is a good book—but lugging around a bunch of hardcovers can get clunky, and fast. An Amazon Kindle lets you store books, audiobooks, magazines and more in a single, lightweight device. A Kindle unlimited membership gives your bride unlimited reading of more than one million books, as well access to popular magazines and thousands of audiobooks. Help ensure your gift stays safe with a fabric cover like this one.

Weekender Bag
For quick getaways, sometimes a good duffel bag is all you need. This sturdy option is made of canvas and leather and is available in nine different designs.
Travel Hair Dryer
Don't let your bride get caught without a styling essential: the hair dryer. With a folding handle, this travel hair dryer is convenient and compact. If she travels internationally, a travel plug adapter like this one is a good add-on to the gift.
Double Sleeping Bag
Do your bride's adventures run to the outdoorsy type? This popular two-person sleeping bag will keep her warm and cozy. Bonus: There's even room for you, too.

Cashmere Travel Set
A good blanket is key to traveling in comfort—making a luxe cashmere blanket a super thoughtful gift for your traveler. This 100 percent cashmere set includes not just a blanket, but also socks, eye mask, and carrying case that doubles as a pillowcase for airplane cushions.
Electronics Organizer
Mr. and Mrs. Luggage Tags
These super cute Mr. and Mrs. luggage tags are a fun way to mark your newly married status as you set off on your honeymoon—and all of your travel adventures afterward.


Back to category list
Gifts for the Bride Who Loves Pets
Dog DNA Test and Health Kit
Who *exactly* is your dog? This dog DNA test and health kit can help you find out. Developed in partnership with Cornell University College of Veterinary Medicine, this kit screens for more than 250 dog breeds, tests for 170+ genetic diseases, and can help trace your dog's ancestry all the way back to their great-grandparents. Impressive.

Pet-Themed Kitchen Towels
Pet owners will love these funny (and accurate!) kitchen dish towels. Looking for a different breed of dog, or even a different type of pet altogether? You can find more options here.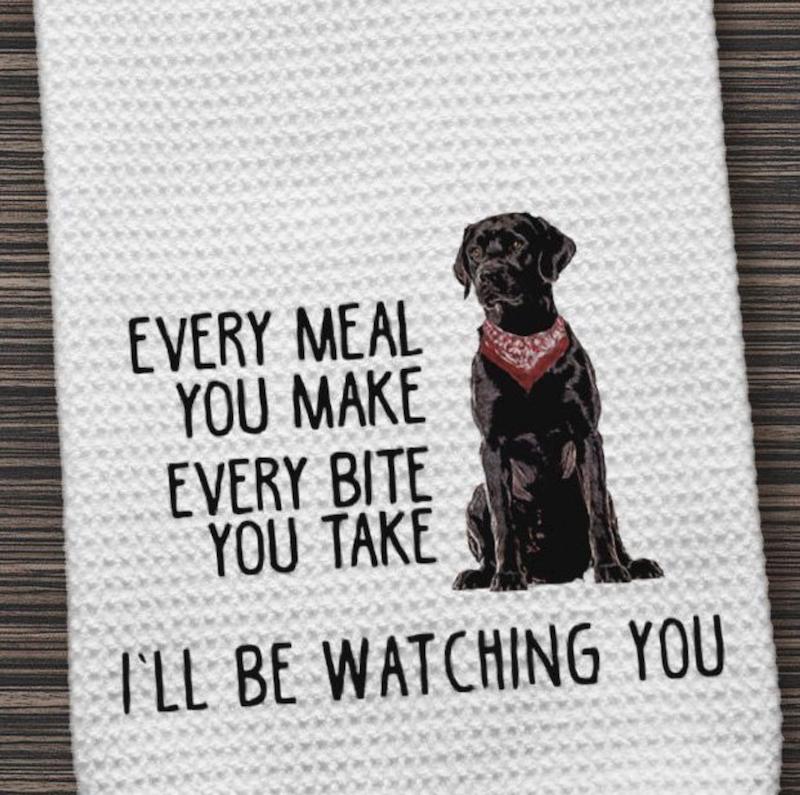 Custom Pet Tattoos
Let your bride show the world just how much she loves her pet with a set of custom temporary pet tattoos (perfect as a stocking stuffer). The set includes one black-and-white and one in color, and is available in three sizes. A portion of your purchase will even go to toward animals in need.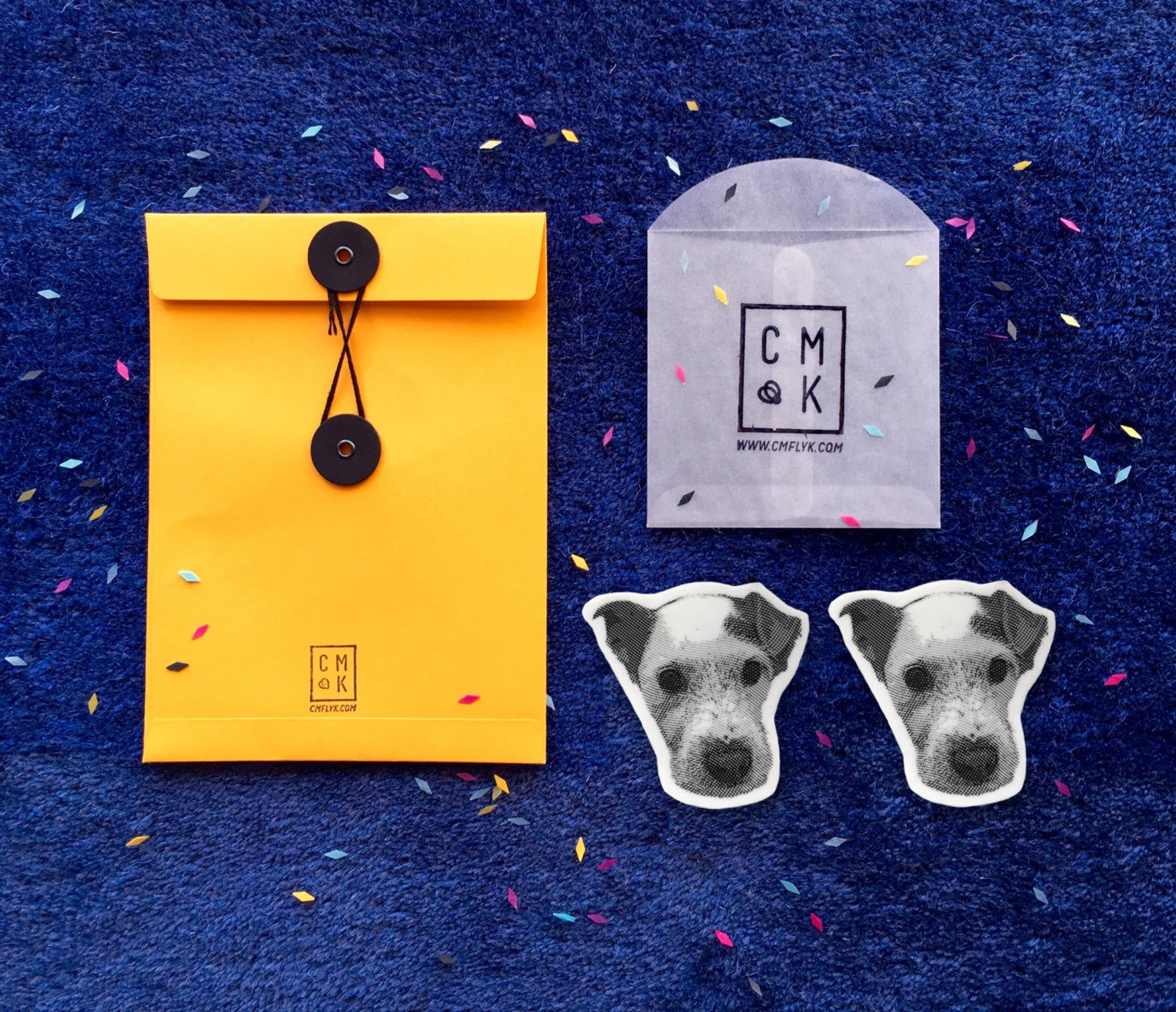 Merino Wool Cat Cave
Cat lovers know that their feline friends love a snug place to hide out. This eco-friendly, 100-percent merino wool cat cave is a spacious spot for cats of all sizes (and looks great in your home, too).

Dog Camera
What dog owner hasn't wondered what their pet is up to while they're away? Your bride can keep an eye on her best friend with this dog camera by Furbo. Features include a livestream video with 160-degree wide-angle view, barking sensor, and even the ability to toss treats. The device is compatible with the Amazon Alexa.
Custom Pet Cookie Cutter
Your bride's pet + cookies: What could be better? This custom pet cookie cutter is custom-made based on the pet's photo—and makes sweet treats all the more better.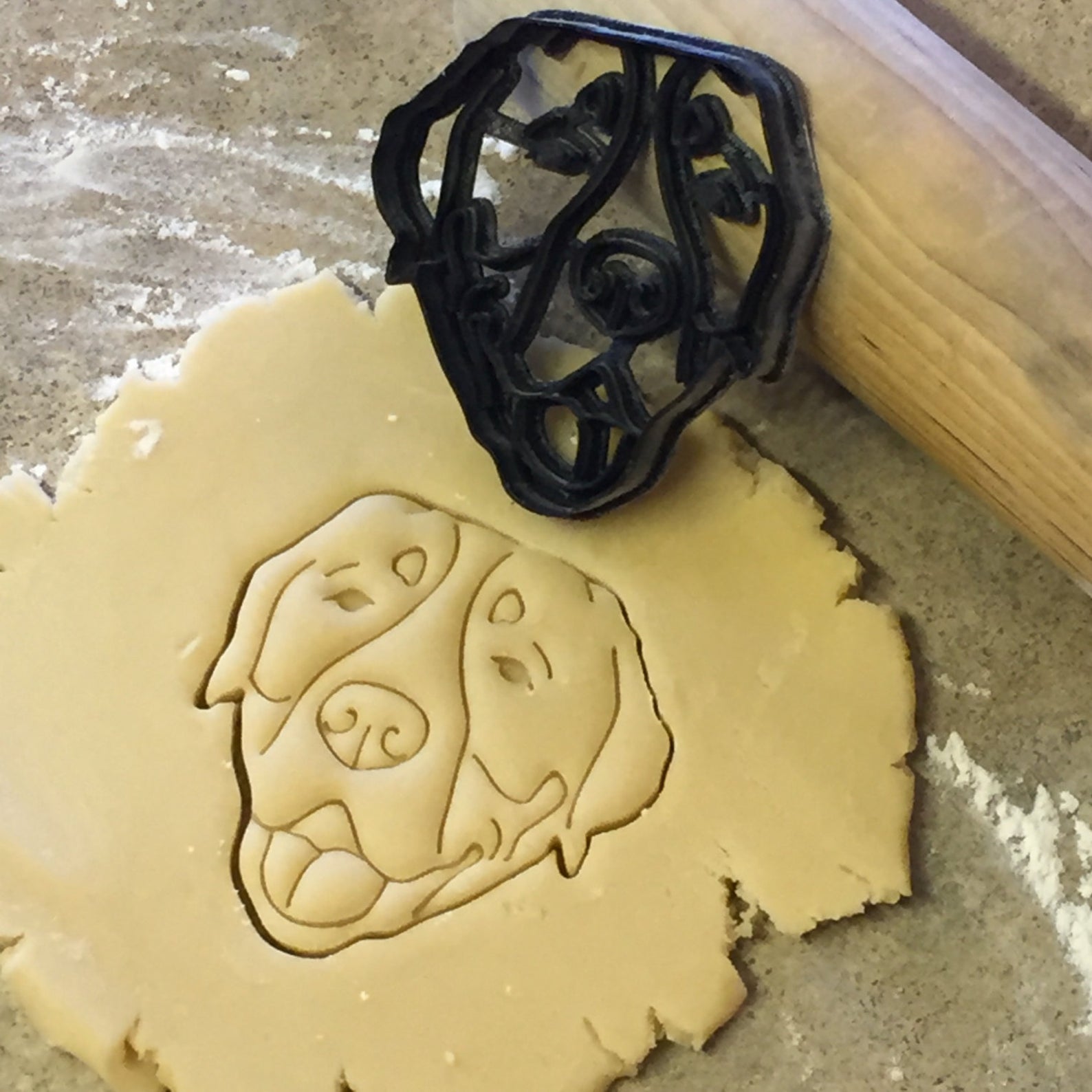 Pet Family Portrait
Pets are family. Give your bride's pets the place of honor they deserve by gifting your bride this super sweet custom pet family portrait.

Custom Pet Socks
How cute are these personalized dog-themed socks? Customize them with a photo of your bride's furry friend; they come in your choice of more than 30 colors. You can find the cat version of these socks here.
Gifts to Pamper the Bride
Luxury Weighted Blanket
Help your bride enjoy comfier and cozier sleep with a weighted blanket. This version is available in queen and king sizes, and can be used individually or shared (which means you can enjoy it, too). Weights range between 10 and 30 pounds.
Neck and Back Massager
Wedding planning can be stressful. Help your bride relaxed with this heated neck and back massager, featuring eight kneading rollers with two massage directions and three speeds.
Musical Sleep Mask
Your bride will get some seriously good shuteye with this Bluetooth-compatible, plush eye mask with built-in speakers. The mask is also adjustable, so you can maximize your bride's comfort.
I Do Slippers
These cozy, comfy I Do slippers are just what your bride needs for getting ready on the big day—especially if she'll be wearing heels when the celebration starts later. The wedding party can add these matching I Do Crew slippers to the look.

Mud Mask
Whatever your bride's skin type, this mineral-infused Dead Sea mud mask is perfect for creating a smooth and soft glow. The spa-quality mud is combined with a soothing combination of aloe-vera, chamomile extract, vitamin A, sunflower seed, and jojoba oil.
Facial Roller
The cooling and calming crystals of this 100-percent, all-natural jade facial roller and massage set can instantly help your bride breathe a sign of relief. Designed for any skin type, the roller and rejuvenates the skin, reduces puffiness, and eliminates toxins.

UGG Robe
Does your bride *love* the comfort of her UGG boots? It might be time to splurge on an UGG robe, made of jersey on the outside and fleece on the inside. In other words, it's just like wrapping yourself in a warm blanket.
Foot Massager
Kicking up your feet and relaxing takes on a whole new meaning with this shiatsu foot massager. Its features include deep kneading, shiatsu rolling, and heat functions; five air pressure settings, and two wireless remotes.