[social_warfare]
A barn wedding venue PLUS a stunning mountainside backdrop? If the very idea is enough to get your heart fluttering, you'll adore the Christmas Farm Inn & Spa in Jackson, New Hampshire, nestled in the White Mountains.

Melissa Kowalinski, the inn's wedding and event planner, shares more about what just may be one of the most charming wedding venues you will ever lay eyes on. Now get planning.
What is the history of your venue?
Built in the late 1700s, the one-time farmhouse transitioned into "Perkins Cottages" in 1883 when the owner decided innkeeping would be a profitable sideline to the ever-risky farming business. In 1946, the property was acquired by new owners and renamed the Christmas Farm Inn.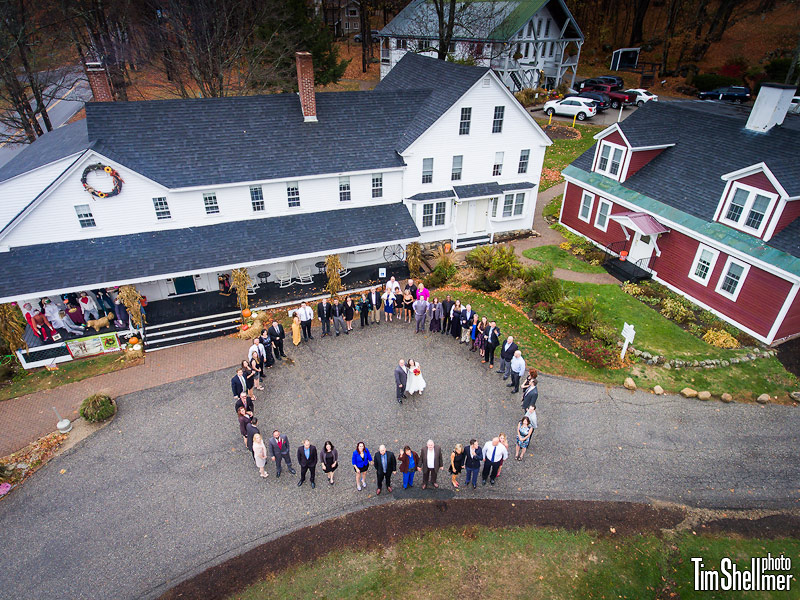 From the late 1700s to now, the buildings on our property have been more than just classic lodging facilities. For instance, the red Salt Box was once used as the local jail! The back section of the Main Inn is Jackson's first church that was relocated from just up the road during the time of Perkins Cottages. You can still clearly see the outline of the old church today!
What is your capacity?
Our historic barn, built in the late 1700s, is a versatile space that can comfortably accommodate groups of 25 to 85. Weddings of 86 to 175 guests are hosted on our lawn in our seasonal wedding tent.
Do you offer a ceremony location?
We offer two beautiful ceremony locations. The Great Room of the Carriage House is a lovely location for an intimate ceremony. The dramatic staircase makes for a grand entrance before walking down the aisle. This space offers a large, fieldstone fireplace framed with crisp, white French doors, and seats up to 55 guests with additional standing room. A patio is open during the warmer months adjacent to the lounge that accommodates up to 20 guests and offers a fantastic view of the White Mountains.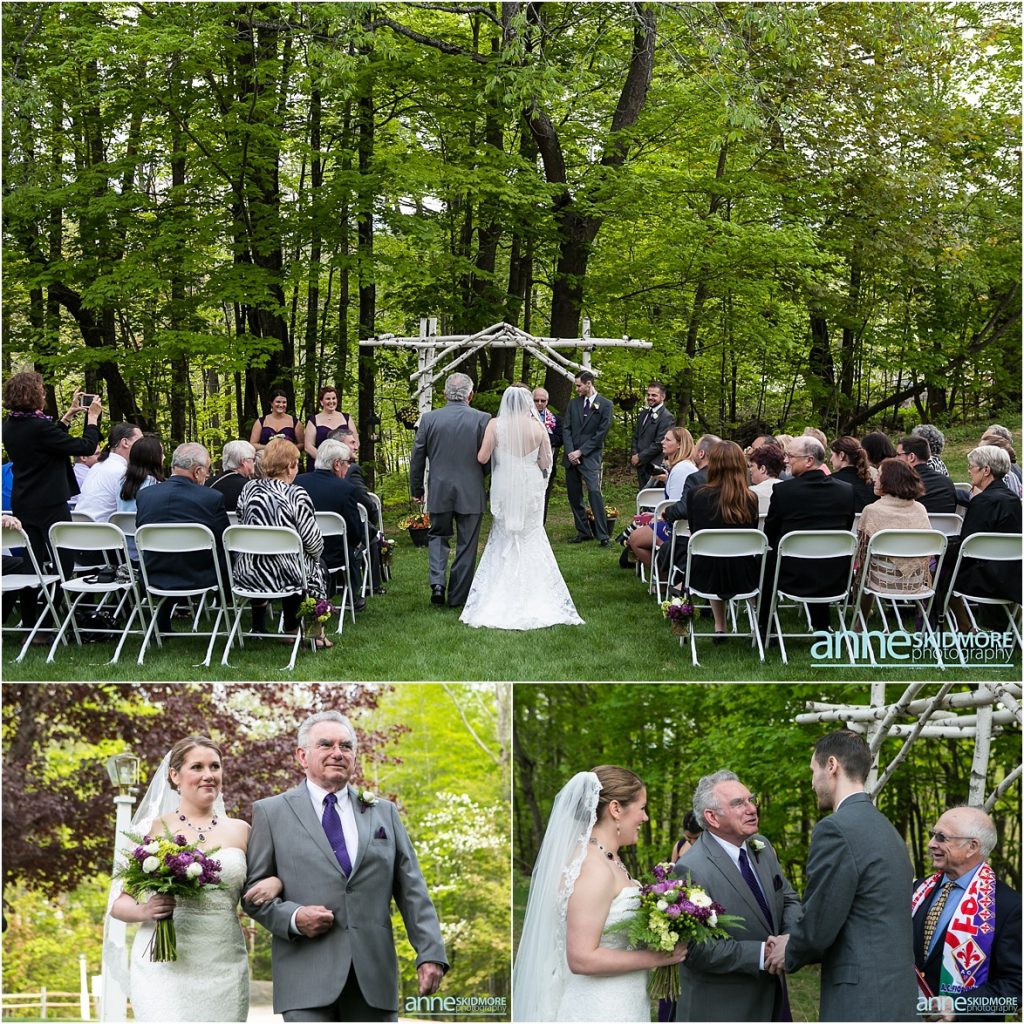 If you're looking for a rustic, outdoor ceremony, our white birch arbor makes a beautiful and romantic backdrop. With options to work with a local florist to add garland or drapery, or leaving the arbor as-is with the hanging flowers and romantic candles, couples can personalize this space to match their wedding vision.
What is included in your wedding packages?
All wedding packages include ceremony site and chair rental fees, reception site fees—including all linens, silverware, set-up, dance floor, and bartenders, two-course wedding dinner, complimentary lodging in a romantic Carriage House Suite for the bride and groom the night of their wedding, and services of our personal wedding planner. Please inquire for our full wedding packet with package details!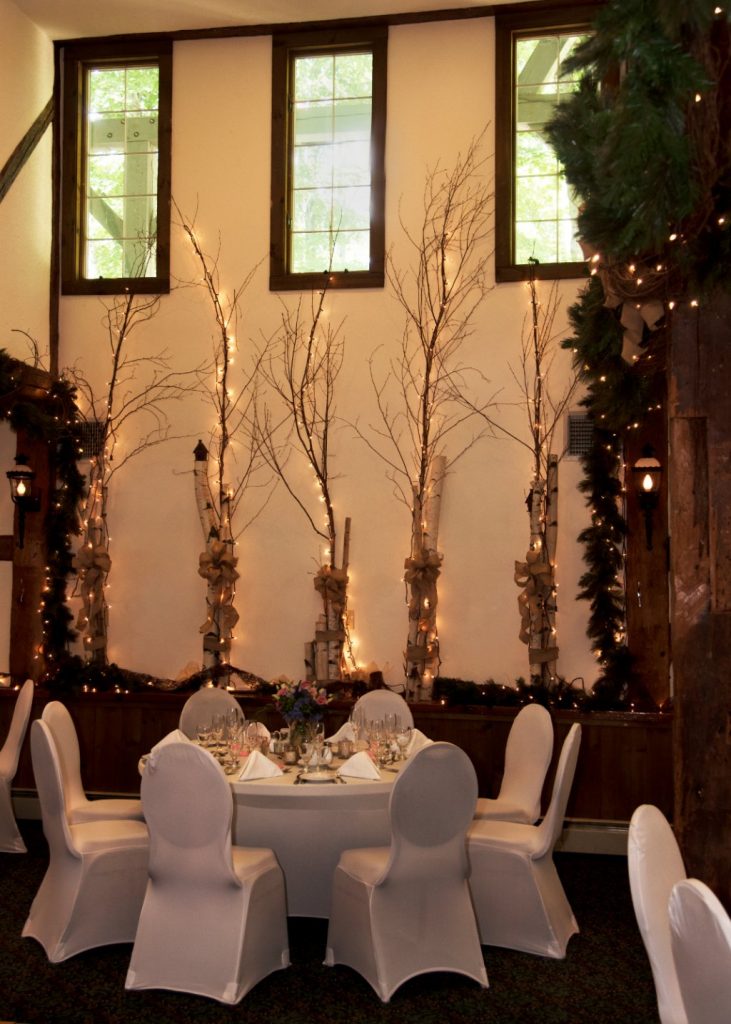 What makes your venue special?
Not many properties can offer lodging for most of your wedding guests that includes a delicious, full American breakfast each morning, an indoor and outdoor pool, indoor hot tub, fitness center, seasonal nightly campfires at the fire pit, and an Aveda Spa.
We can host your welcome/rehearsal dinner as well as your ceremony and reception. You and your guests hardly have to leave the property during your wedding weekend! For those that want to explore the area, we're located minutes away from hiking, cross-country skiing, and snowshoe trails, as well as waterfalls and swimming holes. Tax-free outlet shopping is a short drive away for those who are after a deal!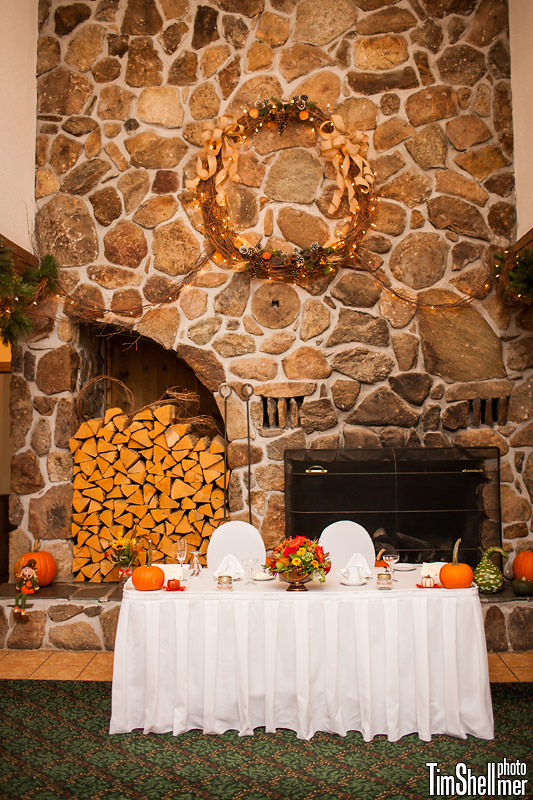 Our barn is a lovely setting for a rustic elegant barn wedding reception. The barn has been decorated to look stunning on its own if you decide not to add any additional decorations, or it has the potential to be spruced up based on your individual wedding dreams.
What is your favorite moment from one of your weddings?
I had a bride this spring who was just bawling as she was walking down the aisle after her ceremony. When she met her maid of honor in their receiving line, they hugged and the bride said (between sobs), "I'm so happy!" It was such a simple but powerful moment that reminded me why I love doing what I do.
What is your best advice for couples planning their weddings?
Stay organized and keep ahead of schedule as much as possible. The more you have done the day of your wedding and before deadlines leading up to your wedding, the happier you, your fiancé, and your friends and family will be and the more you'll all enjoy the weekend. This is a happy time for all of you! Don't let the stress of putting together favors at the last-minute cloud the big picture and the reason you're here. The more you can do before your deadlines and your arrival, the better!
Are there any vendors you would recommend to couples planning a wedding at your venue?
Justice of the Peace: Barbara Theriault, Kim Steward
Florist: Dutch Bloemen Winkel, Gorham House Florist
DJ: Dave's Music Entertainment, A Good Time DJ
Photographer: Sara McCarthy, Anne Skidmore
Baker: A Sugarmaker Bakery, Autumn Nomad
Inquire for our full wedding packet with all of our favorite vendors!