Nothing says a summer wedding quite like a Fourth of July-themed celebration. If the idea of a red, white, and blue color palette gets your heart fluttering, you'll want to be sure to check out our list of fun ideas for a Fourth of July wedding.
This post contains affiliate links, which means we may make a commission if you make a purchase, at no cost to you.
#1. Red, White and Blue Wedding Invitations
Set the tone for your big day with these red, white and blue wedding invitations by Inspiration I Do Design. These beauties are printed on white or ivory matte or linen card stock; additional options also are available.

Photo via Inspiration I Do Design
#2. American Flag Cornhole Boards
What's a rustic wedding without lawn games? These handcrafted, distressed American flag cornhole boards by Custom Cornhole Boards offer a fun, creative way for Fourth of July weddings to give a nod to the Stars and Stripes.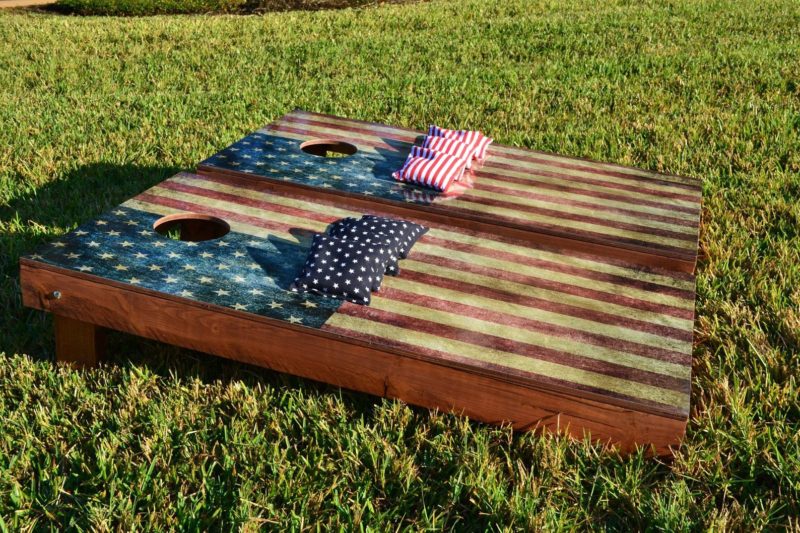 Photo via Custom Cornhole Boards
#3. Patriotic Wine Bottle Ring Toss
This festive game by Ford Country Trading Co. features upcycled wine bottles handpainted in red, white, and blue. A handcrafted wooden crate, designed to look like a vintage Coke crates, pulls it all together. Six handmade rope rings provide the rustic finishing touches.

Photo via Ford Country Trading Co.
#4. Paper Fans
This stars and stripes party fan display by The Polka Dot Barn have the "wow" factor in spades. How amazing would these be as a photo booth backdrop?

Photo via The Polka Dot Barn / Wholesaler: My Mind's Eye
#5. American Flag Cake Topper
This simple and sweet American flag cake topper by Kiss Me Kate Studio is a must-have for finishing off your cake—and couldn't be more perfect for a rustic wedding.

Photo via Kiss Me Kate Studio
#6. Navy Blue Wedding Guestbook
This navy blue wedding guest book by Paper Bound Love is an elegant option for incorporating a red, white, and blue color palette without being over the top. Want to showcase a different color? Red and white versions also are available.

Photo via Paper Bound Love
#7. Red, White & I Do Banner
This "Red, White, & I Do" banner by Party Pop Supplies is patriotic with a twist. Silver twine for hanging adds a rustic vibe.

Photo via Party Pop Supplies
#8. Personalized Can Coolers
Send your guests home with these personalized can coolers by The Wedding Shop for a favor they'll actually use once the wedding is over. Tip: Give them out early in the reception so your guests can use them all night long.

Photo via The Wedding Shop
#9. Bride Vibes Tank Top
Brides: You won't want to stop wearing this Bride Vibes tank top by Palm Beach Makeup Pro. Whether it's for the bachelorette party, getting ready the day of, or just hanging out, it provides the perfect look for patriotic brides.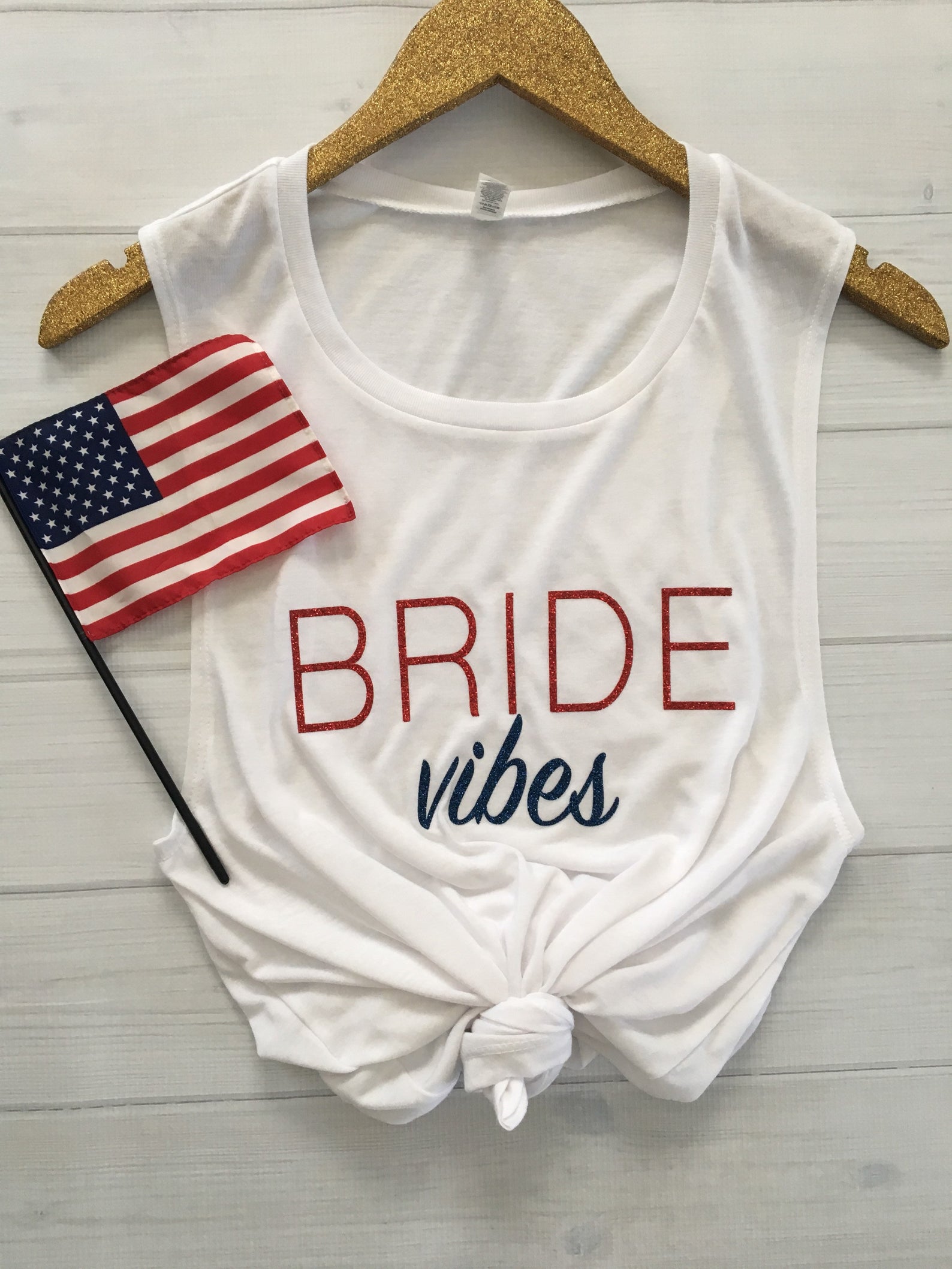 Photo via Palm Beach Makeup Pro
#10. American Flag Necktie
Take your groom's look to the next level with this red, white, and blue necktie by Ed's Neckties. The handmade tie is available in extra long and skinny; a matching pocket square is available upon request.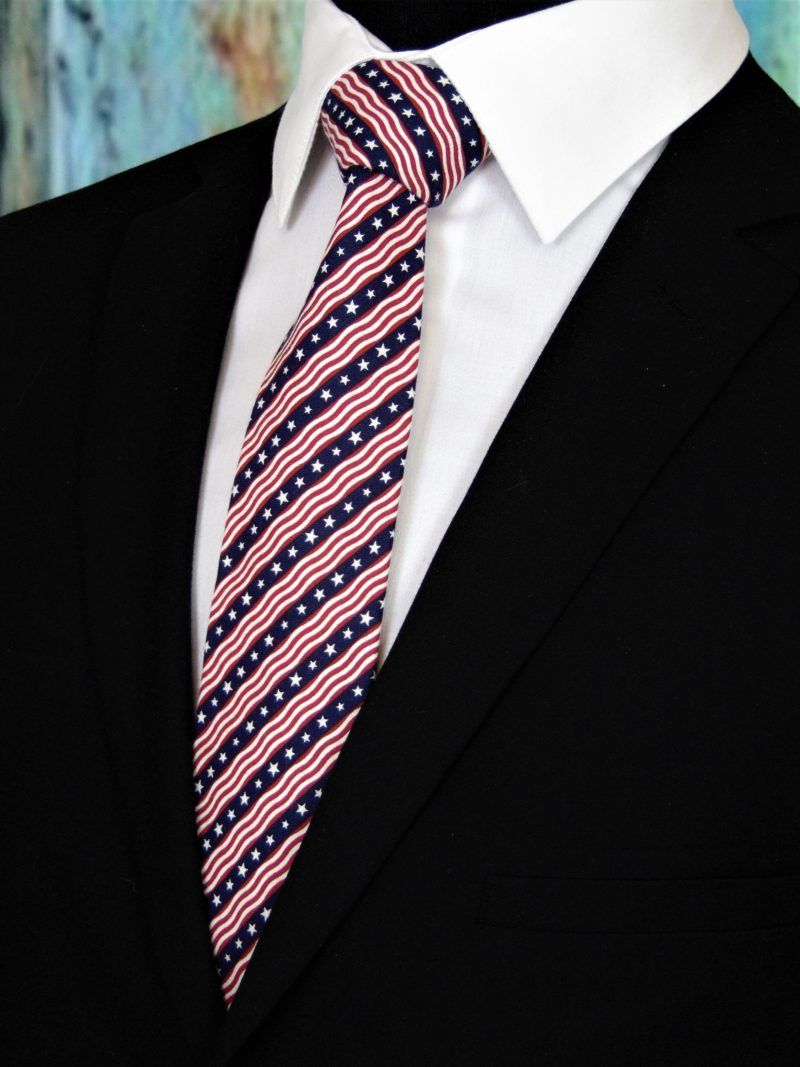 Photo via Ed's Neckties
#11. Red, White and Blue Ring Bearer Pillow
This adorable ring bearer pillow by OneFunDay is a perfect way to incorporate a red, white, and blue color scheme. A burlap ribbon and handrolled rosettes made of muslin and cotton add rustic touches.

Photo via OneFunDay
#12. Flower Girl Crown
Speaking of the littlest members of your wedding party, we of course can't forget your flower girl. This made-to-size flower girl crown by is a finishing touch that she'll love, and features a ribbon in the back for an adjustable fit.

Photo via Ryleigh's Rose Boutique / Photo credit: Brenda Wuthrich
#13. Paper Flower Garland
This four-foot garland by H. Bixby Artworks, made of recycled book page paper flowers, is unique and festive. Hang several to make an impact, or string a few end to end to make for a longer option.

Photo via H. Bixby Artworks
#14. Hand-Distressed Clothespins
Attention to the smallest details can really make a wedding. These red, white, and blue clothespins by Homestead 1863 are ideal for photo displays, wedding signs, or other uses—get creative!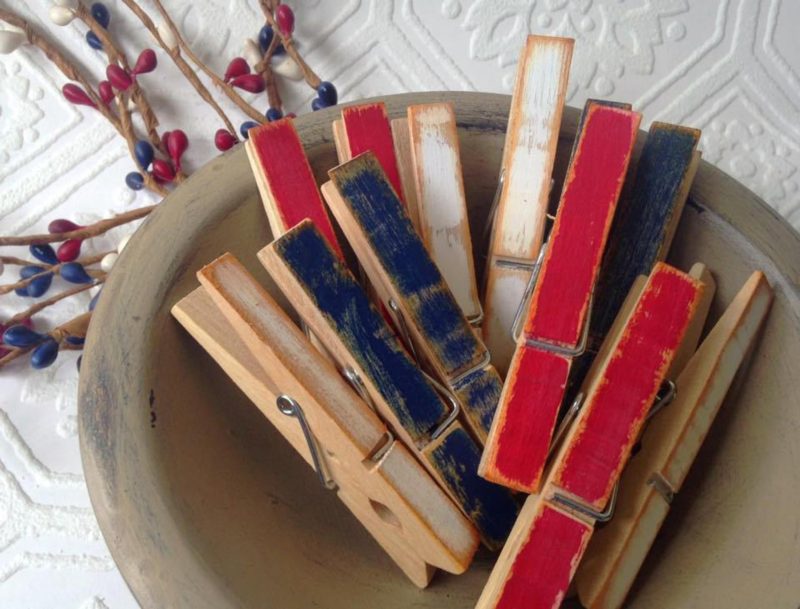 Photo via Homestead 1863
#15. Star Table Runner
This red, white and blue table runner with patriotic stars is a must for holiday-inspired wedding reception tables.
#16. Decorative Picks
How perfect would these Fourth of July decorative picks be tucked into your reception centerpieces? This set includes six 17-inch stems.
#17. Vase Fillers
Tuck them into a clear vase, hang them with string, sprinkle a few onto a reception table: The uses for these red, white and blue rattan vase fillers at your wedding are limited only by your imagination. We love that this set has a combo of both patriotic stars and romantic hearts.