Sure, you could plan your entire wedding online and with apps. But sometimes, you just want to write things down. Enter the wedding planner book.

There's lots of options to choose from out there, so we've rounded up and reviewed some of the most popular choices to help you find the perfect one for you. We've included affiliate links in this review, which means we may receive a commission if you make a purchase, at no cost to you. But we've personally looked at each of these planners, so you can be assured that our opinions are our own.
Now it's time to get planning.
Erin Condren Wedding Planner
You can't talk about planners without talking about Erin Condren. She's developed a cult following for her daily planners (#planneraddict, anyone?), and so we're psyched that she has an option available just for brides, too.
The Basics: 
7″ x 9″
Spiral bound
Your choice of 12- or 24-month calendar lengths (perfect for accommodating different engagement timelines)
Sections Included:
Tabbed monthly calendars (you can choose the starting month)
"I Do" List — Outside of the calendars, this is the only other tabbed section of the planner, and has everything from a wedding timeline to budget checklist to gift log.
You can take a look at the entire planner here:
Pros: There is a *lot* to love about this planner. To start, it's all about customization, so you can make it completely your own. There are tons of different cover options, which you can personalize with your name, photos, wedding dates, and more. And if you get bored of your planner's look halfway through the process, you can even swap it out for a brand-new interchangeable cover.
Erin Condren fans go all out on decorating their planners (seriously, check out #erincondren, #plannerjunkie, and #plannerspread on Instagram for some inspiration), which is a huge part of what makes them so darn fun. Your planner comes with a bunch of stickers to get you started, and you can get more directly from the Erin Condren website.
In terms of keeping your wedding on track, this planner has everything you need, including top 10 planning tips; a wedding planning timeline; must-have photo list; music playlist; vendor information; and even a page to note your wedding wines, cocktails and drinks (love this for weddings with a signature cocktail). There's also blank lined and dot grid paper in the back of the planner that you can use for whatever you want; sketching ceremony and reception floor plans would be one great way to use this space.
The planner is also a bit of a scrapbook, with a memories section in the back for you to capture the most memorable moments of your planning process and big day—the perfect opportunity to break out the stickers and washi tape.
Finally, Erin Condren planners are known for their attention to the little details, and this one is no different. It's very colorful with super quality paper that turns easily, and doesn't bleed. For a planner containing so much information, it's a nice compact size that's easy to carry around with you or throw in a bag. And honestly, it's just really fun to look at.
Cons: Starting at $55, this planner is the priciest one of the bunch. If you decide to add in customizations, stickers, and other accessories, you can expect to spend a good deal more. Also, keep in mind that even a basic version can take a few days to be prepared for shipping, so you won't be able to receive this planner as quickly as the others. And, while there is a small folder included, the compact size of this book may make it tricky to store all of the wedding receipts, contracts and other paperwork you'll end up accumulating during your planning process.
Wedding Planner by Bloom Daily Planners
The creators of the super-popular Wedding Planner by Bloom Daily Planners took all of the tips and tricks they learned from planning their own weddings—as well as other brides—to create this awesome wedding resource.
The Basics: 
9″ x 11″
Spiral bound
18-month undated calendar
Sections Included:
Our Vision
The Basics
Guest Planning
Vendor Planning
Monthly Planning
The Big Day
Wedding Memories
See the entire planner here:
Pros: The very beginning of this planner is basically "Pinterest on paper." Here, you'll find not only space to capture your overall vision for your wedding, but a number of different mini vision boards for your ideas on the ceremony, reception, bride's attire, groom's attire, bridal party attire, flowers, hair and makeup, photography, and a few additional blank ones so you can create your own categories.
The planning pages are pretty awesome, too. One of our favorites is the guest list section, where you can track their contact info, invitations, special notes (such as dietary restrictions), and wedding gifts all in a single chart—it's super helpful not to have to flip through multiple pages and sections to get all of these crucial details. The seating arrangement pages are also great; there's unlined space for you to create a seating plan for up to 22 tables, so you can add as many or as few guests to each as you want to.
But our most most most favorite part can be found in the monthly planning section, where each of the calendars is followed by both a lined notes page and blank to-do page that you can fill in yourself. This is a great way to quickly and easily compile all of your tasks for the month, and then schedule them in as time becomes available. It's the little things, really.
And, like the Erin Condren planner, the Bloom planner has a dedicated memories section; however, this one takes a different approach, with dedicated pages for commemorating specific wedding events: engagement, bridal shower, bachelorette party, planning process, rehearsal dinner, morning of, ceremony, reception, and honeymoon, as well as overall reflections on the big day. If you like the idea of prompts to make sure you don't miss any memories (and for inspiration), you may find this planner helpful.
Cons: Compared to the Erin Condren planner, this planner isn't as customizable—what you see is really what you get. In addition, some of the planning pages could benefit from a little more flexibility. For example, the bridal party section is laid out with space for one maid of honor and best man, eight bridesmaids and groomsmen (each), one flower girl, and one ring bearer. If your bridal party is larger than this, non-traditional, or simply has a different number of people in each role, you'll need to make some adjustments to how you use these pages.
Likewise, the budget tracker has all of the expense categories pre-populated without any extra space for new line items, so if you want to add any of your own, you'll have to find an alternative method for tracking them. Finally, the finishing touches aren't quite as nice as they are in the Erin Condren planner—the pages don't turn as smoothly, and the paper is less thick. Also, the dividers are the same weight as the paper, so they aren't as sturdy. However, keep in mind that's merely a comparison—this planner is a great option.
All the Essentials Wedding Planner by Alison Hotchkiss
Event planner Alison Hotchkiss knows her stuff. Proof: Her work has been featured in publications from Vogue Magazine to Martha Stewart Weddings to Brides magazine, to name just a few. The All the Essentials Wedding Planner brings all of her expertise right to your fingertips.
10.8″ x 2″ x 11.8″
Three-ring binder
18-month undated calendar
Sections Included: 
To-Do List and Calendar
Budget
Guest List
Venue
Inspiration
Guest Correspondence
Vendors
Accommodations
Ceremony
Reception
Attire
Timeline
Gift Registry
Contracts
Resources
Pros: If you love the idea of a planner with super detailed categories, this is the one for you. With 15 different tabbed sections, this planner makes it so easy to flip to exactly what you need, when you need it—much more so than the other planners reviewed here. In addition, with its binder format that allows you to hole punch and easily add whatever planning materials you want, the All the Essentials planner was designed very intentionally to create a one-stop, central planning location. And even with all of the sections you start out with right out of the gate, you should find that there's still plenty of space for your binder to grow as your wedding planning progresses.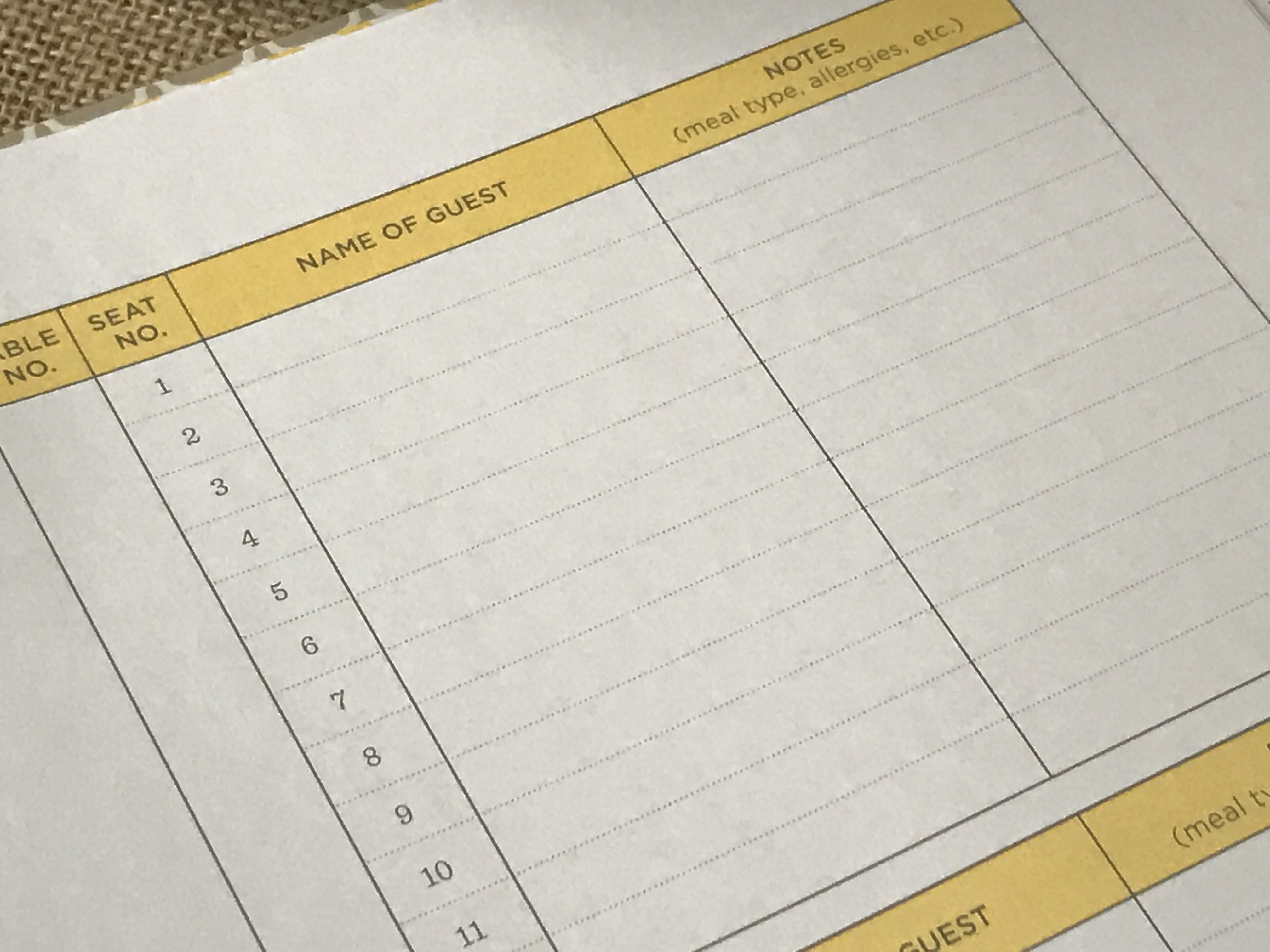 One really interesting element of this planner is that, while the out-of-the-box version contains a number of different planning pages to get you started, additional pages designed specifically for this planner are available online (instructions on how to access them are included in the book). AND, some of them, like the guest list, are editable PDFs that you can complete right on your computer and then pop into your binder.
Finally, this planner just looks really nice—it's one of our favorite designs among all of the planners. There's lots of nice color, and the planning pages themselves are really airy and clean, so all of your wedding details will stand out (use some brightly colored pens to make them pop even more). Each of the dividers has a different design, and they're a good weight that seems like will stand up well to a year-plus of use. Also, the "All the Essentials" sleeve found on the front cover is adhered with tape, so you can remove it if you would prefer just the patterned cover.
Cons: It's a binder, so it's big. If you want something you can easily tote around, this may not be the one for you. It also can't fold over for you to write, so if most of your planning is going to take place while you're curled up on the couch and you don't want the hassle of constantly taking out your papers to make changes, you should check out the spiral-bound Erin Condren and Bloom planners above. The spaces for the individual days in the month-at-a-glance calendars are quite small, so if you need to write more than one item per day, you'll really have to squeeze them in.
The Wedding Planner & Organizer by Mindy Weiss
Celebrity event planner Mindy Weiss knows just how to make sure a special event runs smoothly—and she's sharing her expertise with brides in this bestselling wedding planner and organizer.
The Basics: 
10.7″ x 1.8″ x 11.6″
Three-ring binder
No monthly calendars
Sections Included:
The Big Picture
Budget
Location
Guests and Invitations
The Dress
Menu and Flowers
Music, Photography and Videography
Rentals
Making It Official
Pros: To start, each of the nine tabbed section dividers has its own pocket folder, so you can easily keep track of materials in their relevant section. Yes, you read that right—you get *nine* different folders with this planner. And, there's also a zip pouch in the back for even more storage. The budget spreadsheet is great for those who want to keep detailed track of their expenses; rather than lump all of your costs into a single amount for each category, there's space to itemize each expense. For example, the flowers category alone includes line items for:
Ceremony flowers

Bride's bouquet

Bridesmaids' bouquets

Boutonnieres

Corsages for mothers

Wreaths and petals for flower girl

Cocktail flowers

Reception flowers

After-party flowers

Miscellaneous flowers

Chuppah flowers
Breaking down each of your costs in this way is a huge help in making sure you stick to your budget, and showing you where you might be overspending or need to make adjustments. In addition, we particularly love that this planner has customized planning timelines for both long and short engagements (with *lots* of details), so nearly any bride can find the information she needs to keep her wedding on track.
Cons: The lack of monthly calendars is a biggie. If you want to have a single spot to plan all of your tasks and get an easy, at-a-glance view as to where your process stands at any moment in timer, this probably is not the planner for you. As another three-ring binder, it also has the same potential issues with ease of use as the All the Essentials planner described above. Finally, the overall look and feel of this planner is a bit dated, especially compared to the others shown here; however, like the All the Essentials planner, the front cover sleeve is removable, leaving you with a very simple and pretty dotted pattern.
Super excited for planning now? (As if you weren't already). Keep on track with what's most important by checking out  The Very Best Wedding Planning Tips from the Pros Who Have Seen It All. 
Post updated January 7, 2019