Pennsylvania brides, how lucky are you to be able to choose from among venues as gorgeous as these? Here's a list of some of our favorites within a one-hour drive of Philly.
#1. American Swedish Historical Museum — Philadelphia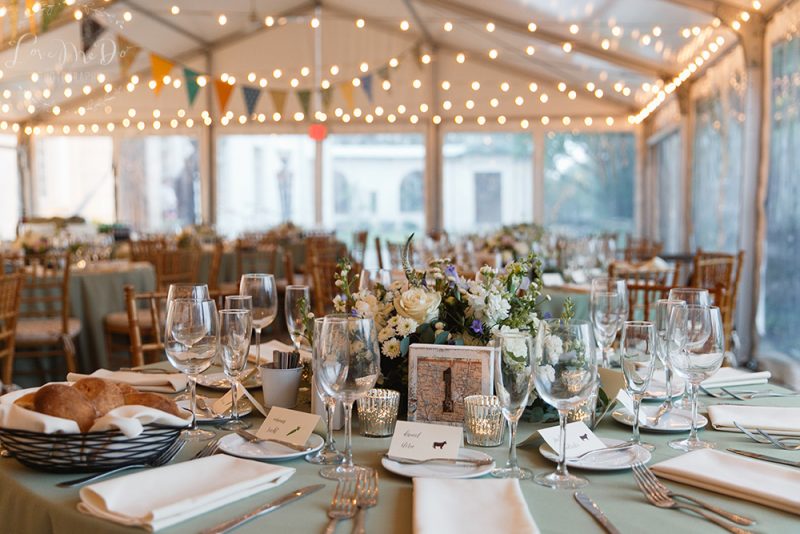 Photo via the American Swedish Historical Museum
The oldest Swedish museum in the United States, the American Swedish Historical Museum is a hidden gem for Philly brides. Located in FDR Park, it has gorgeous views from the outdoor terrace—and lots of beauty inside, too, with original period paintings, furniture, and textiles depicting the history of Swedes in America; as well as an elegant grand hall and staircase. It's also perfect for large events, with the ability to accommodate up to 360 guests, and features both indoor and outdoor spaces.
Contact the American Swedish Historical Museum
#2. Anthony Wayne House — Paoli

Photo via the Anthony Wayne House / Photo credit: Bartlett Pair Photography
If you're looking to infuse your wedding with a bit of history, the Anthony Wayne House—also known as Waynesborough—is an ideal setting. Once home to Revolutionary War hero General Anthony Wayne, the venue is now maintained by the nonprofit Philadelphia Society for the Preservation of Landmarks. With space for up to 25o guests, large parties will have plenty of room for dinner and dancing here. And another great benefit—a portion of each event's proceeds goes toward maintaining the house and its collections, so by hosting your wedding here, you'll be helping preserve the property for future generations (and couples!)
Contact the Anthony Wayne House
#3. Barn on Bridge — Collegeville

Photo via Barn on Bridge / Photo credit: Hoffer Photography
Whether you're a DIYer or someone who wants to leave the planning details to the professionals, the Barn on Bridge can help you make your wedding dreams a reality. Once a 1700s dairy farm, the property has been completely modernized, yet retains the rustic aesthetic charm of its previous life—a particular highlight is the restored two-story carriage house hospitality suite, offering plenty of space for the bridal party to get ready for the big day. A customized wedding cake, top-shelf open bar, and more than 300 linen choices are all among the goodies of the venue's standard pricing package, while the venue's permanent tent eliminates the need for weather-related contingency plans—ensuring you can focus all of your energy on your "I do's."
#4. Columbia Station — Phoenixville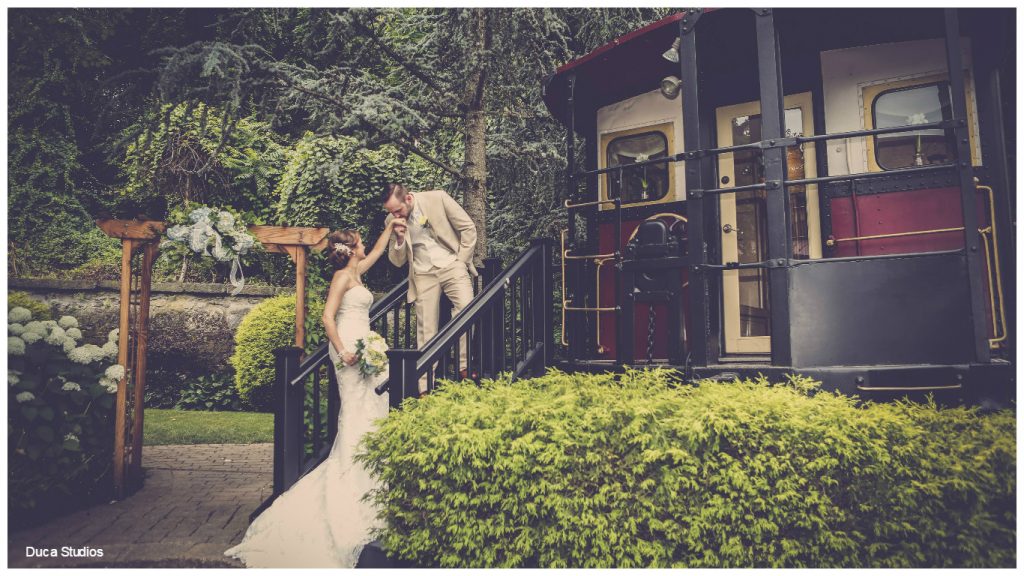 Photo via Columbia Station / Photo credit: Duca Studios
Formerly a Reading Railroad passenger station, Columbia Station offers a one-of-a-kind setting for couples envisioning a wedding day full of vintage charm. The antique caboose is a favorite spot for bridal parties to relax and prepare for the big day; for the reception, you'll adore the the grand ballroom with two-story ceilings and crystal chandeliers. The venue's wedding packages include everything from customizable linens to the wedding cake to an open bar, making your planning super easy. And, one more thing: You're sure to get some pretty amazing photos, too.
#5. Duke Art Gallery — Wallingford

Photo via Duke Art Gallery / Photo credit: Lindsay Docherty Photography
Located on a 100-year-old estate and sitting on four acres of landscaped grounds, the Duke Art Gallery offers your choice of indoor and outdoor celebrations. The gallery's new event space features oak floors, soaring exposed beams and beautiful lighting—and of course, stunning art galleries. Outside, there's a manicured lawn, apple orchard, gardens and even a charming Rapunzel tower. And, it gets even better: Talk a walk beneath the trees and you'll discover a wood-burning pizza oven. Is it possible to find a more fun spot for your cocktail hour? Not likely.
#6. HollyHedge Estate — New Hope

Photo via HollyHedge Estate
This 18th-century farm and estate is rustic sophistication at its finest. Once part of the William Penn Land Grant, which founded the then-colony of Pennsylvania, HollyHedge Estate includes 20+ acres of private floral gardens and ponds, as well as working gardens and greenhouses that grow food for the reception kitchen and on-site inn. The property's centerpiece is the stunning fieldstone barn, which can accommodate events with up to 210 guests. HollyHedge Estate is a family-run business with a team of wedding pros committed to making sure your dream event becomes a reality—and it shows.
#7. Lake House Inn — Perkaskie

Photo via Lake House Inn
A rustic wedding weekend at a private, waterfront estate? Sign us up. And that's exactly what you'll get at the gorgeous Lake House Inn , which overlooks the picturesque Lake Nockamixon in Upper Bucks County. Surrounded by 6,000 acres of state park, the renovated 19th-century inn—which once served as a post office and general store—now features contemporary, spa-like decor. With on-site accommodations for up to 40 people and the ability to host events for up to 300 guests, this venue is a great option for both smaller and large events alike. One fun idea for your guests: Get some friendly competition going in the on-site billiard lounge (groomsmen vs. bridesmaids, perhaps?)
Contact Lake House Inn
#8. MOYO — Schwenksville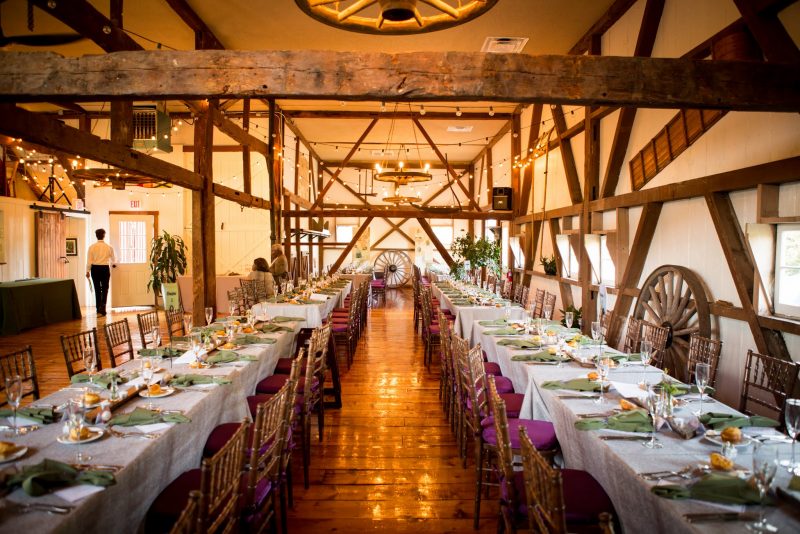 Photo via MOYO
The name MOYO means "heart and soul," and boy, does this venue deliver. The late 19th-century barn—which was once used as a set for Dick Clark's American Bandstand in the early 1960s—is today a wedding venue, yoga retreat, and wellness center. For events, MOYO offers 4,000 square feet of dining and dancing space, a built-in bar, balcony, and vintage-style lighting, and can accommodate more than 150 guests. And, it's pretty awesome for wedding couples, too—host your wedding here and you can take advantage of customized yoga, massage, and wellness offerings. Ahhh.
#9. Philander Chase Knox Estate — Malvern

Photo via Philander Chase Knox Estate / Photo credit: Olivia Rae Photography
The setting for the Philander Chase Knox Estate venue is Mother Nature at her finest. Located in Valley Forge National Historic Park, the estate was built in the late 1770s and was once the summer home of Philander Chase Knox, the property's namesake and a former U.S. attorney general, secretary of state, and senator. Surrounded by 3,500 acres of rolling green meadows and towering trees, the estate offers *tons* of beautiful backdrops for each moment of your special day. Start with exchanging your vows on the manicured lawn overlooking wildflowers and Valley Creek, followed by cocktail hour on the slate patio. Dinner and dancing take place under a stunning, fully carpeted tent; reclaimed barn wood farm tables add the perfect rustic touch. Swoon.
Contact the Philander Chase Knox Estate
Head to Rustic Bride's venue and vendor guide to find even more amazing rustic wedding venues and vendors in Pennsylvania.