Now that you're planning your wedding, have you read that you'll be spending *thousands* of dollars on your flowers? Yeah, we have, too. But guess what? You. Don't. Have.To.

Don't believe it can be done? Meet Katie Richards, of K&K Weddings in Nashville, Tennessee. Katie's not just a wedding planner, but she's a recent bride who had a wedding full of *seriously* gorgeous stems, on a budget of $700.
Here's how she did it—and you can, too.
Prioritize which items you want to spend money on.
Katie's budget included a lot: a bridal bouquet, six bridesmaid bouquets, eight boutonnieres, one corsage, a cascading flower cake, toss bouquet, and two single roses. For her, the priorities were her own bouquet, and the cascading flowers on the cake.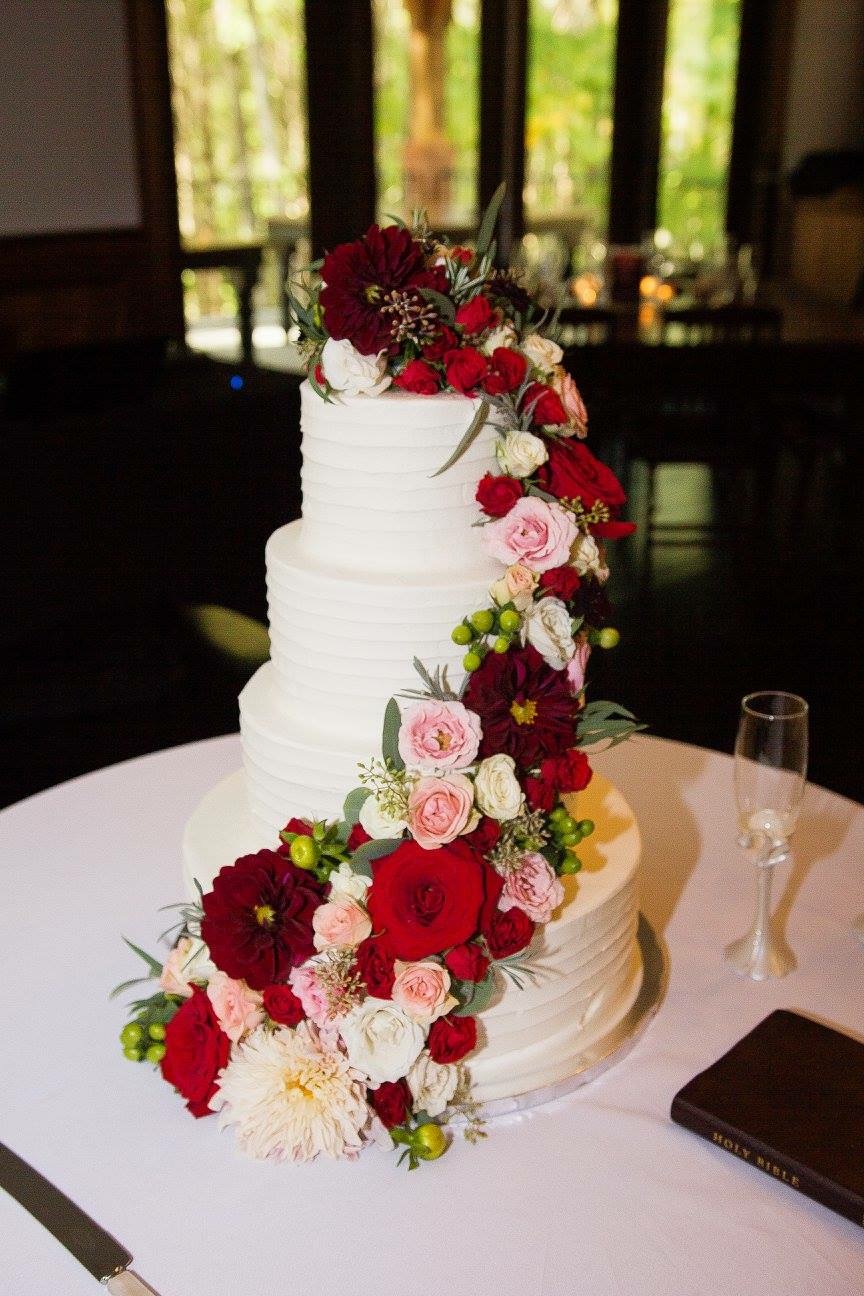 "I wanted a really nice bridal bouquet, and I have always loved cascading flowers down a cake," she says. "It's really a personal preference of what you want to spend more money on, so you can identify where you can save in other areas."
Have an idea of what you want before meeting with florists.
Pinterest is your friend here, people. Create some inspiration boards and spend some time researching what you want before you start speaking with the professionals. It not only will save you time, but also focus your conversation on the most affordable options within your budget.
"When I started meeting with florists, I already knew what I wanted, especially red roses to match the dresses, and fall colors like burgundy incorporated as well," says Katie, who spent an entire month researching her options. "My florist understood my vision right from the start. The flowers and colors she used were exactly what I pictured, and within my budget."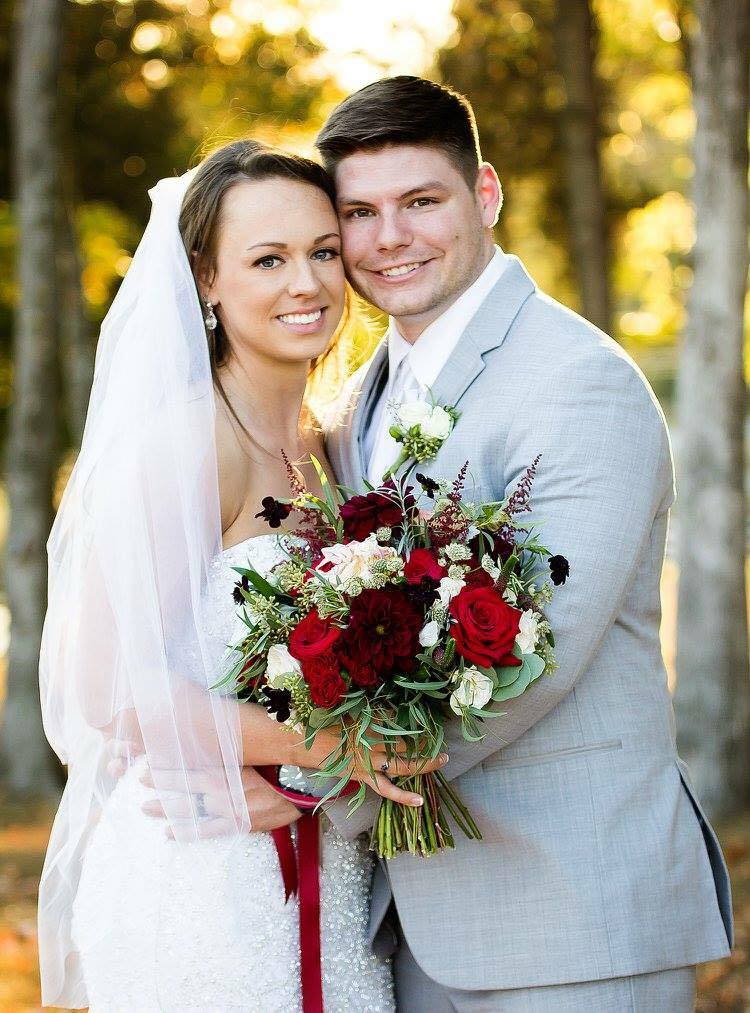 Be willing to travel.
A great and affordable florist may be found outside of your immediate area—and this is especially true if you live in or near large towns and cities.
"The florist I chose was approximately 30 minutes outside of Nashville, says Katie. "The difference in price was crazy compared to what I was quoted in the city and immediately surrounding areas. It was well worth it to take the time to research and comparison shop."
Tip: If you do go this route, be sure to ask your florist if there any additional delivery fees will be incurred for longer travel distances, so you can incorporate this in your budget. And even if the answer is yes, the overall savings may still be substantial.
Identify the parts of your wedding that flowers are most important.
Does every inch of your wedding need to be covered in flowers? Probably not. Ask yourself which aspects of the wedding will benefit most from flowers, and even find ways to have items multitask. For Katie, that included reusing the bridesmaids' bouquets as reception centerpieces, and decorating the church only with flower petals down the aisle.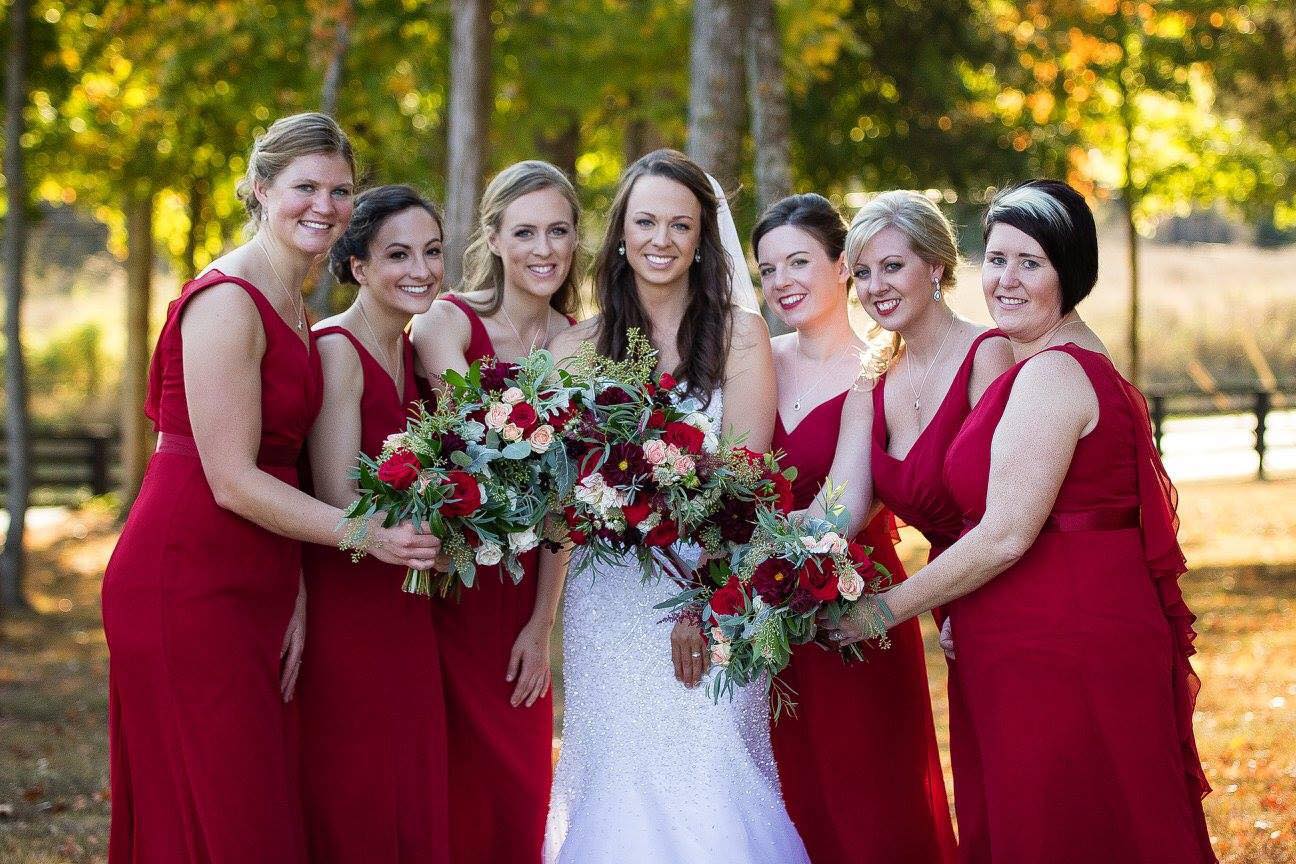 "We got married in a beautiful chapel that didn't need many decorations. And the reception is all about dancing and eating, and no one is going to notice or care if the bridesmaids are still holding their bouquets," Katie says. "It saved us a ton."
Book early.
Once you've identified the florist you want to work with, make sure you get your wedding date on their calendar, pronto. Pros can book up quickly, and if that happens with your preferred florist, your remaining options may be more costly than you had planned for. Don't let your careful planning and research to go down the drain.
"As a wedding planner, I've seen many brides wait until the last minute to accomplish certain things," says Katie. "You should just take care of things right away, while they're still fresh and on your mind. That way it's done, and you can be more carefree going up to your big day."
Super motivated now to save big bucks on your wedding flowers? Thanks, Katie, for showing us that it *can* be done.
All photos by Willow Tree Photography