[social_warfare]
THE SPRINGS Event Venues are such experts at weddings they don't have just one venue—they've got ELEVEN. And they're even in two different states. Clearly, this is a team that knows how to make your perfect big day happen.

The company started at a kitchen table with five family members who felt there was a gap in the wedding industry for a simple, yet elegant wedding venue that went beyond its own backyard. Their first venue, in Montgomery, Texas, opened in 2009; within eight years, they've built three more venues in the Houston area, and expanded their business to Dallas/Forth Worth and Oklahoma as well.
And they don't settle for mere satisfaction—according to Brianna Yates of THE SPRINGS, their aim is to "blow everyone out of water in beauty and customer service." Goal achieved.
Hear more from Brianna about the different styles of venue they offer, the *tons* of things included in their wedding packages, and their best wedding planning advice.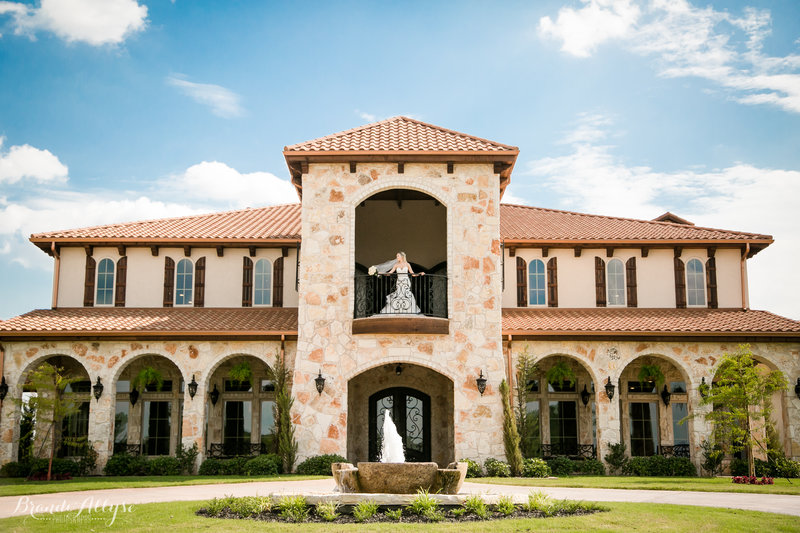 Tuscany Hill (Tuscany-style). Photo credit: Brandi Allyse Photography
When did your venue open?
Our first venue opened in 2009 (THE SPRINGS Event Venue in Montgomery, TX)
What is your capacity?
THE SPRINGS has four venue styles, each very unique. Our original style, The Ranch; our plantation style, The Manor; and our old-world style, The Tuscan, can all hold up to 320 guests. Our rocky mountain style, The Lodge, can hold up to 224.
Do you offer a ceremony location?
Yes. All of our locations have some type of outdoor ceremony site. Although all of the styles differ greatly, each location always has a gorgeous ceremony pavilion with ceremony chairs provided. Or, if the bride prefers (or if there is inclement weather) she can have her ceremony inside the beautiful reception hall.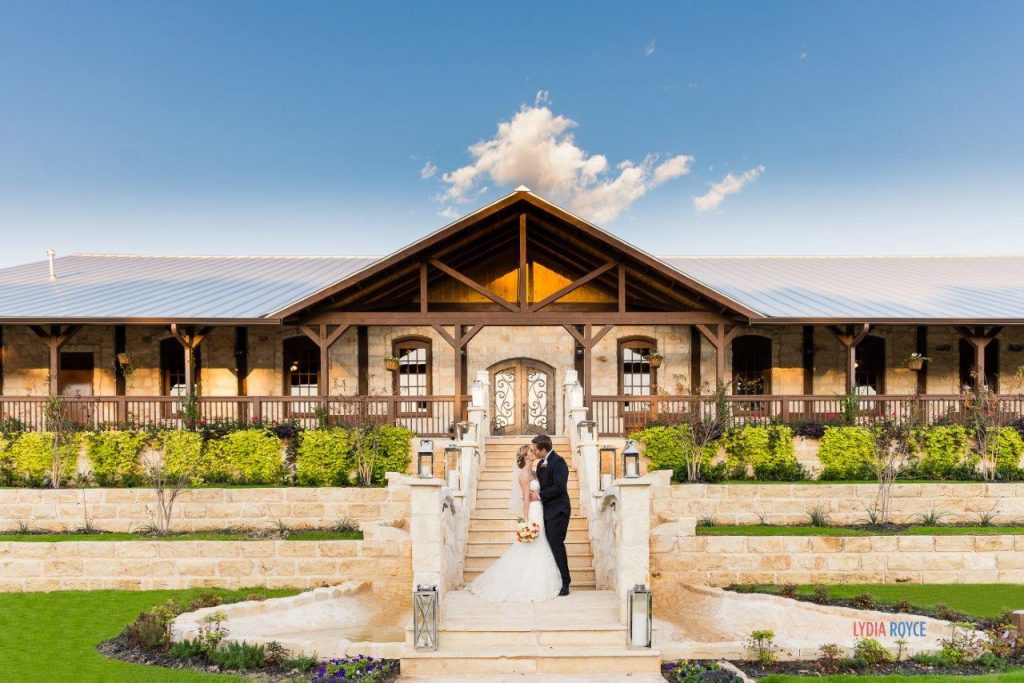 Stone Hall (Ranch-style). Photo credit: Lydia Royce Photography
What is included in your wedding packages?
Our packages include:
9:00 am to midnight rental (15 hours)
Tables and chairs for the ceremony and reception
Bride's and groom's suites
Outdoor ceremony sites with white chair seating
Indoor PA system with amplifier
Furniture setup and take down
Outdoor PA system
Built-in indoor projector and projector screen (or large, flat-screen TVs)
Climate-controlled indoor reception sites and assembly hall
Large parking lot
Your choice of vendors
Bridal/engagement photo shoot availability
Wedding checklist planner and seating arrangement tool
All of our services and amenities are included in the rental cost. You will NOT incur any extra costs, including sales tax and gratuity!
What makes your venue special?
THE SPRINGS' employees really do care about each individual bride and groom and their families. We truly want to make sure your special day is all you've dreamed of. That is why there will always be someone on site to help you, we're available by text so your wedding planning questions can get answered quickly, and our cleanliness standards are top notch. To us, we have the responsibility of creating the happiest day of someone's life—and we will do anything we can to make that happen!
What is your favorite moment from one of your weddings?
The best moment is always right before the bride walks down the aisle. All of our venues have amazing, grand entrances to the ceremony site, and we love witnessing the bride's excitement and joyful tears as she stands behind the door with her escort right before she makes her way down the aisle. It is magical and emotional every time. A moment that can't be beat!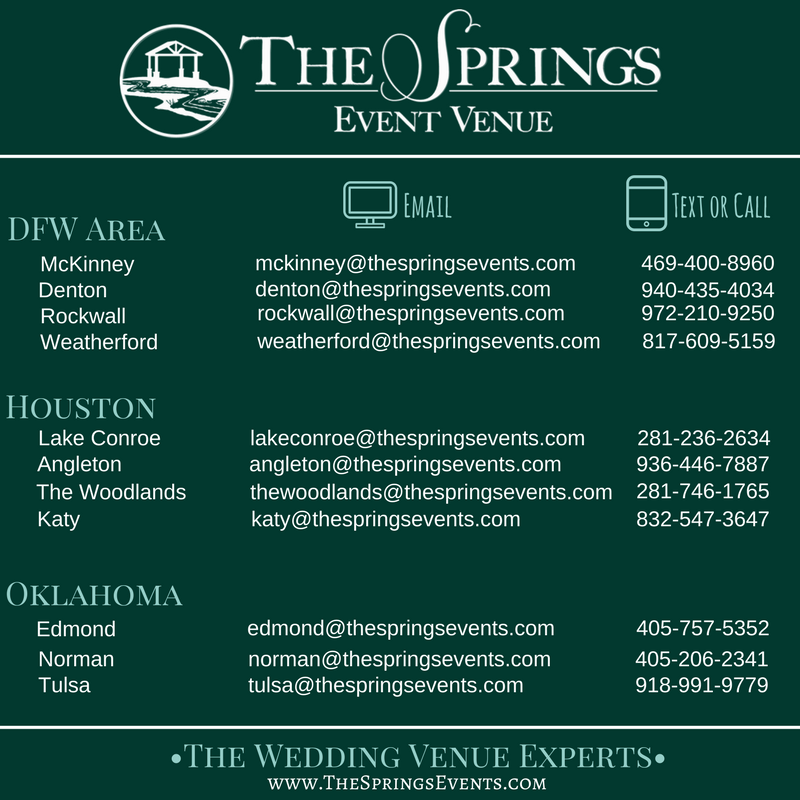 What is your best advice for couples planning their weddings?
ASK QUESTIONS. We are all about informing our brides on the best tips and tricks to making their wedding day absolutely seamless. We've been in the business for eight years–chances are that if you have a wedding planning question, we've got your answer and a pamphlet to go with it. 😉  We find that couples who ask even the most detailed questions have a much less stressful wedding day—and that's exactly what we are trying to create for you as the "wedding venue experts."
Are there any vendors you would recommend for couples planning a wedding at your venues?
Each venue has a unique list of preferred vendors that we trust and know do a great job. You can find this list on our website at any time!
Top photo: Magnolia Manor (Magnolia-style). Photo credit: Dozier Design