[social_warfare]
As far as country weddings go, Merry Hill Weddings in Mebane, North Carolina is just about as completely extra as they come.
For sure, they've got all of the rustic wedding essentials: Scenic ceremony spot. Farmhouse. Chandeliers. Outdoor lanterns. A bonfire. And lots more really awesome stuff, too.
And then, there are these guys: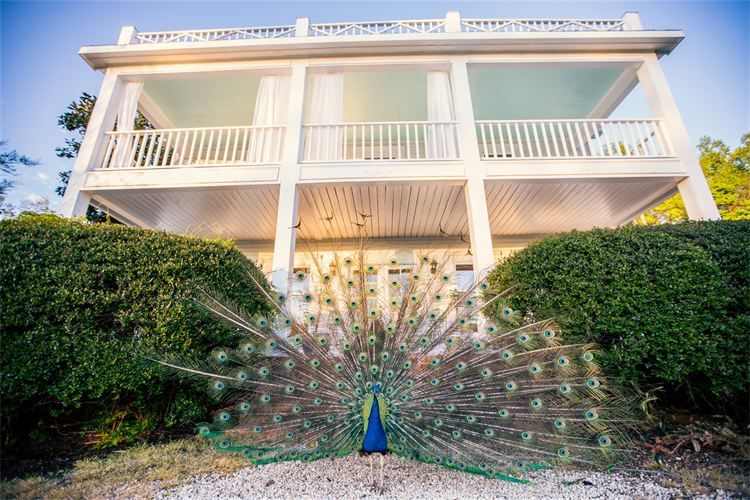 Photo credit: Hartman Outdoor Photography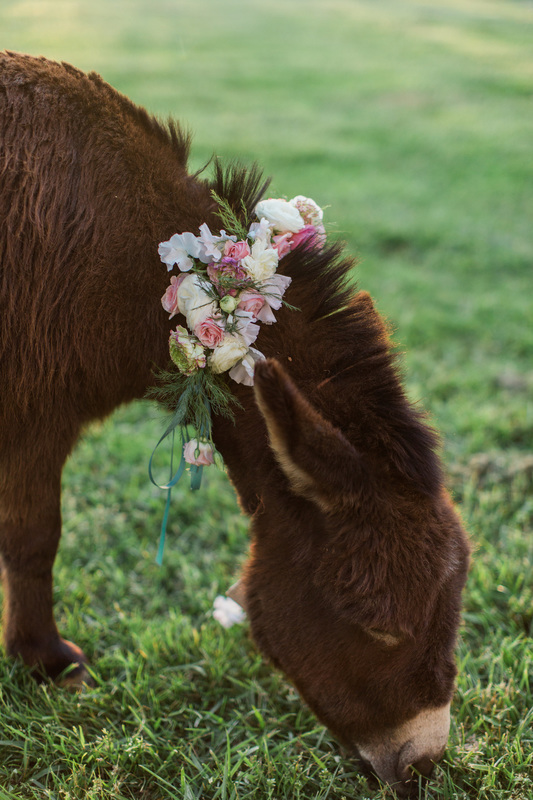 Photo credit: DiPrima Photography
That's right: A stunning peacock or two just may stroll by your reception. Or an adorable little donkey (and its minder) may mingle with your guests—and all dolled up for the occasion, too. I mean, just THINK of the photo opportunities. And, the venue can accommodate up to 500 guests (!), so seriously *everyone* you love can join in the fun.
Learn more about this charmer from the owner of Merry Hill.
What is the history of your venue?
Merry Hill is part of the Nelson family farm, which has been in the family since 1754 by land grant from Lord Granville. Merry Hill is one of the few remaining "charter" farms and is the oldest continuously owned farms in Orange County. Located south of Mebane, the farm is close to the Great Indian Trading path and the dirt road to the farm is one of the oldest in the state.
Do you offer a ceremony location?
The large front yard is framed with evergreen hedges with trees and a lily pond, so that couples have lots of options to choose for the ceremony. There is also ceremony space in the woods. Couples can also use a platform and arbors that are provided and can be moved to any location.
What is included in your wedding packages?
A Saturday wedding includes a rental from Friday at 10 am to Sunday at noon, so that our couples can have their rehearsal dinner and plenty of time to set up and take down without being rushed. We also have a Sunday wedding option from noon on Sunday until Monday, and special rates for active military and bookings for less than 90 days.
The rental includes:
*Use of the fully furnished farmhouse with art and antiques
*Separate groom's cottage
*Stables with chandeliers
*Tent package with lights, chandeliers, tables, and chairs
*Outdoor lanterns
*Bonfire
*Free-range peacocks and party donkeys
*Lighted parking
*Courtesy event manager
*Overnight stay options
*Wifi
*A beautiful outdoor restroom with a lounge area and two handicapped equipped restrooms and access ramp a bonfire
What makes your venue special?
Merry Hill provides a unique country house wedding setting, with dirt road privacy and big views, within minutes from the interstate and hotel accommodations. There is so much natural beauty here that a lot of decoration isn't needed. Our couples can choose whatever vendors they like and we can recommend local vendors who offer great discounts. With flexible rules, friendly staff, affordable rates, and of course the peacocks and the donkeys, it is a peaceful and naturally beautiful setting that marries down home country with elegant and artful touches.
What is your favorite moment from one of your weddings?
Each of our couples has the ability to make the farm their own and create their own authentic celebration moment. Our couples have used their imagination with Chinese dragons, origami cranes, pendants and pews, dove release, cowboy boots, flowers from Venezuela, donkey tuxedos, the UNC Ram, and so much more. Perhaps our favorite moment is when the bride and groom and their families tell us how much they loved being here!

Photo credit: Will Page Photography
What is your best advice for couples planning their weddings?
Country weddings are beautiful and one of a kind, but it is important to remember that it is very much a production with a lot of moving parts, and most couples do not know how it works. So we highly recommend couple limit the amount of time spent for setup by themselves and their parents or else they will be exhausted, and rely on at least six people, such as friends and family, to bring things together. Or, they can hire our staff a la carte for any part of the setup and take down. We also highly recommend at least a day of coordinator to make the production run smoothly, which we can also provide. Also, self-check about how you feel about rain on your wedding day. If you are planning a wedding during hurricane season, have a back-up plan just in case, and make sure you know what your vendors will do in the event of a hurricane. We fully refund in case of a hurricane. Overall a recent study reported that couples who spend less on their weddings have longer marriages, so don't let anyone shame you into overspending!
Are there any vendors you would recommend to couples planning a wedding at your venue?
There are many and we are constantly updating. A list is available on our website.
Top photo credit: The Picture Guy