If you're a rustic bride getting married in Houston, these venues are must-sees. Learn more about just why we adore these beauties—and when you're finished, you will, too.

#1. THE SPRINGS in Angleton — Angleton, Texas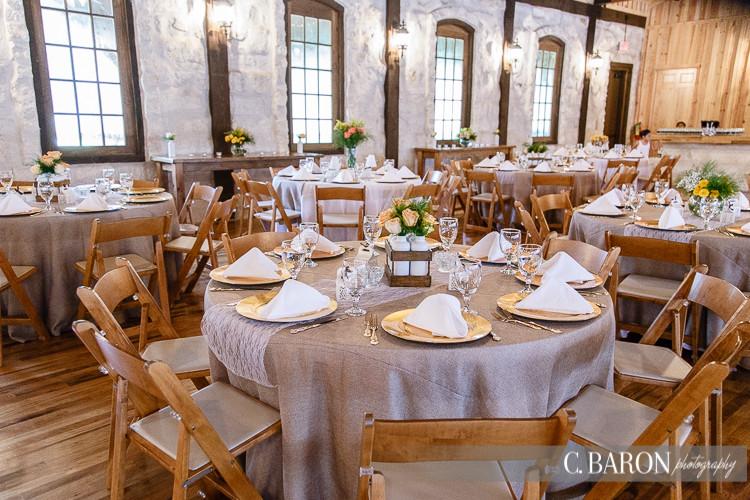 Photo via THE SPRINGS in Angleton / Photo credit: C. Baron Photography
The wedding pros at THE SPRINGS Event Venues have 11 venues across Texas and Oklahoma; Houston brides are super lucky to have FOUR different options to choose from in their area. The Angleton location offers you two seriously gorgeous halls on the property. If you're envisioning a day of rustic elegance, you'll adore the Sycamore Hall and its grand staircase (hello, wedding photos). And Southern belles will fall in love with the dramatic two-story, grand reception space at the Magnolia Manor hall.
Contact THE SPRINGS in Angleton
#2. THE SPRINGS in Katy — Brookshire, Texas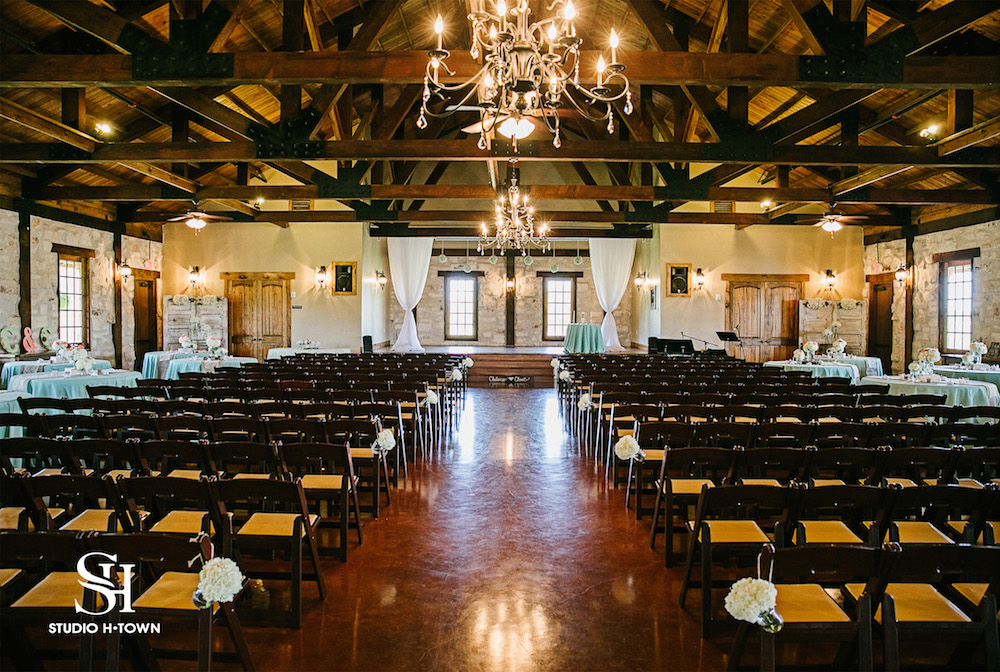 Photo via THE SPRINGS in Katy / Photo credit: StudioHtown
Smitten with the Texas countryside? Then you *have* to check out Stonecreek Hall at THE SPRINGS in Katy—limestone walls, dark stained wood, and other decorative elements make this option a stunner. Tuscany Hall, the second event space at this property, evokes Tuscan architecture with vaulted ceilings and beautiful handcrafted stone, brick, tile, and woodwork.
It will be hard to choose between these two. We know.
>>Check out this list of amazing finds you can get for your wedding on Amazon<<
#3. THE SPRINGS in Lake Conroe — Montgomery, Texas


Photo via THE SPRINGS in Lake Conroe / Photo credit: Joey Brown Photography
Pine Hall at THE SPRINGS In Lake Conroe gets its name from its stunning pine interior, which makes a gorgeous backdrop for rustic weddings in any season, while Stonebrook Hall, the second event space, is naturally elegant with a whole list of amenities. Outside, you'll find water features, gardens, and winding pathways throughout the property. And both of these spaces can accommodate up to 320 guests, which is fantastic news—because once you've seen either of these spots, you'll want to add just about everyone you've ever met to your guest list. Trust us.
Contact THE SPRINGS in Lake Conroe
#4. THE SPRINGS in Magnolia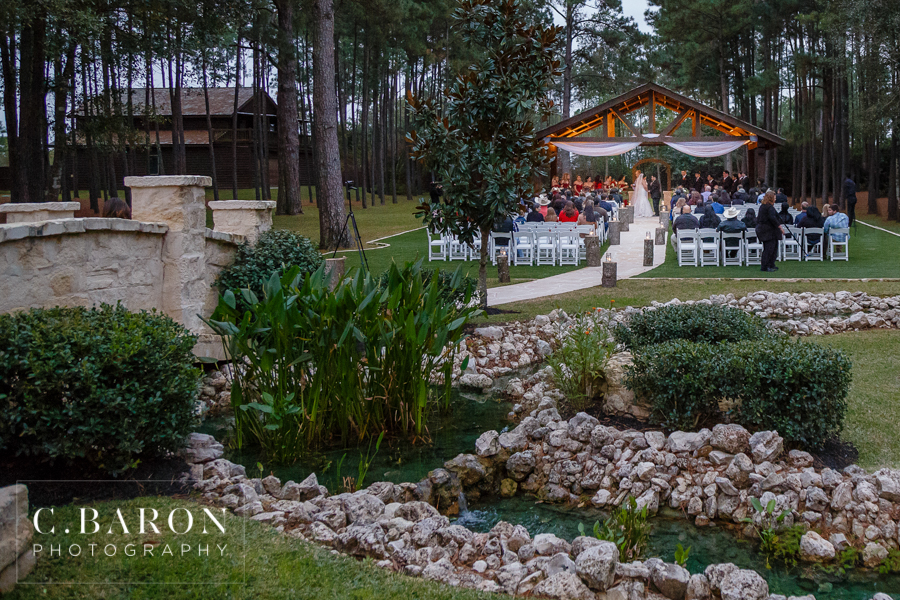 Photo via THE SPRINGS in Magnolia / Photo credit: C. Baron Photography
Like its other Houston venues, THE SPRINGS offers two on-site options at The Woodlands. With a ceremony space nestled among the pine trees, the North Hall is perfect for outdoor vows; once you're ready to party, you'll head over a stone bridge leading directly into the reception hall. The South Hall is constructed of wood and stone, with a tin roof (seriously, how charming is that?). Inside, you'll find a fresh woodsy scent will make you feel like you're still in the countryside. Bliss.
Contact THE SPRINGS in The Woodlands
#5. Ashelynn Manor — Magnolia, Texas

Photo via Ashelynn Manor / Photo credit: Amy Johnston Photography
Antebellum-style home. Vintage chapel. Carriage house with stone bar. Totally in love with what you're hearing already? Well, this is just *some* of what Ashelynn Manor has to offer. Not only does this venue offer an absolutely gorgeous setting, but its all-inclusive wedding package makes it a super convenient option, too—everything from the cake to table linens to centerpieces to an event coordinator are included. LOVE. IT.
>>Read our reviews of some of the most popular wedding planner books and organizers<<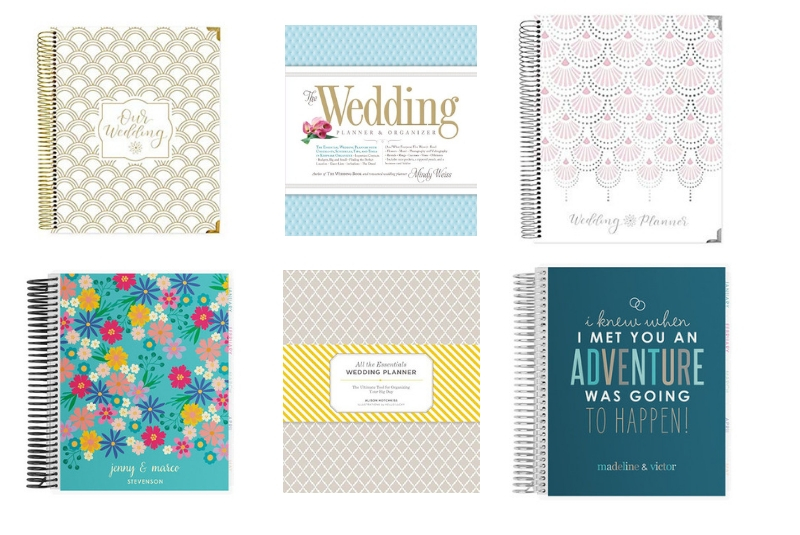 #6. County Line Event Center — Pearland, Texas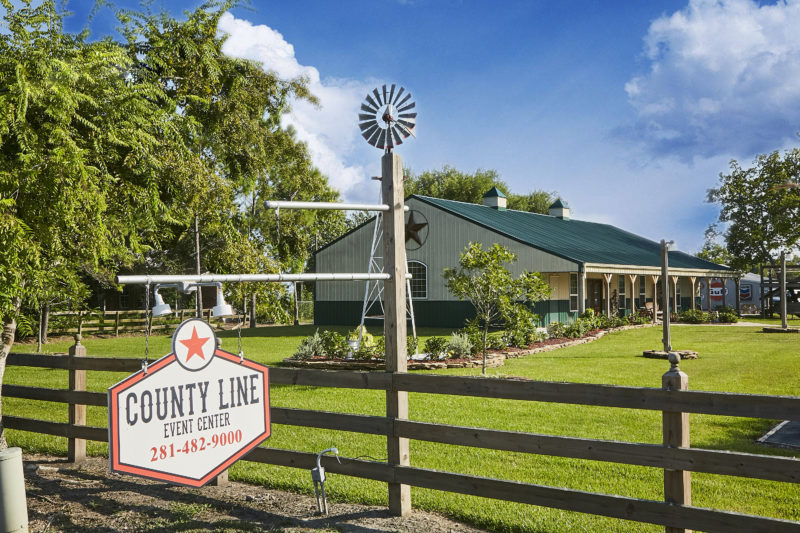 Photo via County Line Event Center
Can't wait until the wedding day to get the party started? You'll love the County Line Event Center's cozy, on-site cottage, where you and your bridesmaids can spend the night before the big day—and you'll even wake up to a delicious continental breakfast. This venue offers pre-planned, all-inclusive packages, or they can work with you to tailor a custom package to your own needs, so you can be sure you'll find an option that works best for your style and budget.
Contact the County Line Event Center
#7. Pine Lake Ranch — Montgomery, Texas

Photo via Pine Lake Ranch / Photo credit: Photography by Niki
Pine Lake Ranch has loads of rustic character and charm—you can say your vows under the 500-year-old oak tree, followed by lawn games in the string-lit corral. Wedding packages include a venue-only option that allows you to schedule your own vendors, as well as an all-inclusive option that makes for a stress-free event. Payment plans are available after making a 25 percent down payment; if you have the funds available, you can even take advantage of a 10 percent discount for a paid in full contract.
#8. Safari Texas Ranch — Richmond, Texas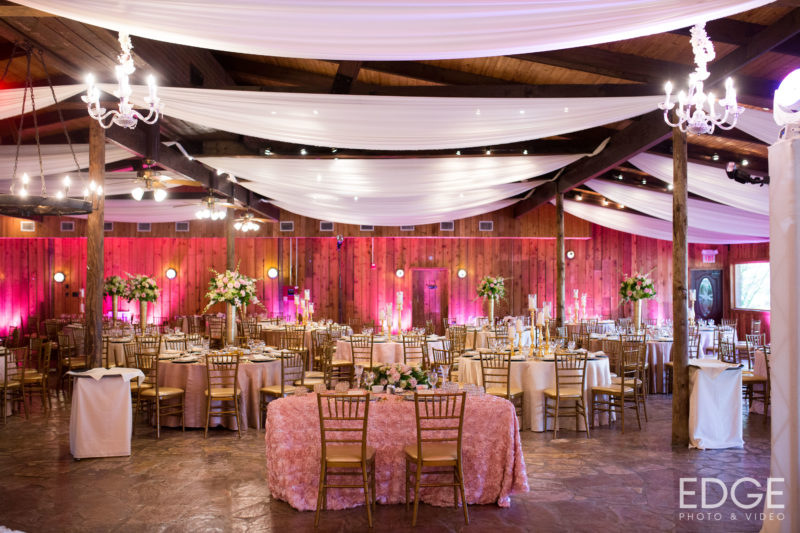 Photo via Safari Texas Ranch / Photo credit: Edge Photo & Video

Celebrate your wedding at this 44-acre private estate and exotic game ranch and you'll have views like no other—to start, you'll see deer and zebras roaming the property. With more than 10 event spaces, Safari Texas Ranch has lots to offer couples; rustic brides will love the Safari Lodge in particular, with its built-in dance floor and outdoor gazebo and deck overlooking the lake. The property is located just minutes away from Sugar Land in Fort Bend County, which makes it an easily accessible option, too.
#9. The Carriage House — Conroe, Texas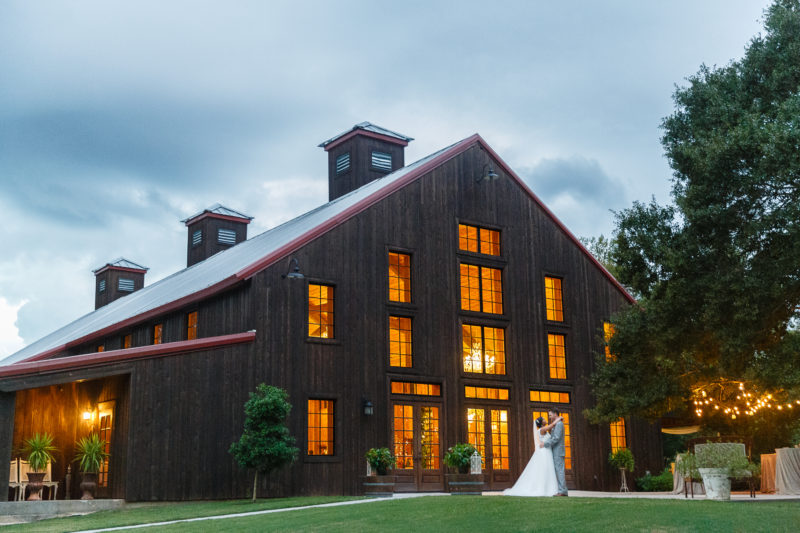 Photo via The Carriage House
Located just minutes from The Woodlands, The Carriage House is *perfect* for large weddings, accommodating up to 300 guests. The outdoor ceremony site is in the gardens and features a crystal chandelier arbor with a backdrop of the pond and fountain; there's also a newly built chapel with tons of vintage-inspired details. Once you head inside to the reception, you'll feel like you're still outdoors thanks to a stunning wall of windows overlooking the pond and ceremony site. For the cocktail hour, you'll love the back patio and covered veranda—complete with an outdoor wine bar. OMG.
#10. TownHall Texas — Conroe, Texas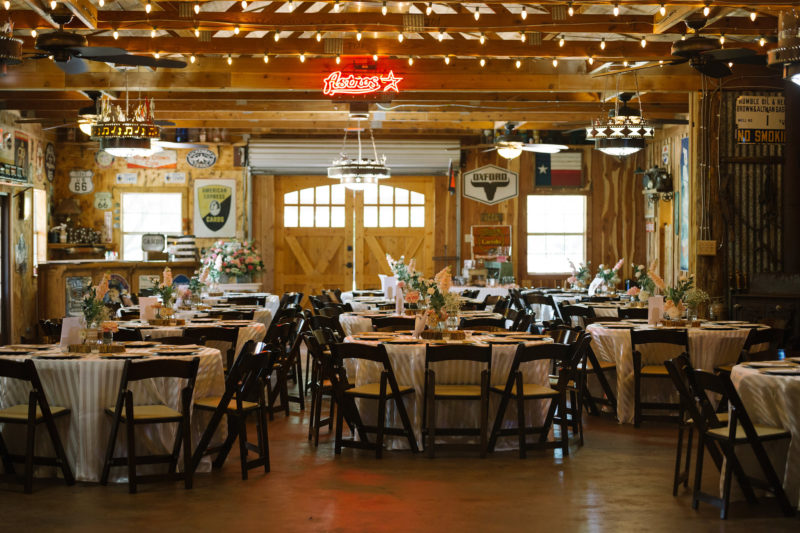 Photo via TownHall Texas / Photo credit: DV Photography
TownHall Texas is a family-owned and -operated venue is on 10 acres just five miles east of The Woodlands. This charmer has flexible package options, including a venue-only option that allows to you to provide all of your own vendors (with no restrictions!), and an all-inclusive package including everything from DJ to decor. The property includes bride's and groom's cabins, your choice of four outdoor ceremony locations, an Old Western Town, climate-controlled barn, and even a two-acre stocked pond. Rentals feature exclusive, 17-hour access to the property, so you'll have plenty of time to decorate, party, dance, and relax—and maybe even grab your fishing pole.
And here are some other great wedding venues in Houston you'll want to be sure you check out:
George Ranch Historical Park — Richmond, Texas
Kemah Gardens — Kemah, Texas
Moffitt Oaks — Tomball, Texas
Oak Tree Manor — Spring, Texas
Ranch House Chapel and Lodge — Montgomery, Texas
Planning a rustic wedding or country wedding in Texas? Find wedding pros in your area with Rustic Bride's rustic wedding venue and vendor guide.