Attention, Indianapolis-area brides: If you've been searching for a barn wedding venue in your area, this one's for you. We've rounded up this list of gorgeous barn wedding venues within a one-hour drive of Indianapolis.

#1. The Barn at Hawks Point in Anderson, Indiana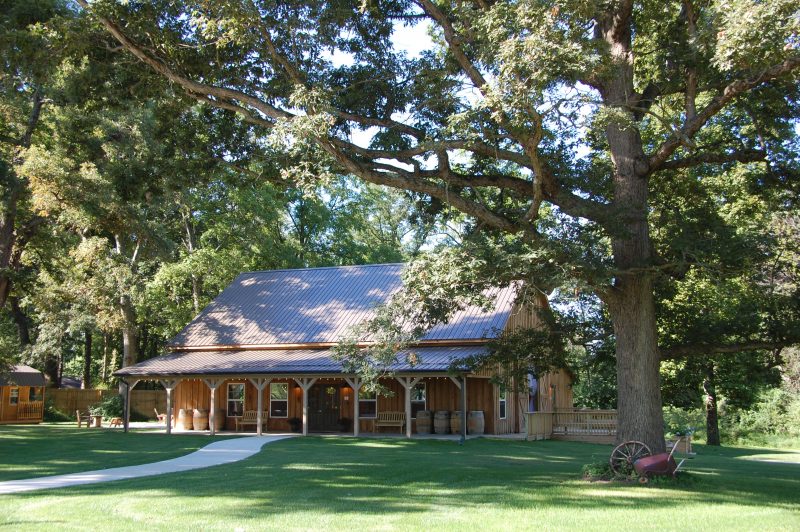 Photo via The Barn at Hawks Point
Want to put a unique and chic spin on your barn wedding? Check out The Barn at Hawks Point's newest offering: Brunch at the Barn, featuring an intimate and elegant late-morning celebration for up to 125, followed by a delicious brunch menu and cocktails. The package also includes an eight-hour (!) rental of the barn and its grounds, as well as gorgeous rustic and vintage decor. The venue is situated on 13 tree-filled acres—offering plenty of places for photos—and conveniently located just a few miles from I-69 outside Hamilton County.
Contact the Barn at Hawks Point
#2. The Barn at Zyntango Farm in Whitestown, Indiana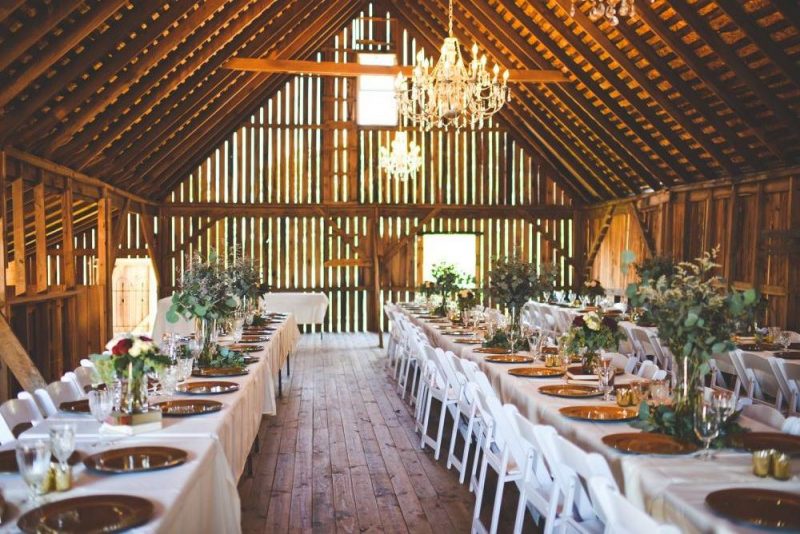 Photo via the Barn at Zyntango Farm / Photo credit: Summerly Photography
Chalkboards, antique tables, whiskey barrels, wooden crates—whatever decor you can imagine for your rustic wedding, the Barn at Zyntango Farm has got it. Originally constructed in the 1800s as a dairy barn, the venue has you covered even before the big day arrives. Packages include a scheduled engagement photo shoot on the property with your photographer; on-site planning time for you and your vendors; and use of the property's 1903 farmhouse for day-of preparations and, depending on your rental agreement, as an ideal place to spend your last night as a bride-to-be. Tip: Be sure to get photos taken on the antique tractor and hay wagon.
Contact the Barn at Zyntango Farm
#3. Avon Wedding Barn in Avon, Indiana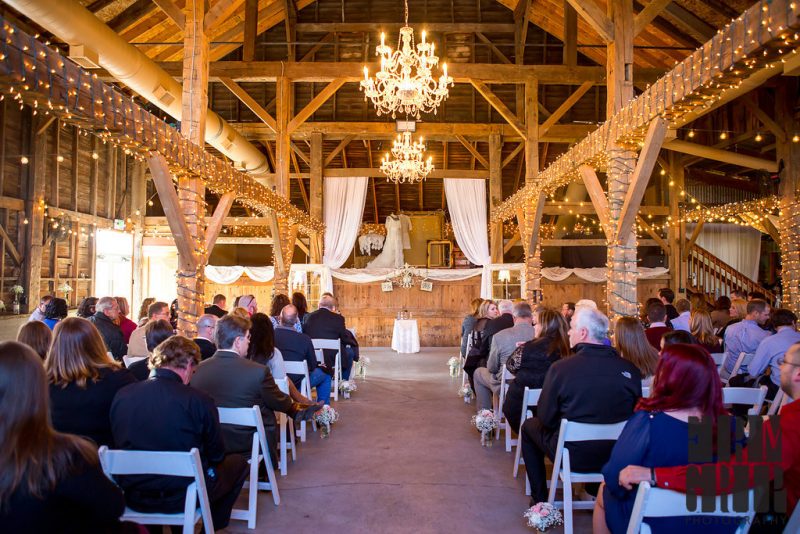 Photo via the Avon Wedding Barn
If you could describe the Avon Wedding Barn in only one word, it would be picturesque. Located just six miles from Indy, the venue's six acres feature a rustic bridge over a babbling brook, an ancient catalpa tree—with huge heart-shaped leaves—a silo, and the centerpiece, a 100-year-old red Amish barn. The vintage charm outdoors gives way to modern conveniences inside the barn, including central heating, air conditioning, two bathrooms, bride's room and kitchen area.
#4. Barn in Zionsville in Zionsville, Indiana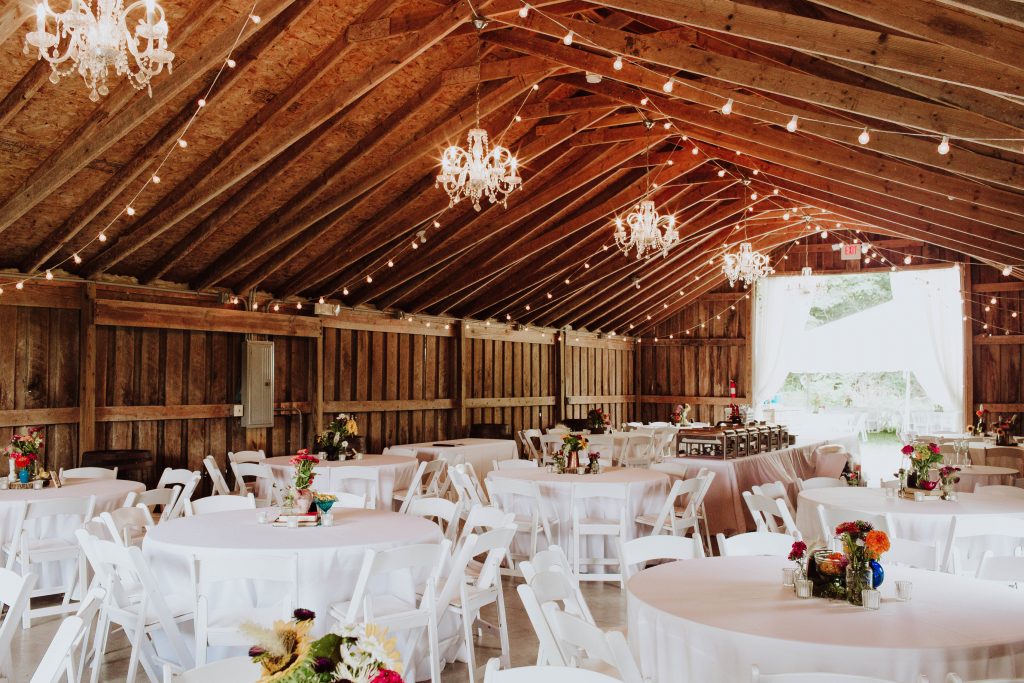 Photo via the Barn in Zionsville
Perfect for the bride searching for rustic chic, the Barn in Zionsville is a family-owned and -operated barn located on the north side of Indianapolis. Once home to dozens of horses, the barn has been completely refurbished and includes a new roof, concrete floors, five chandeliers, ivory chiffon drapes, nine oak whiskey barrels, a bridal suite, and other assorted rustic wedding decorations. A venue that provides a stunning setting and the decor? Sign us up.
Contact the Barn in Zionsville
#5. Barn of Coatesville in Coatsville, Indiana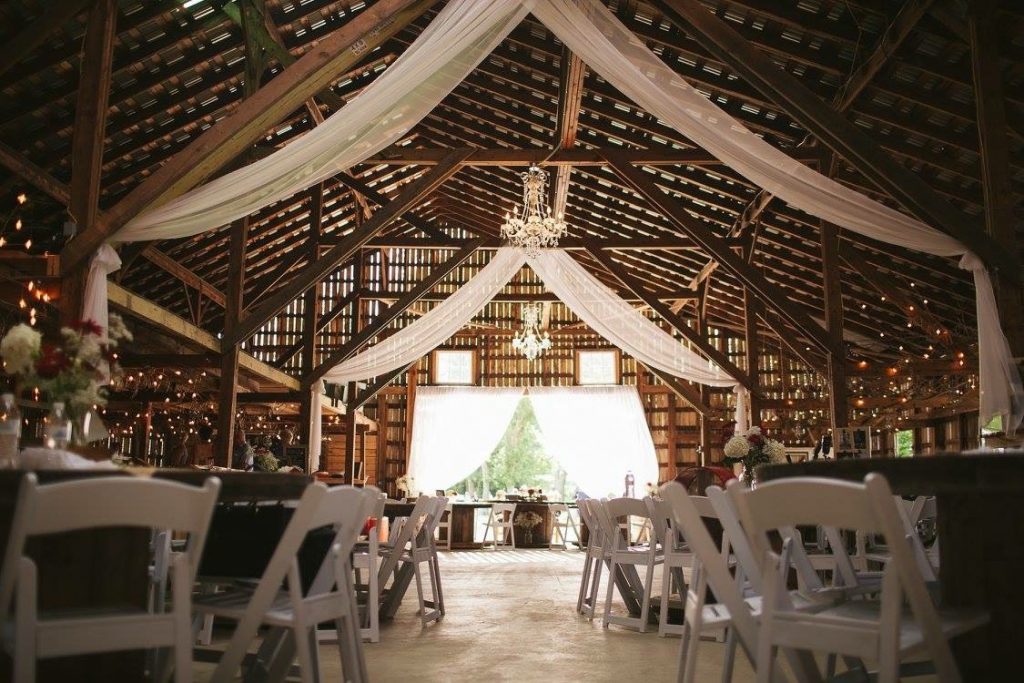 Photo via the Barn of Coatesville
With its location just 30 minutes west of Indianapolis, the Barn of Coatesville combines the quiet charm of the countryside with convenient access to the city—and with its on-site party bus available for rent, you and your guests will have an easy option to shuttle between the two. The open-air barn offers seating for 275, and its accompanying shaded lot provides a perfect place for your ceremony. The venue has no vendor restrictions, so you'll have maximum flexibility in choosing the wedding professionals who will help create your big day.
Contact the Barn of Coatesville
#6. Emerald Acres Wedding Barn in Whitestown, Indiana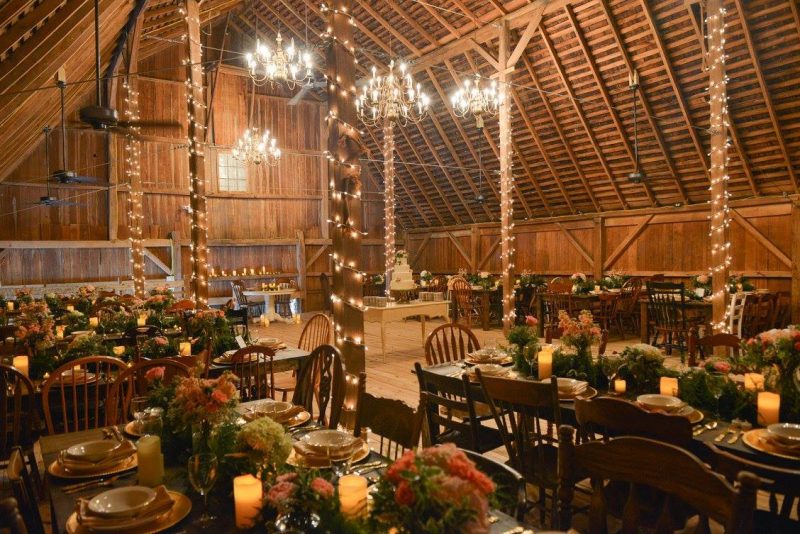 Photo via the Emerald Acres Wedding Barn
Authentic farmhouse tables and chairs: check. Hay-bale seating: check. Chandeliers: check. The Emerald Acres Wedding Barn offers couples all of these rustic wedding essentials—and more—at its 17-acre property located just minutes northwest of Indianapolis. The breathtaking two-story barn allows for multiple event flow arrangements to best meet a couple's needs; try cocktails and photos on the first floor, followed by a reception and dancing in the upstairs loft space.
Contact the Emerald Acres Wedding Barn
#7. JLH Wedding Barn in Jamestown, Indiana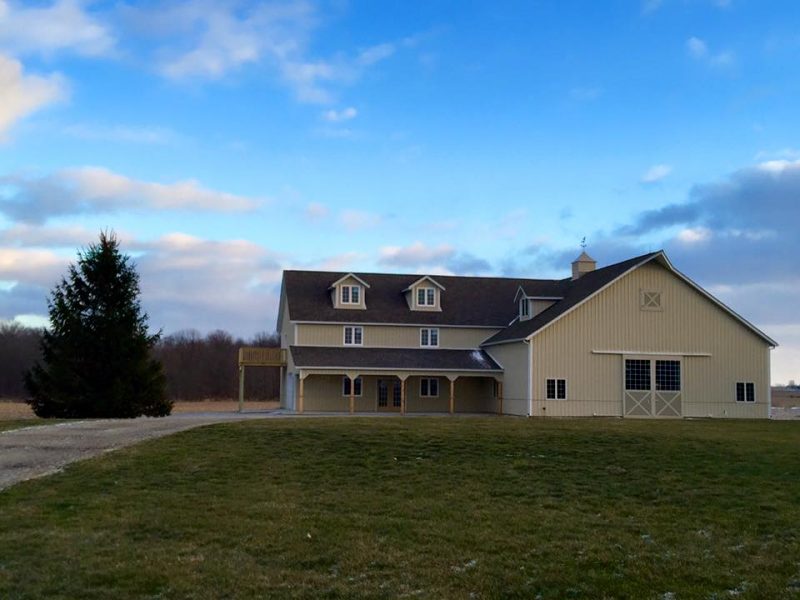 Photo via the JLH Wedding Barn
If you're looking for a fun, relaxed atmosphere for your wedding, the JLH Wedding Barn is a must-see. Set on 15 acres, the venue offers plenty of space to enjoy a game of cornhole, drink cocktails on the covered patio, and gather around the firepit—and there's even a kids' playground for your littlest guests. The venue features three ceremony locations, a spacious reception and dance space, and private bridal suites with walkout balconies.
Some other great Indianapolis barn wedding venues you'll want to be sure to check out:
The Barn at Crystal Spring Farm — Franklin, Indiana
The Barn at Geist Nursery — Fishers, Indiana
The Normandy Barn at the Indianapolis State Fairgrounds — Indianapolis, Indiana
Smith Family Farms — Pendleton, Indiana
Coffee Creek Ridge — Shelbyville, Indiana