If you're a rustic bride looking for a barn wedding venue in New York, we've got good news for you: You've got a ton of options to choose from. To help you get started, we've rounded up this list of just some of the gorgeous barn wedding venues in your area.

#1. Gilbertsville Farmhouse — South New Berlin, NY

Photo via Gilbertsville Farmhouse
This beauty, a 125-acre former dairy farm, specializes in the weekend wedding concept—and boy, do they deliver. The venue features a charming farmhouse that's more than 100 years old, two antique barns, antique church pews, a pond, farm animals such as goats and chickens, a hammock park, and a 10-tent glamping village (what more could you want?). Gilbertsville Farmhouse is owned and operated by a former NYC couple who moved there along with their four children after they fell in love with upstate New York and its slower-paced lifestyle.
Contact Gilbertsville Farmhouse
#2. Turquoise Barn — Bloomville, NY

Photo via Turquoise Barn
Turquoise Barn is known for its unique, one-of-a-kind weddings. Nestled in the Catskill Mountains, the venue's options include a historic, 1700s-era barn; event field with mountain views; pond, gardens, and woods; and an apple orchard. On-site accommodations are available for up to 16 guests in the 1864 Carriage House. There are no curfews or noise restrictions, which only adds to the fun.
#3. Better Farm — Redwood, NY

Photo via Better Farm / Photo credit: Erin Covey Creative
Better Farm, a 65-acre organic farm, is home to one gorgeous wedding space—as well as an animal sanctuary, artist colony, and sustainability campus. Nestled between the Thousand Islands and Adirondacks in northern New York, the venue features two barns, an outdoor living room space with an outdoor bar and pavilion, outdoor ceremony area, and bonfire pit, all flanked by gorgeous rolling hillsides. The venue's capacity is 200 guests; an on-site farmhouse and cabins offer accommodations for parties of up to 25.
#4. Burlap and Beams — Thurman, NY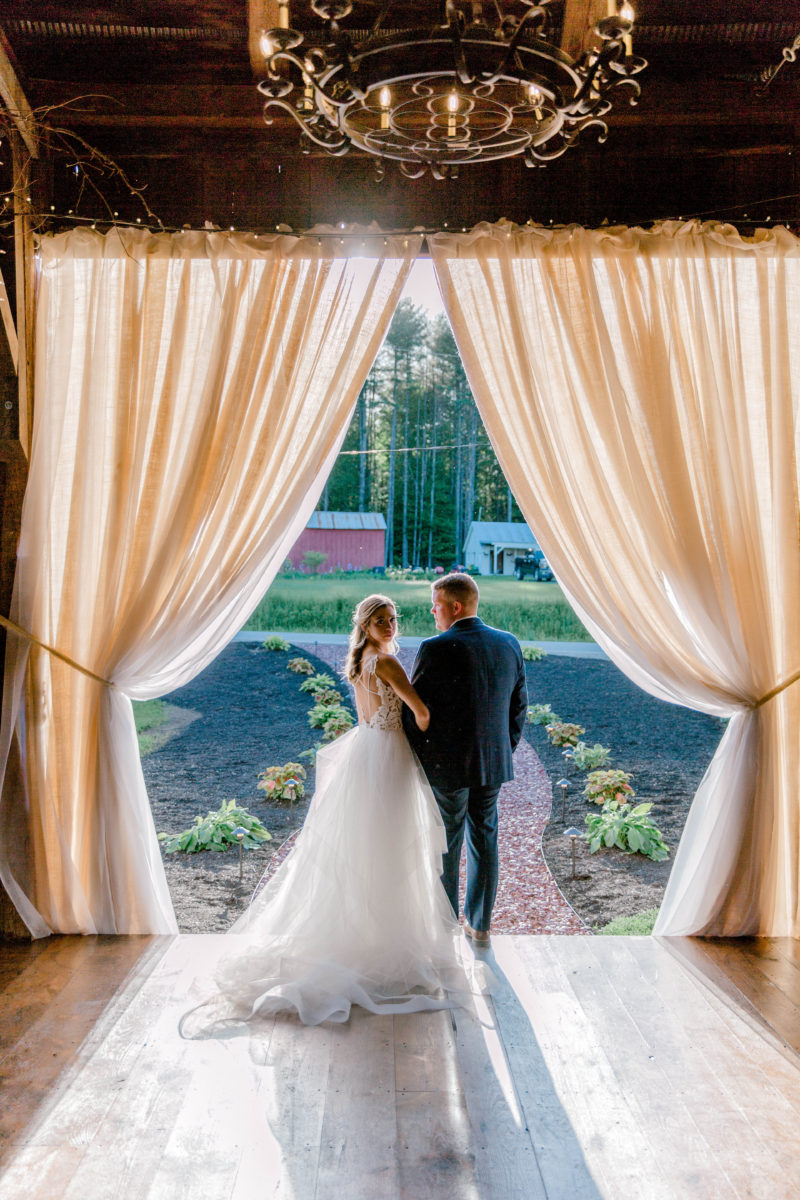 Photo via Burlap and Beams / Photo credit: Katia Popik Photography
Located in the Adirondack Mountains, Burlap and Beams boasts acres of woods and fields, bordered by a babbling brook running alongside the property. Couples getting married at the historic property, with a barn that dates to the 1800s, will love the antique furniture, handcrafted farm tables, antique buggy for pictures, and the mason jar chandelier. The venue is a short, 15-minute drive from Lake George, making it a perfect option for a destination wedding weekend.
#5. Byrdcliffe Barn — Woodstock, NY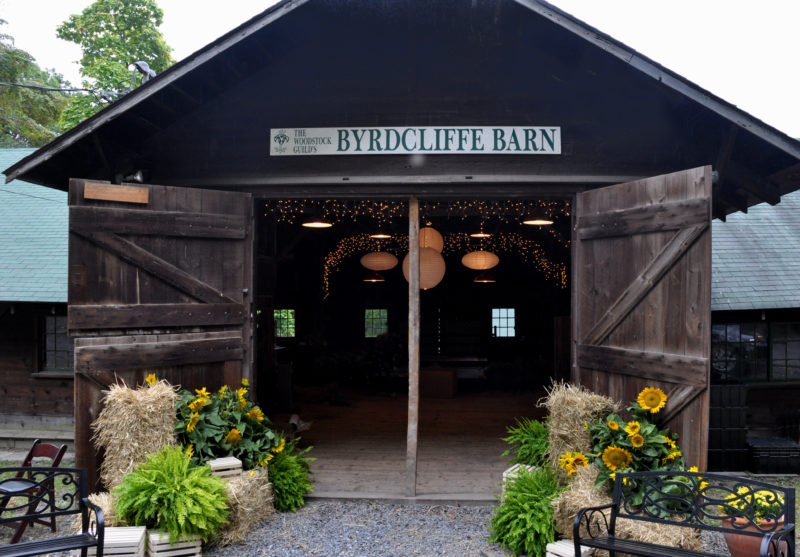 Photo via Byrdcliffe Barn / Photo credit: Nancy Donskoj Photography
Are you an art lover? Then you'll love the Byrdcliffe Barn: The venue is part of the Woodstock Byrdcliffe Guild, the country's second oldest continually operating arts colony, and is even both a full-time and seasonal home to artists living on the property. The 3,000-square-foot barn is available for weddings from May through October, and can accommodate up to 130 seated guests. For an extra fun addition to your reception, ask for the ping-pong tables, available upon request.
#6. Hayloft on the Arch — Vernon Center, NY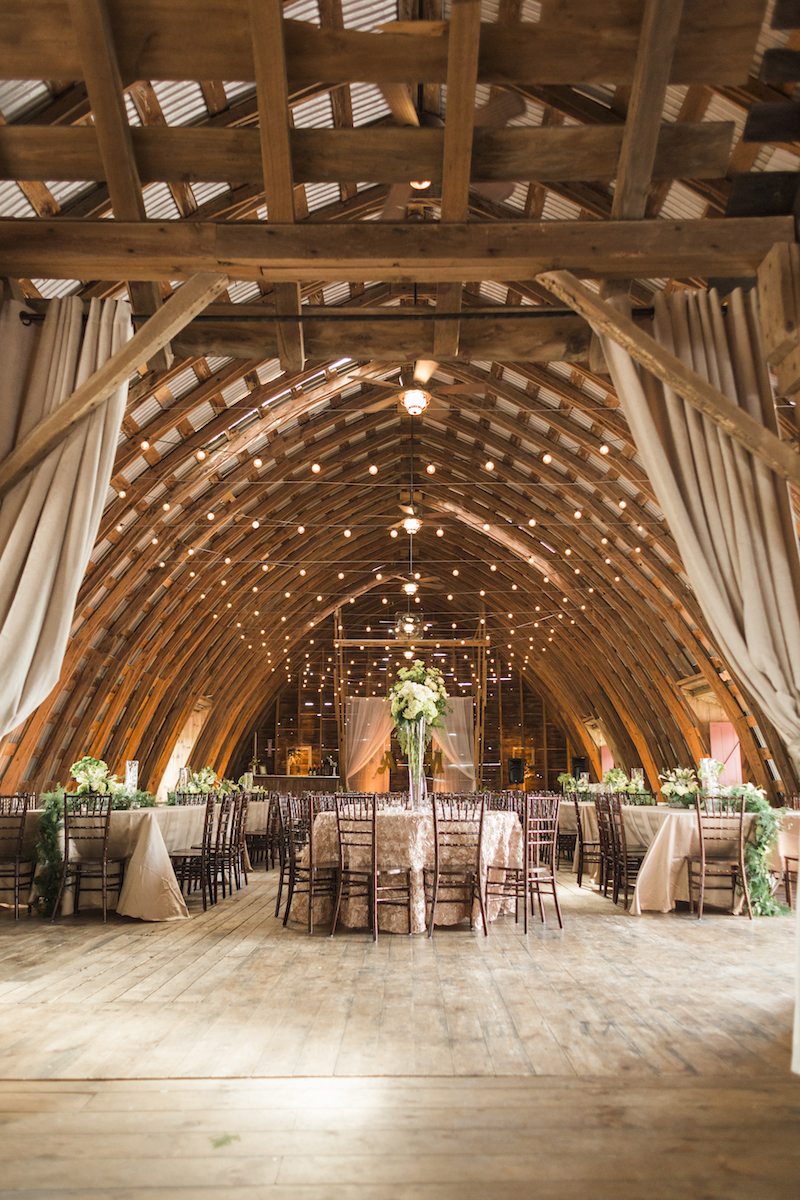 Photo via Hayloft on the Arch / Photo credit: Harlow Bliss Photography
Sitting on just under 20 acres, the barn at the Hayloft on the Arch is a dream venue with vintage charm for rustic brides. To start, there's the grounds: rolling hills, countryside views, and stream bordering the property. Wedding ceremony locations include an on-site chapel (once one of the property's outbuildings), as well as a more than 4,000-square-foot patio (a great spot for the cocktail hour, too). O-site wedding coordination services for planning every last detail of your event in particular make this venue a standout.
Contact the Hayloft on the Arch
#7. Homestead Blessings Barn — Corning, NY

Photo via Homestead Blessings Barn / Photo credit: Lauren Harrienger Photography and Design
Originally an 1860s dairy barn, the Homestead Blessings Barn offers rustic brides the best of both worlds: a vintage venue restored with modern amenities, but one that retains its original rustic charm. Situated in a lush, green landscape and surrounded by a forest of towering trees, the venue features chandeliers, heated floors, stone patio, and gazebo. The barn itself can host up to 120 guests; larger events can be accommodated in an outdoor reception tent. A restored farmhouse, original to the property, is available for rent for a complete and relaxing wedding weekend.
Contact the Homestead Blessings Barn
#8. Long Acre Farms — Macedon, NY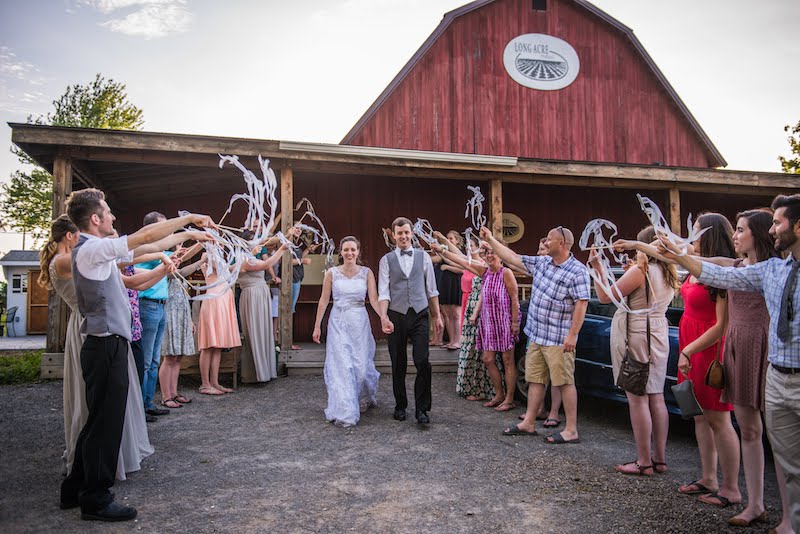 Photo via Long Acre Farms
Dreaming of a wedding in a classic red barn? Then you'll be sure to want to check out the 1920s Red Barn at Long Acre Farms. Located on a fourth-generation family farm, the venue offers an open-floor plan for approximately 140 guests; if you have a larger guest list, you can take advantage of a white tent overlooking the pond that can accommodate up to 300 guests. Serve your guests wine from the JD Wine Cellars, the farm's on-site winery, for an extra-special touch.
#9. Maple Shade Farm — Delhi, NY

Photo via Maple Shade Farm / Photo credit: Chellise Michael Photography
A three-story yellow barn, built in 1897, is the jewel of the 200-acre Maple Shade Farm, settled in 1785. Hand-hewn beams and warm lighting create an authentic wedding day backdrop. The barn's second and third floors offer plenty of space for sit-down dinners, buffets, or stations—as well as plenty of dancing. When it's time to mingle, head to the custom, bluestone bar and cozy seating areas. Outside, you'll find stone walls, a pond, apple orchard, and gorgeous fields.
#10. Old Hickory Farm — Weedsport, NY

Photo via Old Hickory Farm
Weddings at Old Hickory Farm are anything but cookie cutter. The venue, located on 56 acres of farmland, offers couples the opportunity to create their dream wedding just how they envision it. Most ceremonies take place by the pond; come reception time, head to the spacious barn, featuring amenities such as a three-sided bar, bridal suite, and a welcoming cocktail hour space (formerly horse stalls!)
#11. RedBarn20 at Windridge Estate — Cazenovia, NY

Photo via RedBarn20 at Windridge Estate / Photo credit: Crystal Herry Photography
Situated on 80 acres with views of the Oneida and Cazenovia Lakes, the RedBarn20 at Windridge Estate is the definition of picturesque. The historic property, built in 1804, still features the original main house, barns, smokehouse and farmer's cottage. Couples getting married at this venue can choose from an extensive collection of vintage furniture, rustic benches, carts, signage, props and accessories and more to put the finishing touches on their special day.
Contact the RedBarn20 at Windridge Estate
#12. Red Rooster Barn — Hudson, NY

Photo via Red Rooster Barn
Couples interested in a smaller, more intimate wedding will fall in love with the Red Rooster Barn. Twelve-foot barn doors bring the outdoors in—and offer an extra-special way to enjoy the venue's stunning views of the Catskill Mountains. An on-site farmhouse (with a pool!) can accommodate up to 14 overnight guests; two vintage campers offer additional accommodations. A variety of decor items are also available, making this a convenient, stress-free option.
#13. Shaker Heritage Barn — Albany, NY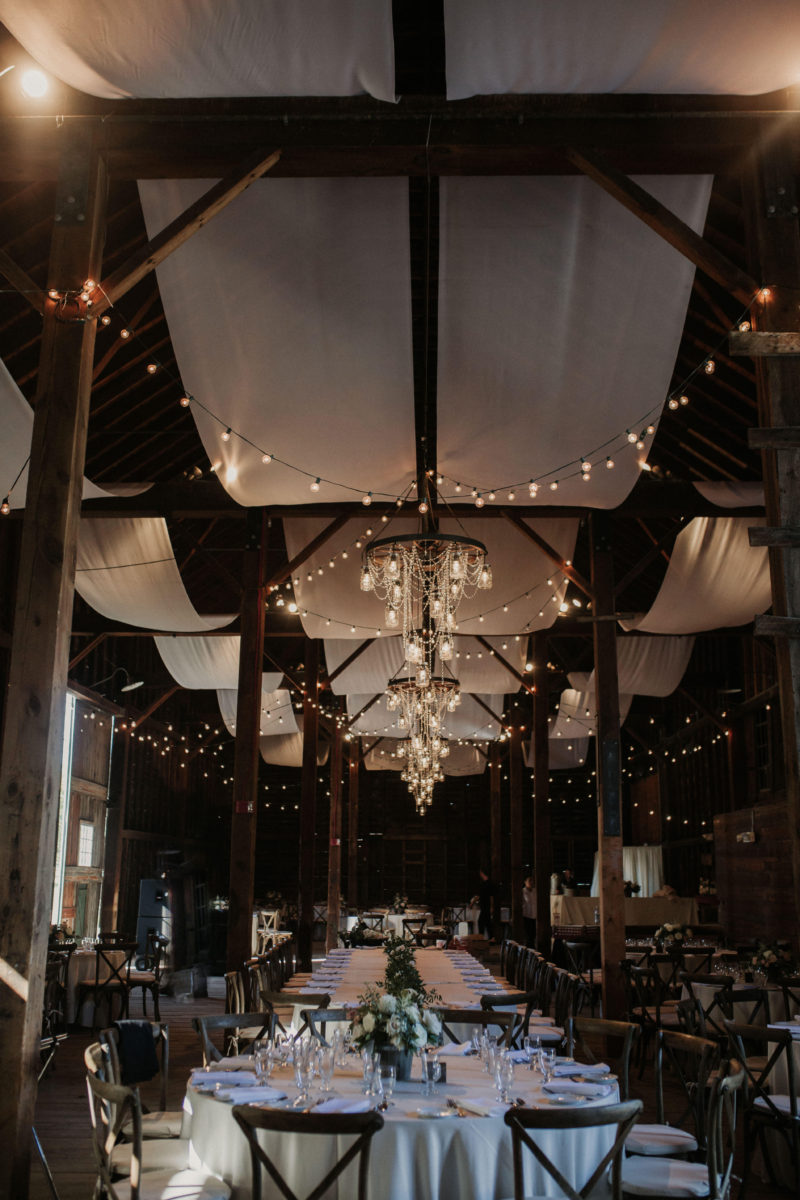 Photo via Shaker Heritage Barn / Photo credit: Nicole Nero Studio
The circa-1915 Shaker Heritage Barn is a historic, nationally recognized, authentic Shaker site. The venue has been carefully restored to its original glory with 40-foot ceilings, large beams, and modern market bistro lighting to set the mood, while three sets of large doors open the walls to create an indoor-outdoor feel. Flanking the barn are picture-perfect grounds, fences, a stream and bridge, picket-fenced garden, and lawn with mature trees.
Contact the Shaker Heritage Barn
#14. The Gallagher Barn — Medina, NY

Photo via The Gallagher Barn / Photo credit: Stefan Ludwig Photography
Before its current life as a wedding venue, The Gallagher Barn, built in the 1860s, operated as a dairy and horse farm. Today, couples will fall in love with the farmhouse, barn, and 14 acres of land—all spaces included in its wedding packages, which offer a 48-hour rental. Reception essentials such as tables and chairs, vintage lace tablecloths, plates and silverware, and more are all included, making this a stress-free option for couples. Rustic brides will especially fall in love with the tables, made from reclaimed wood salvaged on the property.
#15. The Kaaterskill — Catskill, NY

Photo via The Kaaterskill
The Kaaterskill is a go-to spot for rustic-chic weddings, with a romantic atmosphere created by the farm's classic red barn and views of the Catskill Mountains. Options for wedding ceremonies include a garden with waterfall and a picturesque ringlet of trees. Inside the barn, exposed wood glows with your choice of lighting, while an adjacent white tent offers space for dinner or dancing. Overnight guests and members of the wedding party can stay in one of the six luxury suites in the restored Dutch Barn Inn. A particular highlight of this venue: the opportunity to interact with the rescued llamas, alpacas, and mini horses that live on-site in the property's sanctuary.
#16. Twin Silos — Livonia, NY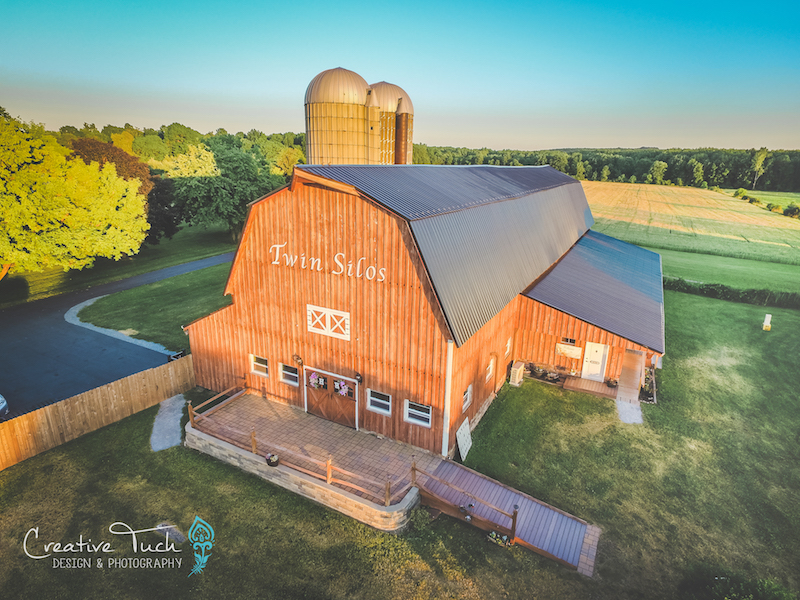 Photo via Twin Silos / Photo credit: Creative Touch Design & Photography
Located 30 minutes south of Rochester, Twin Silos is home to a historic dairy barn renovated in 2014. Charm abounds in the space, which retains much of the original character while adding modern amenities such as a bridal dressing space with separate hair salon area and private bathroom, heating and air conditioning, and bathrooms. Couples also will fall in love with the outdoor space, which includes walking paths, a pond, stone patio, and covered deck that can be fully enclosed in inclement weather. Rentals run from Friday to Sunday, providing ample time for decorating, rehearsal, and, of course, the ceremony and reception.
#17. Wedding Barn at Lakota's Farm — Cambridge, NY

Photo via Wedding Barn at Lakota's Farm / Photo credit: Rob Spring Photography
Spanning 36 acres, the Wedding Barn at Lakota's Farm was once part of a 1,000-acre property established in 1772; its current owners rescued it from foreclosure in 2015, and opened it for events in 2016. The 1800s wedding barn includes stunning details such as a six-foot crystal chandelier, oversized mahogany bar, and cocktail parlor, while brides will especially love the luxury suite with manicure, makeup and hair stations. In addition to the wedding space, the farm and grounds feature pastoral vistas, a stream leading into two spring-fed ponds, additional barns, and a historic homestead. The property is also home to rescue dogs, cats, and horses—including the venue's namesake horse, Lakota.
Contact the Wedding Barn at Lakota's Farm
Want to explore even more barn and rustic wedding venues in New York? Be sure to check out Rustic Bride's wedding venue and vendor guide. Getting married somewhere else? Get started finding your dream wedding venue and vendors here.