[social_warfare]
The barn wedding venue Barn on Boundary in Eaton, Indiana started as a labor of love—emphasis on labor. Just a few years ago, the unused barn was packed with old farming equipment and at risk of being torn down on venue owner Kristy Smoot's family farm. Then a bride-to-be, Kristy fell in love with the space—and saw it would be the ideal setting for her wedding to her husband, Evan. The couple and their families got to work cleaning, power-washing and removing everything from lawnmowers to tractors to cars to tools. And what did they find underneath?

THIS.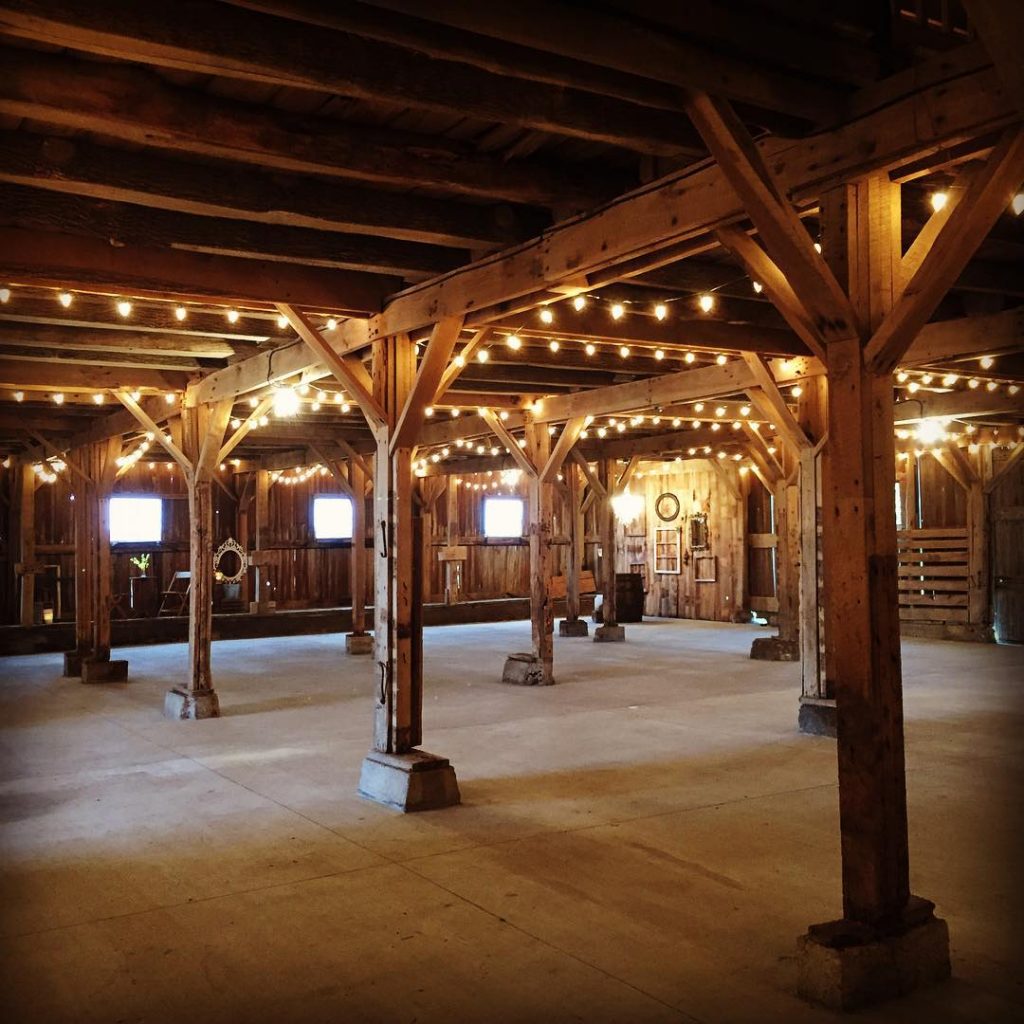 Luckily for other Indiana couples, Kristy and Evan didn't stop with their own wedding, and opened the venue to the public in 2014. Here's what Kristy has to say about what's included in their wedding packages (it's a lot), their multiple ceremony locations, reception space, and even the treasures they uncovered during the renovation and restoration.
What is the history of your venue?
Our barn was built in the early 1900s. The barn wood/timbers were milled from the woods behind our property and brought over by horses to construct. Our barn has the original timbers with the bark still intact, horse stalls with the horses' names still handwritten from the past, old love letters from 1912 that were found while renovating, and a hand-built bar made of original barn gates. The barn sits on 220 acres of open countryside with grain bins and a pond.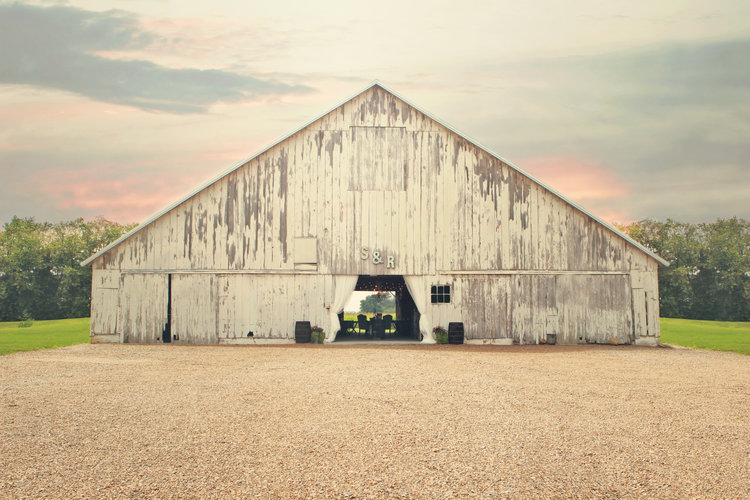 Photo credit: Betty + Bobby Photography and Design
What is your capacity?
300
Do you offer a ceremony location?
Couples love that our barn can have the ceremony and reception in two separate locations within the barn, so guests have a wow factor in each space. We have both outdoor and indoor ceremony locations, so you'll have a backup plan in case of rain. Our outdoor ceremony location is behind the barn on the large lawn, and our indoor ceremony space is upstairs in the hayloft. Ceremonies can be beside our pond with the open countryside setting behind. Our arch string-light fixture is our main attraction for ceremonies.
What is included in your wedding packages?
You'll have exclusive weekend access, starting Friday at 2 pm through Sunday at noon. You'll also be able to use the venue for a ceremony rehearsal before your event and the rehearsal dinner. Before the big day, we offer event planning meetings and services to assist with event management. Our grounds include an outdoor covered patio for the cocktail hour, dinner, and dancing; designated cake gift table, guestbook, photo, children's space, and catering areas within the venue; custom bar space (beverages not included); bridal suite with hospitality items; dedicated groom's quarters; an outdoor fireplace (firewood not included); and restrooms with handicap accessibility.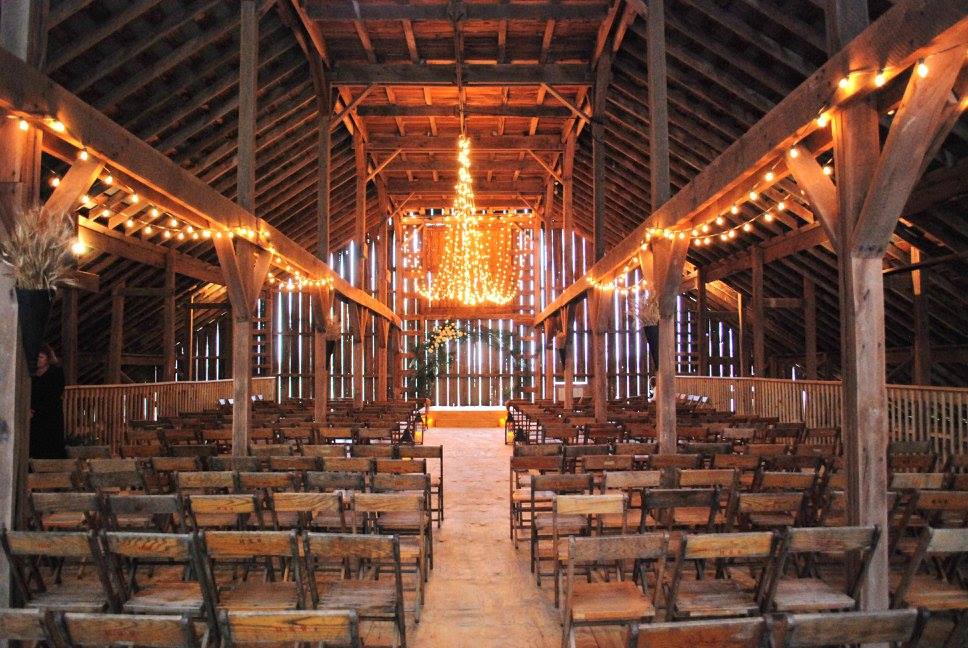 Our packages also include eight-foot rectangular tables with vintage wood chairs for up to 300 guests, cocktail tables, oak barrels for decoration, crystal chandeliers with multiple lanterns and decor (candles included), and string lighting throughout the entire venue, including Edison bulb patio lighting. To keep your event running smoothly, you'll have an on-site barn manager during the event weekend, and uniformed parking attendants with golf carts for your guests' transportation. We have an open vendor policy.
We are approved by both the state of Indiana and local building and fire codes for safety. Please note our venue is not climate controlled, and therefore is only open April through October each year.
What makes your venue special?
Our barn gives you 8,600 square-feet of floor space with two levels to have your wedding ceremony upstairs, while having your reception downstairs; there are outdoor options as well. We rent our barn for the entire weekend, so it's less stress on you and your families for setup and cleanup. The beautiful open countryside setting, the elegance of chandeliers with the ambiance of cozy string lighting throughout the barn is a photographer's dream. All generations can appreciate the history and architecture of what our barn offers. Guests always compliment us that our barn has so much character, an open floor plan, and great ceiling height throughout. The opportunity to let others enjoy our barn and to have a special place in their hearts is what our business is all about. We take great pride in providing families with an experience and atmosphere to make their event memorable.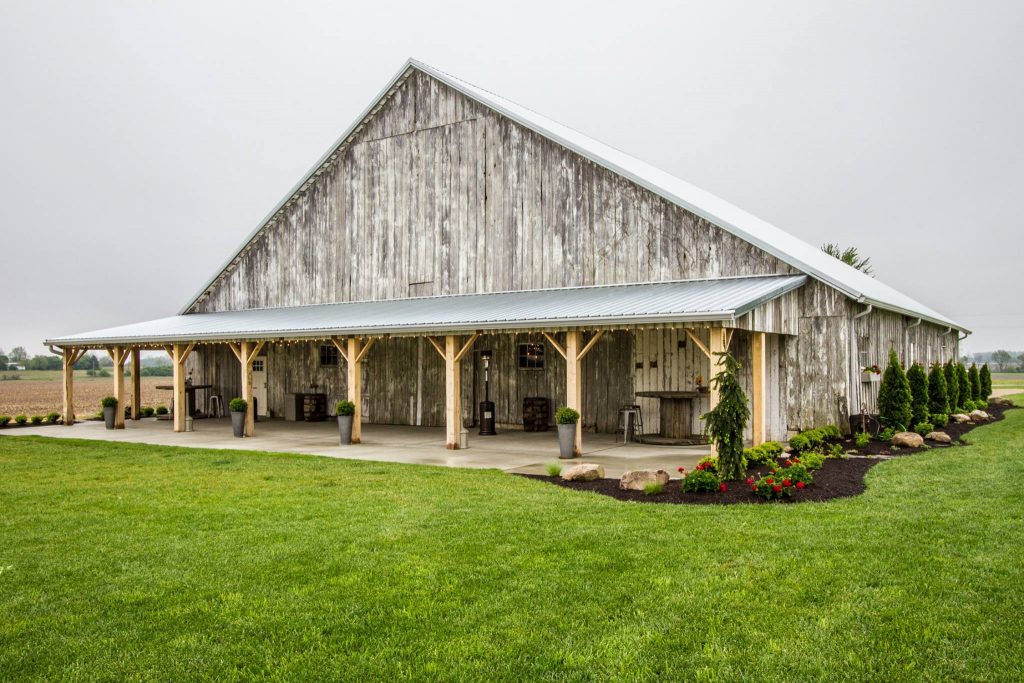 What is your favorite moment from one of your weddings?
One that stands out to me is a recent review we received on Facebook. We work so hard to provide our couples and their families a great experience. I think this review really speaks to that:
"We had an absolutely incredible experience working with Kristy!! Our wedding was honestly the most perfect thing—even with not ideal weather, we still got to utilize the patio and everyone stayed warm and dry throughout the ceremony and reception. Kristy has decorated the barn SO well that you barely need to bring any decorations; we only brought a few things to personalize it! The loft for the ceremony is breathtaking, the outdoor patio was SUCH a hit for dancing, and Kristy knows her stuff about making everything run smoothly. She was always a quick text away whenever I had questions throughout the process, and was always super honest about what you get when you decide to use the barn, which I appreciated. She pampered me the day of with cookies and a mini fridge full of drinks, and even has a golf cart to get guests from parking to the barn! I could go on and on about this place—it is one of a kind, truly, and I could not have asked for a more perfect venue for our wedding. You will NOT be disappointed with this venue! It's amazing! Thank you so much Kristy!"
What is your best advice for couples planning their weddings?
The best advice I can give to couple is slow down and enjoy each moment because it goes by so fast. Take your time with each vendor ask questions, get a feel for their personality and make sure it fits your vision.
Are there any vendors you would recommend to a couple planning a wedding at your venue?
Catering/Bar Service
1. Pete's Duck Inn
2. Once Upon a Plate
3. VKA Catering (food service only)
4. Jhonny Carino's
5. MCL Restaurant and Bakery
6. Bird's Smokehouse BBQ
7. Mauck Meats (food service only)
8. Nameless Catering Co.
9. Mr. Mouse
10. City Barbeque, Carmel
Photography
1. Meredith Rogers Photography
2. Pearl Grey Photography
3. Simply Rachel Photography
4. Pink Apple Photography
5. Melody Withers Photography
6. LIV a Little Photography
7. Amy's Photography
8. T.H.E. (Thru his eyes) Photography
9. Muncie Fine Portraits
10. Capture Photography
Linen/Tent Rental/Vintage Rentals
1. Byerly Limited
2. H&D SuperRent
3. Hudson Rentals
4. Reflections Vintage Rentals
5. Violet Vintage Rentals
6. A Classic Party Rental
Florist
1. Buck Creek in Bloom
2. Bella Sorella Floral Design
3. Dandelions Flowers
4. Lazy Daisy
5. Foister's Flowers
6. Miller's Flower Shop
7. The Flower Girl
DJ/Entertainment
1. NBE Event Group
2. Track Seven DJ
3. Howell's DJ Service
4. Pro-Sound Entertainment
5. CJ Productions
6. Bright Night Entertainment
7. DJ Sound Solutions
8. DJ Noggle-Jim Noggle
Videography
1. Blissful Kiss Photo-Film
2. Old North Film Company
3. Slow Motion Fort Wayne
4. Massive Mulimedia
5. Marshall Camera
6. Indy Visual
Cake Design
1. Under the Sun Bakery
2. Sea Salt and Cinnamon
3. No Crumbs Left Behind Cookies
4. Frosting and Crust
5. Concannon's Bakery
6. Bittersweet Custom Cakes & Confections
Hair/Make-up
1. Redhead Salon Boutique
2. John Jay & Co.
3. Beauty.And.The.Braid
4. Tangles Hair Studio
5. B. Makeup by Brooke
6. The Traveling Stylist
Hotel Accommodations
1. Courtyard Marriott, Downtown Muncie
2. Holiday Inn Express, Muncie
3. Hampton Inn & Suites, Muncie
4. Fairfield Inn, Muncie
5. Comfort Inn & Suites, Muncie