[social_warfare]
Kansas City, Missouri wedding pros Alan and Angela Berry know how to throw a good party—and they've got the perfect setting to do it. The husband-and-wife duo are the owners of Berry Acres, a stunning, 20-acre property that once was home to world-class black and brown Clydesdales.

The couple purchased the property in 2013 after working a combined 30+ years in the wedding industry as DJs. And when you've got former party pros like them running the show on your big day, you and your guests are guaranteed to get waaaay more than just "a good time."
And we're not joking. Their wedding packages don't include just special extras, but an absolute wedding fantasy list. To start, there's the area's only lighted dance floor—and they'll even give you fog for your first dance. For your guests, there's a photo booth and S'MORES BAR with fire pit (please, please, someone send us an invite!). Oh, and you wanted a fireworks extravaganza? NBD, they've got that, too.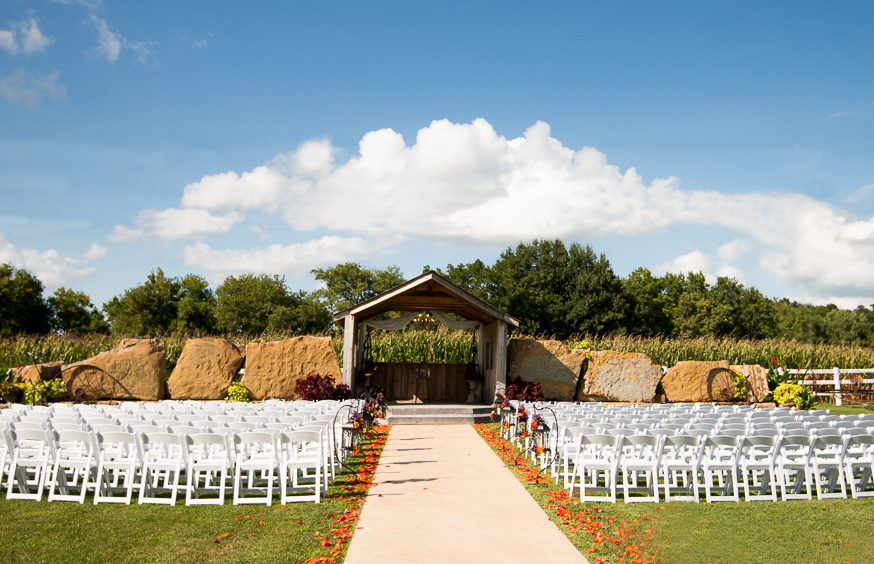 Photo credit: Demiurge Photography
But don't take our word on how great this venue is—hear it directly from Alan and Angela for yourself.
What is your capacity?
Our capacity is 450 people.
Do you offer a ceremony location?
We have several outdoor ceremony locations as well as an indoor location. Our outdoor ceremony locations include:
A flower-filled courtyard with a baby barn; rustic chandelier; and a backdrop of either trees, a cornfield, or a bean field (depending on the season and year). We also have a waterfront with a fountain and stacked hay bales off to the side. And our tree-lined back field is extremely private and makes you feel like you're in the middle of nowhere!
For our indoor ceremony location, we have a beautiful chapel room with rustic wood paneling. The windows and room poles (left over from the Clydesdale horse stalls) are lined and spun with white twinkling lights to give the space that extra flair. Different arches are available for the altar area, depending on the wedding theme and style.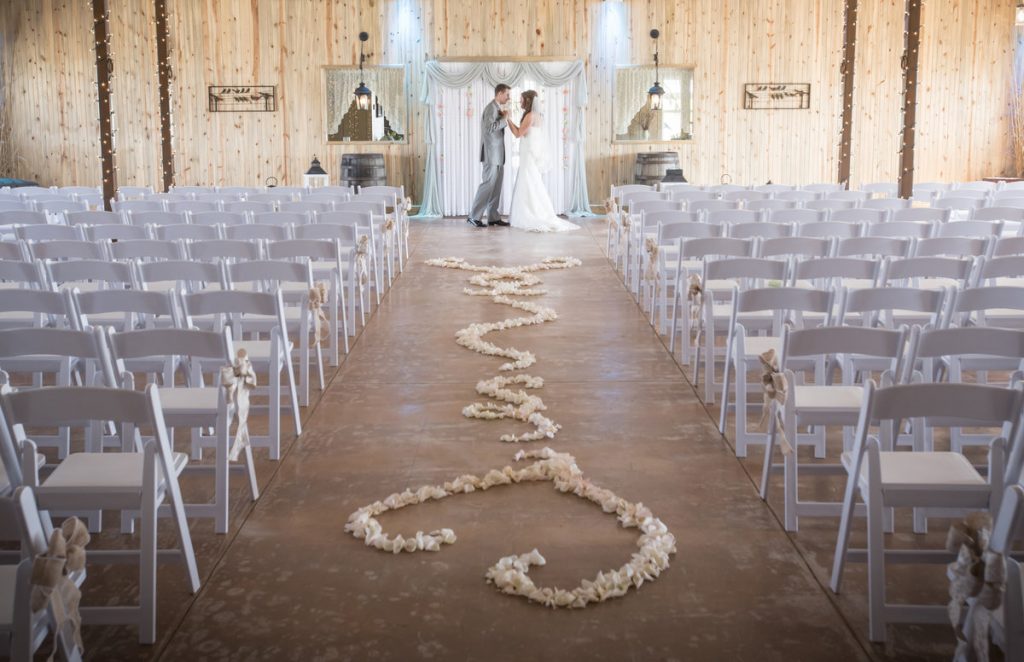 Photo credit: Beau Vaughn Photography
What is included in your wedding packages?
We are a full-service venue, so we take care of so many of our couples' needs. To start, brides and grooms get exclusive access to the facility on their wedding day. All couples have a full team of coordinators, as well as a friendly event staff. Our other services include:
In-house catering with a chef that has cooked in the Kansas City area for more than 30 years. Dinners are served buffet style on tables with linens, linen napkins, china, flatware and stemware. We have our own liquor license with a full bar with bartenders provided, as well as security officers. You'll also have a cake-cutting service with real plates, forks, and napkins.
For fun and entertainment, we offer a great DJ package including a full-color, video dance floor; a fireworks extravaganza; s'mores bar with a fire pit; photo booth; floating lanterns; sparklers exit; and first dance fog (it's like floating on a cloud!)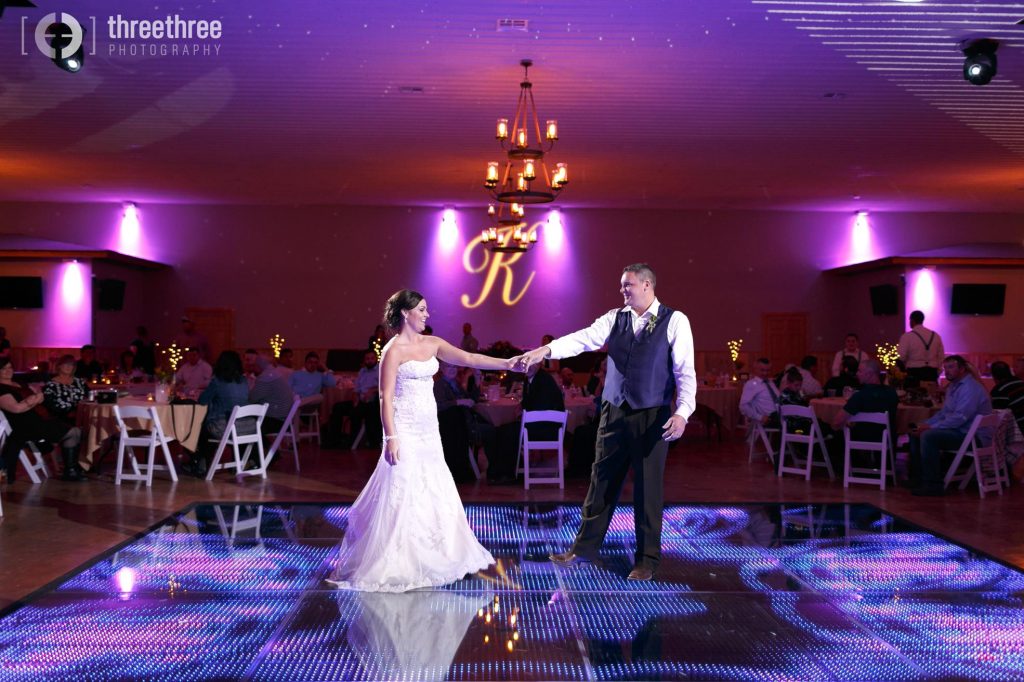 Photo credit: Three-Three Photography
What makes your venue special?
Couples love our video dance floor that we created ourselves (we do, too). It is made from full-color LEDs and is sure to get your guests dancing!
We have a family-like atmosphere here at Berry Acres. This is created through the event staff's passion for weddings and for the work that we do together. Once a staff member joins the team or a bride/groom book with us, they become part of the family!
In the fall 2017, we are adding a second venue, The Hilltop at Berry Acres. The Hilltop is also a full-service wedding venue, but is a more quaint option for guests lists of up to 125. With the two options of Berry Acres and The Hilltop, we can accommodate different event sizes and budgets.
What is your favorite moment from one of your weddings?
Every time we get a hug from the bride, groom and their parents at the end of the night is our favorite. We can feel the joy that we brought to them with our space and our services. Getting that instant gratification is indescribable.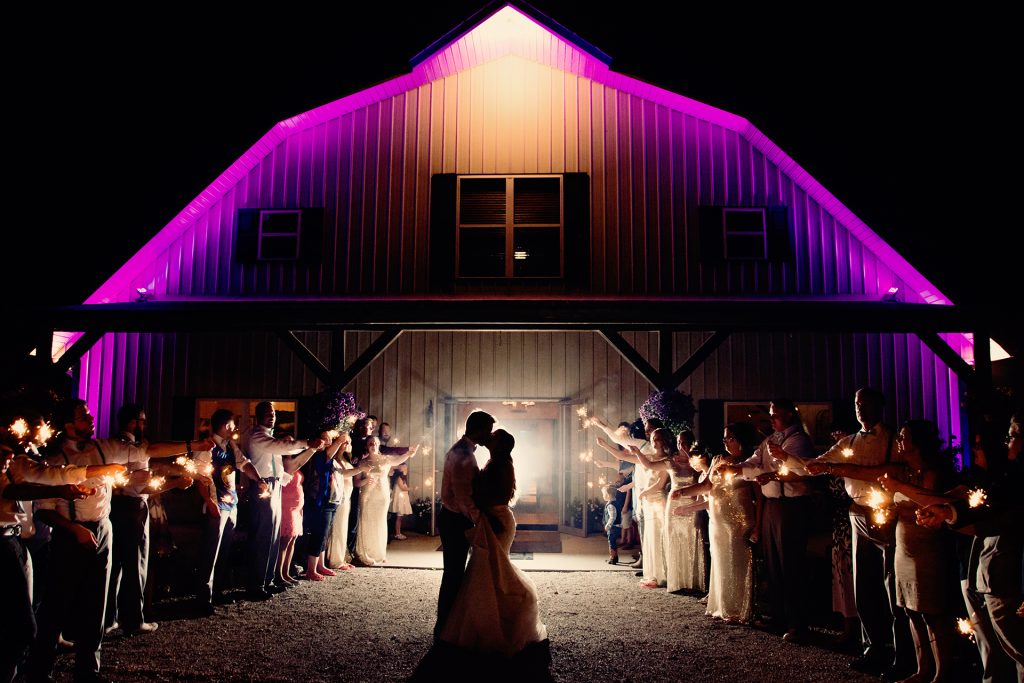 Photo credit: Beau Vaughn Photography
What is your best advice for couples planning their weddings?
You shouldn't have to be stressed while planning your wedding. It is supposed to be a time of happiness and excitement! Go with a venue and vendors that are personable, that you trust, that have good reviews and that will help take as much stress away as possible. Our goal Berry Acres is like a one-stop-shop. We have so many vendors already at our location. This makes the planning process so easy.
Are there any vendors you would recommend to couples planning a wedding at your venue?
Yes! We have a list of wedding professionals that we've been working with for years. Often times, you'll find these amazing vendors at our open houses. We are happy to provide this list to anyone!
Top photo credit: Sharaya Mauck Photography