[social_warfare]
Indiana brides: If rustic elegance is your dream wedding theme, The Barn at Hawks Point is your venue (to start, you'll love the barn's *three* crystal chandeliers). Located in Anderson, less than an hour from Indianapolis, the traditional gable-style barn sits on acres and acres of tree-filled meadow. But you won't get just gorgeous rustic decor here (though there's lots and lots of that)—the barn, built in 2014, also offers all of the modern amenities you need for your event.

But the very part of this venue? It's that the owners, Karen Hawkins and her daughter, Serena, say that being a part of a couple's big day is "a privilege." Now, who wouldn't want their wedding in this duo's hands?
Hear more about what Karen has to say about this stunning property.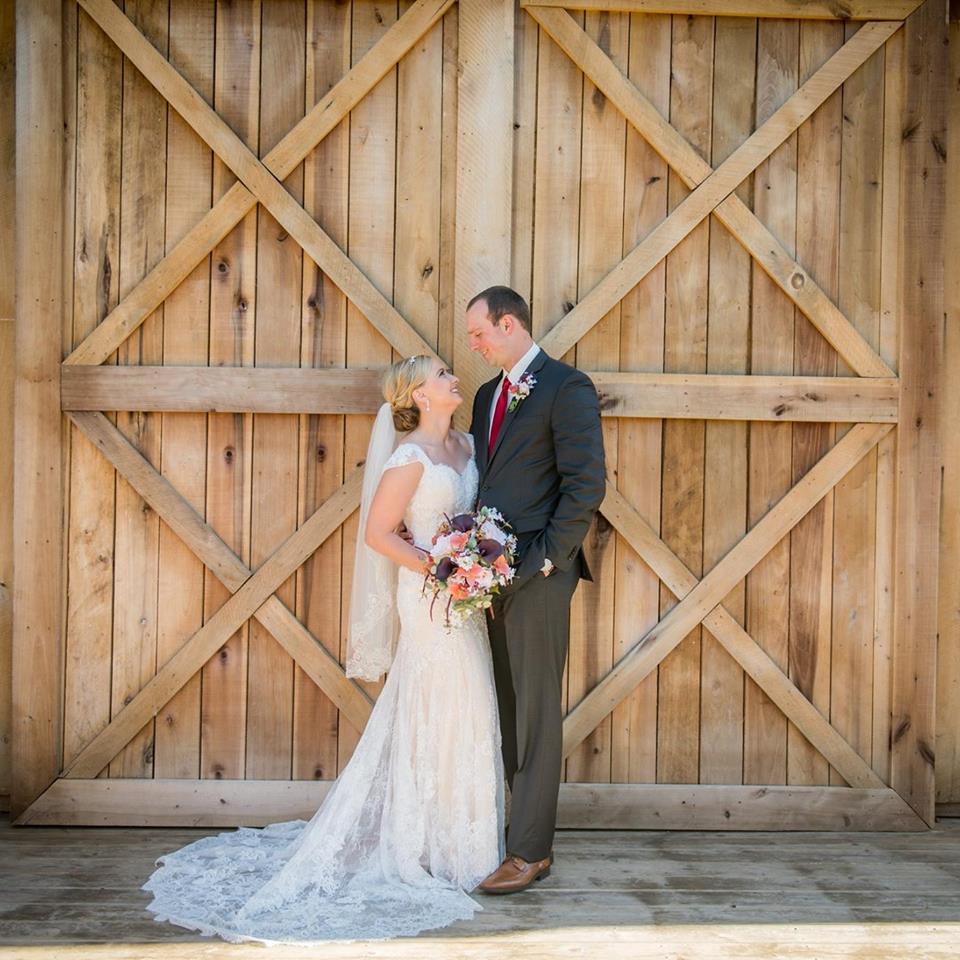 When did your venue open?
In 2014, we purchased the gorgeous piece of property where The Barn is now located. We told our excavator that none of the towering oaks on the property could be taken down—and The Barn was nestled into the property as if it always belonged. Construction was completed in spring 2015, and our first wedding was held in May 2015. Since then, we've been privileged to be part of just under 100 celebrations at The Barn at Hawks Point.
What is the history of your venue?
The barn is located on what was once a 100-acre horse farm. The family that owned the property scattered across the country, and made the difficult decision to sell. We were incredibly grateful to purchase the final plot and turn it into the magical place that is The Barn at Hawks Point.
What is your capacity?
Our maximum capacity is 175.
Do you offer a ceremony location?
We have several ceremony locations, including the white wedding pergola set just off the barn amidst towering trees and beautiful foliage. Couples can also marry beside the rustic four-rail horse fence, with our neighbor's red barn as a backdrop; under any of the oaks on the property; or just about anywhere they wish.
What is included in your wedding packages?
Standard venue rental includes 12 hours of exclusive access to the barn; tables and chairs for up to 175; indoor restrooms; a bride's room and groom's quarters; heat and A/C; crystal chandeliers; on-site parking with attendant; day-of assistance; and vintage decor like barrels, doors, chalkboards, crates and more. Our chic wedding brunch rental offers eight-hour access for a unique and elegant event.

What makes your venue special?
Our barn is built with modern conveniences, like restrooms and HVAC, yet offers the rustic wood interior that says "barn." We are completely handicapped accessible. The property is expansive and while located nearby shops and restaurants, takes guests to another place when they turn up the drive.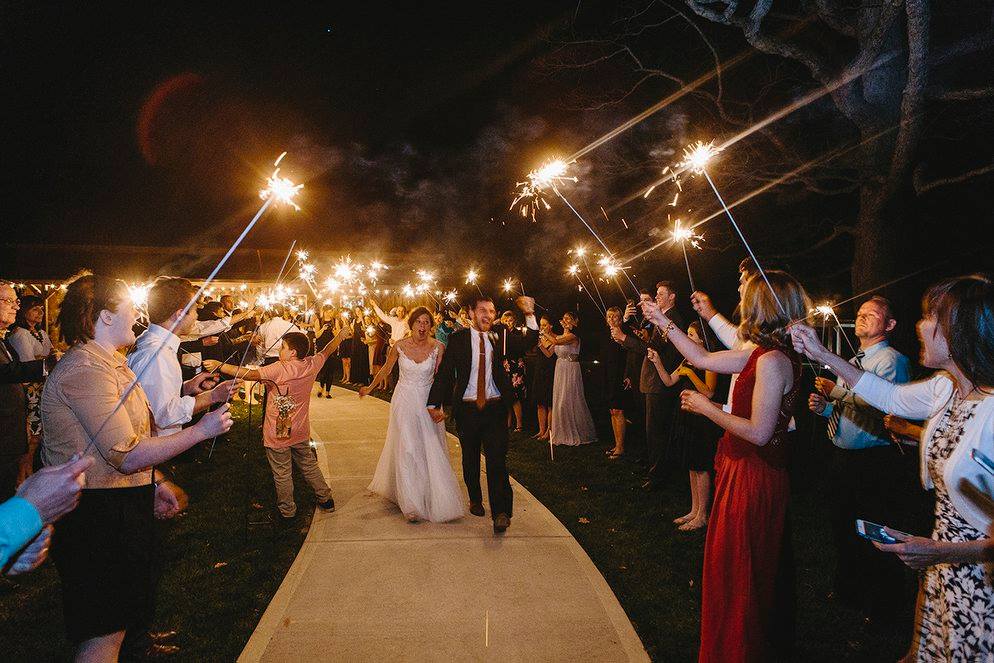 What is your favorite moment from one of your weddings?
Our favorite moment is the look of joy that inevitably spreads across the faces of the bride and groom right before the big kiss, once the officiant pronounces the couple "official!"
What is your best advice for couples planning their weddings? 
Remember that the most important part of any wedding is enjoying one another. Plans may go awry and things can get hectic, but never forget why you are doing this: You're marrying your best friend! Keeping that in mind can ensure you truly enjoy every moment, whether sweet or stressful.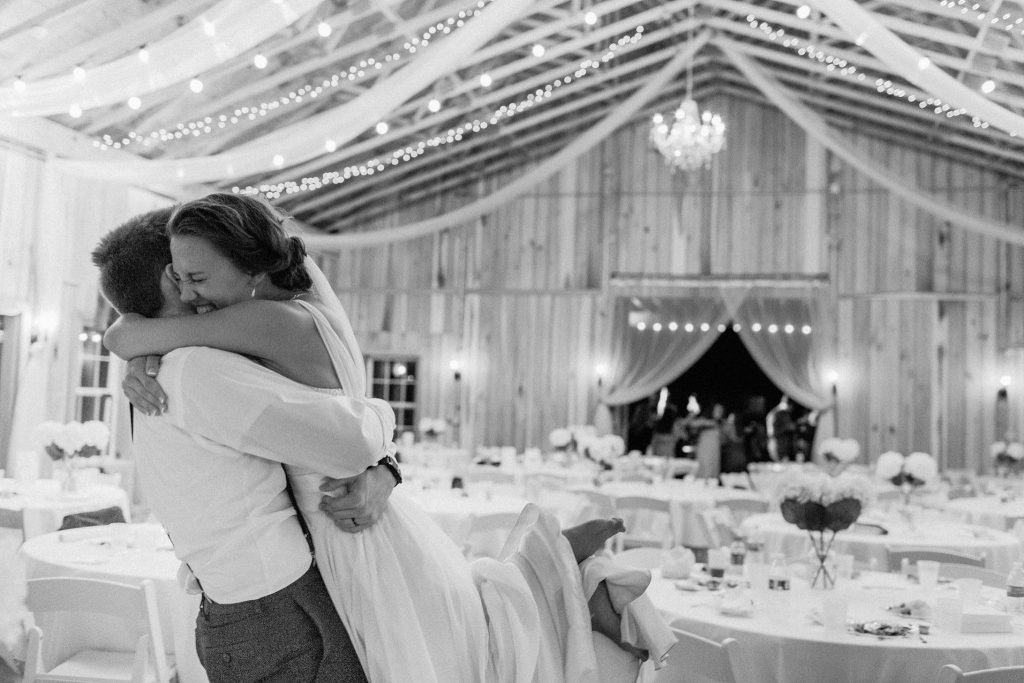 Photo credit: Reese and Renee Photography
Are there any vendors you would recommend to couples planning their wedding at your venue? 
It's hard to pick out just a few, but we do have a number of wonderful partners we love:
Catering: Sahms, Big Dogs, Nameless
DJ: Midwest Sound
Flowers: Blush Floral Design
Photography: Praise Photography